Augury secures $180 million Series E, takes valuation over $1 billion
The Israeli company focuses on machine health, offering a platform that alerts to issues on production lines. Augury CEO: "When the right time comes we will go public"
Mechanical diagnostics platform provider Augury announced Tuesday that it raised $180 million in its Series E round, at a valuation of over $1 billion. The current financing round was led by Baker Hughes, a service provider in the energy and technology fields and a former GE division with $20 billion in revenues. The energy giant will also take a seat on Augury's board of directors and incorporate its solutions into its software. The round also included new investor SE Ventures, the corporate venture arm of Schneider Electric, and existing investors Insight Partners, Eclipse Ventures, Qumra Capital, Qualcomm Ventures LLC, the HSB Fund of Munich Re Ventures, and Lerer Hippeau. With this round, Augury has raised a total of $286 million.
Don't miss Israel's complete list of tech unicorns
Speaking with Calcalist, Augury co-founder and CEO Saar Yoskovitz said that "two leading companies, each in its own field, one in energy and one in electricity, choose us as leaders in the field of machine health, and take us to a new market that is the energy market." He added that "we worked hard to reach this place and we are very proud of our achievements. Our long-term goal is not to be sold, and when the right time comes we will go public."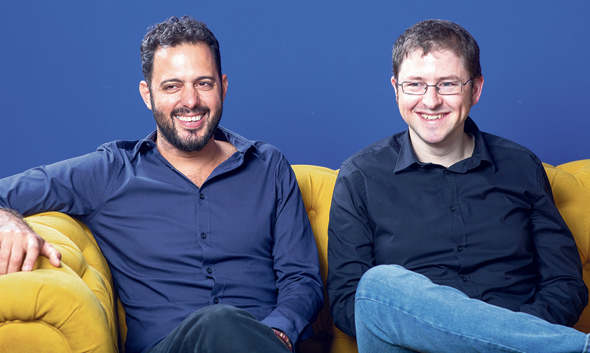 Augruy co-founders Gal Shaul (left) and Saar Yoskovitz. Photo: Ori Habushi

The Israeli company has developed a system that combines software and hardware that checks various production systems' integrity, devices, and "maintains their health." "It is just like speech recognition with Siri or Alexa, we do not look for words rather for certain sounds the system makes. Two weeks ago, while working with the world's largest tissue manufacturer, we alerted them that they had a fault in their machine a week after installation but their staff ignored our alerts. They brought in experts and identified the problem we told them about, and we saved the manufacturer about half a million dollars," he said

An essential part of Baker Hughes' investment deal is the signing of an exclusive collaboration agreement with the energy giant whose sales reach about $20 billion a year. Yoskovitz could not comment on the deal's sum but did say that "it was an agreement my investors said they've never seen in magnitude and importance for a company of our size. They are going to embed our solution into their software and actually make us part of their system in the energy realm which is new for us."

Augury was founded in 2011 by Yoskovitz and CTO Gal Shaul and currently employs more than 220 people. The industrial world has been going through major changes in recent years, also known as Industry 4.0, and at its core is machine health. This field is based on the connection between the Internet of Things (IoT) and artificial intelligence (AI) to predict and prevent failures in industrial machines and to improve machine performance. As a result, it is possible to significantly reduce downtime on production lines, increase production volumes, lower maintenance costs, and accelerate their digital transformations.

Augury's client list includes some of the world's largest manufacturers: Colgate-Palmolive, PepsiCo, Nestle, and Hershey's. Locally the company provides services to major corporations such as ICL, Osem, Tnuva, Israel Electric Corporation, among others.