Spotlight
NovaGreen wants your pot to be clean and radiation-free
Using cold plasma technology, the startup from Kibbutz Megido aims as high as it can. "We really feel like all eyes are on us," said CEO and co-founder Ronen Lam
Company: NovaGreen

Product: Cannabis disinfection with Cold Plasma

Round: Seed

Founded: 2018

Founders: Ronen Lam, Amnon Lam, Chen Porat

The global perception of cannabis has evolved in past decades, from a drug that generations of kids were warned about, to a plant commonly used for recreational, medical, and wellness reasons. As attitudes changed, a market for farmers, scientists, entrepreneurs, and others who saw potential in the plant was created. Today, many companies, including in Israel, hope to benefit from the popular weed and work hard to offer solutions to the growing market demands.

"We created a solution for a great need within the cannabis market," said Ronen Lam, CEO and co-founder of NovaGreen, an Israeli company based in Kibbutz Megido in the country's north. "The disinfection of inflorescences and cannabis plants, the expulsion of germs, mold, fungi, etc, things that harm the plant, is done with radiation. We developed an on-site solution that eliminates the need for radiation and offers a fast, green, comfortable method."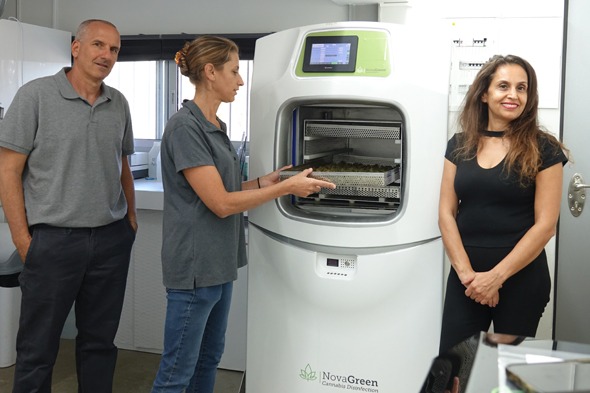 NovaGreen CEO Ronen Lam (left), microbiologist Osnat Czhertek and VP of operations Aya Rozenberg

"We developed a device that offers a relatively simple process that takes less than 30 minutes to disinfect the flowers. It is based on cold plasma technology, and it is an effective process that does not only clean the plants' surface, rather it is able to have an effect inside the inflorescences," Lam explained.

Cold plasma is a technology often used in Biomedicine and material manufacturing. Lam and his co-founders, his brother Amnon and Chen Porat, have been utilizing the technology for a while and believe it can be a real game-changer for the cannabis industry. "Since 2009, and within three companies, we have been involved with medical technology development and with cold plasma," Lam said. "Our team is a leader in the world of medical cold plasma applications, and through our work in one of those companies, Nova Plasma, which I am one of its co-founders, we decided we wanted to look at the cannabis market and see if there are any needs there that we can answer."

"After we studied the matter, we recognized that the issue of inflorescence disinfection and meeting regulations is a pain point for the entire chain of production. Everyone was looking for alternatives to radiation, including the regulator, meaning the health ministry, which was very helpful during the process of developing our technology."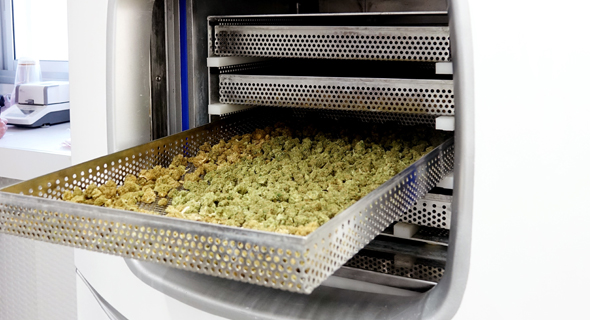 NovaGreen's cannabis disinfection solution

Recently, the company received the needed clearances from the Israeli regulator in the Health Ministry to move on with production, and Lam paints a bright picture when discussing his company's future. "I can say we just concluded a funding round, we built a production line for our devices, we are finalizing their design, and are about to go on a more meaningful funding round from returning capital, aimed at manufacturing our machines and building support services in the U.S. and Canada.

"By the end of the year, the first machines will be up and running in a number of farms for pilots, after which they will go into commercial use. Meaning right now there are none in commercial use but according to our graph, there will be by early next year. It is worth noting that we already have agreements and pre-orders for our machines," he said.

"We really feel like all eyes are on us, the market is waiting for our product in Canada and the U.S.," Lam added. The company's turn to the west is understandable given the fact that cannabis growing in North America went mainstream years ago, which explains the fact NovaGreen already works within Canadian and American regulations. However, Lam gives much credit to the local market as well. "While the Israeli market is small in volume, it is a very meaningful and advanced market. The regulation here is advanced, and the key players in the Israeli market are considered quality players. The development and research levels here are considered top of the line. It is a small yet advanced market, which the world often turns to.

"I assume that in three or four years the company will have more than a thousand devices working in the field, and we are scaling ourselves already with an operation that will be able to support such volumes. For now, we plan to build dozens of machines this year, and hundreds in the following year," he concluded.