Bank Hapoalim to invest $10 million in digital wallet Neema
Hapoalim, which cooperates with the fintech company through its Bit app, is in advanced stages to invest at a company valuation of $40-$50 million. In 2020, Discount Bank acquired 15.5% of Neema's shares at a NIS 28.5 million valuation ($8.95 million)
Bank Hapoalim is in advanced stages to strategically invest in the Israeli fintech startup Neema. Hapoalim is expected to invest $10 million in the company at a $40-$50 million valuation. Neema has developed a digital wallet that allows users to conduct money transfers along with other financial services specifically for unserved populations in the Israeli financial market, such as foreign workers.

Neema was founded in 2015 and one of its co-founders is company CEO Moshe Kimhi. In 2019, the company was acquired by the Direct Insurance group, which is controlled by cousins Muki and Doron Schneiderman. In May 2020, Bank Discount acquired 15.5% of Neema's shares at a NIS 28.5 million ($8.95 million) pre-money valuation through its investment arm Discount Capital. It now seems an additional financial body plans on investing in Neema, banking giant Bank Hapoalim.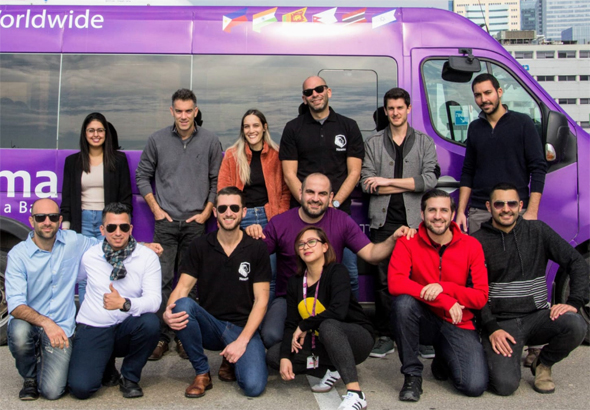 The Neema team

Bank Hapoalim is well-acquainted with Neema, which has been working with its payment app, Bit, for over a year. That collaboration enables both apps to work together and allows Israeli companies and persons to make bank transfers using the Bit app to foreign workers who struggle with opening a local account in Israel but can use Neema's services. Discount Bank also has its own separate digital wallet, Paybox, which was bolstered after Israeli supermarket giant Shufersal entered the picture as a partner. It will be interesting to see how the banks will combine their investments in Neema, as well as cooperate with the digital wallet company since both Hapoalim and Discount have their own separate competing payment apps.

Neema has thousands of customers and conducts transfers of over NIS 1 billion ($314 million) every year. Its financial services mainly serve as an alternative to bank accounts, and it enables its users to make payments and transfer money in Israel and around the world. Neema's users deposit their money into a digital wallet, and can later conduct additional actions and manage their funds.

Bank Hapoalim's investment is being led by Head of the Innovation and Strategy Division Golan Sherman and the company's Chief Corporate Development and Fintech Officer Avivit Bender.