Gateways to Israeli Tech
Tal Slobodkin, StageOne: We are super bullish on enterprise tech and all its flavors
Speaking to CTech as part of a special investor survey, Tal Slobodkin, Managing Partner at StageOne VC, explained that they "try to assist in anything that has to do with HR, but frankly a VC would never be able to replace the CEO or executive team in attracting top talent"
"I always say that on a startup journey, we always sit next to the driver but never in the driver's seat. Today more than before, deep involvement in a company from the very beginning is crucial. We forge strong partnerships with founders from inception, and these long-lasting relationships provide impact on a company's outcome," says Tal Slobodkin, Managing Partner at StageOne VC.

Slobodkin shared his views in CTech's exclusive investor survey conducted with participants of the Poalim Hi-Tech and Calcalist Road Show event. The event brought together dozens of startups who pitched their venture to more than 20 leading Israeli investment groups and investors.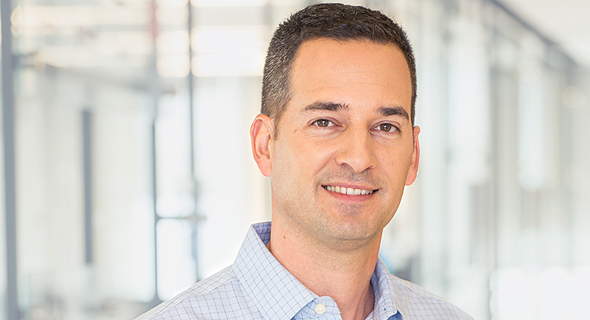 Tal Slobodkin, StageOne. Photo: Dudi Moskovitch
What trends are you most excited about investing in?
We focus on early-stage transformative technology startups that solve complex enterprise challenges. From Cloud Computing & Software infrastructure, through Machine Learning and Artificial Intelligence, DevOps, Cybersecurity to Connected Everything and IoT. We believe that startups overcoming meaningful technological barriers can lead to change and impact global economies. We bet strongly on embracing trailblazing innovation, putting first money in companies at the inception stage, and taking calculated risks on technology trends that reap rewards. We are absolutely excited these days about the convergence of the AI and development world, how machine learning and artificial intelligence help developers wherever they are to increase productivity and functionality.
What's your latest, most exciting investment?
All our investments are exciting! Each one is unique and different, but our latest investment was in a company called Sedric - a compliance excellence platform built for the fintech era. Sedric was founded in 2020 by Nir Laznik and Eyal Peleg with a mission to create a solution tailored for cloud-native companies. With very little resources they've built a product that generates hundreds K $ in ARR, used by organizations in all shapes and sizes. They've forged partnerships and alliances with industry-leading organizations and been able to attract an unparalleled cadre of advisors. Sedric helps companies to securely store all their customer interactions while complying with all the frequently changing regulation requirements (e.g., GDPR, PCI etc.). Unlike traditional solutions, customers don't need to hire professional services or heavily invest resources before benefitting from the platform. The product seamlessly integrates and digests data from where conversations are being made, be it your CRM, contact center or any other customer touchpoint. Sedric's platform transitions teams to be proactive and prevent customer cases rather than being constantly swamped responding to complaints.
Which industries seem well-positioned to thrive long term? What companies are you excited about (whether in your portfolio or not), which founders?
We are super bullish on enterprise tech and all its flavors. While we've been under the influence of a global pandemic for close to two years, the enterprise tech segment has continued to thrive in a phenomenal way and continue to help global organizations reach their goals.
Israel is a leading global hub for enterprise innovation, furthermore, Israeli enterprise tech companies yield the highest number of exits, IPOs and M&As compared to other sectors, and although it's growing at a fast rate, it is yet to reach its peak. If we look at our portfolio companies, we are excited about Coralogix, Silverfort, Neuroblade, Model9, CommonGround, SecondNature. Regarding other Israeli companies in the industry: Aquant, Nexite, DataRails and Stuffthatworks.
What areas are either oversaturated or would be too hard to compete in at this point for a new startup?
We think they are global markets that are facing greater difficulties these days, like tourism and hospitality, so any startup in these segments will be facing pre-existing challenges due to the markets they operate in.
One of the harder markets to compete in today is cyber – we see an amazing amount of cybersecurity companies these days, many of them bring innovation but unfortunately are limited to specific feature set or product, and do not provide a meaningful step function or platform upgrade for their potential clients.
What are you - as an investor - looking for in an entrepreneur or a startup?
We know that for founders to build great companies, it takes more than just funding. There is a critical need for the perfect mix of teamwork, market, and product.
While it may sound cliché, we do invest in people, even more so as we focus solely on the inception stage of companies. We look for hungry, responsible, resilient, trustworthy, and skilled entrepreneurs who have a passion to disrupt new, global enterprise markets or redefine existing ones. We look to invest in cutting-edge deep technology with high impact probability, developed by companies that prioritize innovation in products over business models.
What is your approach to VC involvement in the management of the companies they invested in?
I always say that on a startup journey, we always sit next to the driver but never in the driver's seat. Today more than before, deep involvement in a company from the very beginning is crucial. We forge strong partnerships with founders from inception, and these long-lasting relationships provide impact on a company's outcome. Companies are raising much larger seed rounds and are also expected to scale at a faster rate. With so many different aspects involved in building the company, one of our roles as investors is to provide guidance and share experience from our past, assist where needed in everyday management challenges, hiring, funding, etc. But again, it's less about making the decision and more about providing honest and precise guidance that enables founders to achieve their goals successfully and seamlessly, make right choices and avoid novice mistakes that we have seen plenty of founders make before.
What should be the level of a fund's involvement in solving a company's HR problems?
There is a fine line between VC's doing the work for the companies and assisting them with it…
Yes, if we look at the U.S. VC model, they have in-house HR teams (again an amazing initiative) which help companies scout talent, they also have inhouse branding and marketing teams.
StageOne has a bit of a different approach. We see Israel as a different market when it comes to the founders DNA and furthermore the ecosystem is extremely small. We try to assist in anything that has to do with HR, but frankly a VC would never be able to replace the CEO or executive team in attracting top talent. We try to help by assisting in building an HR strategy, finding talent in Israel and the U.S., interviewing candidates when asked, reviewing job descriptions, having HR workshops, and using our connection to find the best people to best fit the position. There are amazing headhunters and recruiters in Israel who most of the startups today use.
Where will the solution to the HR crisis come from?
The answer is a combination of many of the options you mentioned. On the smaller end of startups, the focus should be outsourcing, remote R&D and potentially moving to a zero-office model where employees are located where talent is. For larger companies, the ability to attract top foreign talent, educate and 'create' new qualified talent can really make a huge difference. Finally, we argue that the Israeli ecosystem must further embrace the various minorities that are under-represented in the local tech ecosystem, it's a readily available and super local talent.
How long will the current upsurge in wages continue?
As long as there is demand for talent the wages will continue to rise.
How harmful is it to companies, to the investors?
I'm not sure harmful is the right adjective here. The competition for talent drives more power to the employees and allows the tech workers to earn more than ever. This impacts the budgets of the companies and the operational plans, but for us this is a given fact. We truly hope some of this prosperity would continue to trickle down to the rest of the Israeli economy.
How can the damage of the growing gaps between tech workers and general workers in the Israeli economy be minimized?
The Israeli population is very diverse, and these days we indeed see growing gaps between the tech workers and the general population. We hope that the prosperity the tech industry brings would be shared with the greater population and believe there are steps that can be taken to minimize the increasing gap. Better education, equal opportunity and openness for diversity are just a few factors that can greatly improve the situation.
Share with us your golden tip for an entrepreneur presenting a pitch.
Do your Due Diligence on the Funds! Founders are usually prepared when it comes to the questions the VC tends to ask, but sometimes they don't do their homework on the funds as well.
Before meeting a fund ask yourself the following: Is this a good fit? Do I like the partners? Did they make good investments? Did they make investments in my industry focus? Do their entrepreneurs love them? Could they add value? These are all critical questions for funders to ask themselves on who they want to partner with for the long term.