Execs share what it takes to be a tech CEO
Management from the Israeli tech sector share some of their insights and how they became top of their field
Not everyone can cut it as a CEO. The long days and countless decisions can sometimes be a little too much and often lead to stress that should be avoided. CTech has spoken to a collection of CEOs from startups who have shared some of the lessons they learned along their journeys to the top.

This is a two-part series, and part one can be found here. Below is the second part and features Amir Orad, CEO at Sisense; Veetahl Eilat-Raichel, Co-founder and CEO at Sorbet; Lior Segal, CEO at Third Eye Systems; Ifat Bechor, CEO at Unistream; and Michael Gabay, CEO at Trigo.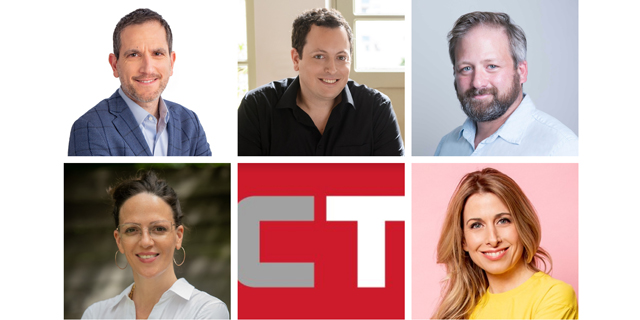 Clockwise from top left: Amir Orad, Michael Gabay, Lior Segal, Veetahl Eilat-Raichel, and Ifat Bechor. Photo: Kfir Ziv, Yakir Shukrun, Tom Bartov, Shahar Azran, PR.

How do you balance work and life?

"I always recommend finding time for yourself and your family," said Amir Orad, who has been CEO at Sisense for the last eight years. "I know it is counterintuitive and took me a decade to learn it but working 24 hours a day doesn't make you better, and answering every email doesn't make you wiser. I realized the importance of not just relying on myself but relying on my team. I learned that when I let go a bit and trusted my colleagues around me to help with important projects and solutions, everything improved."

Veetahl Eilat-Raichel has been the CEO of Sorbet for two years and sometimes clocks in 14 hours of work per day. "Much of my day is spent talking to people in the U.S and Australia so unfortunately, I often have to start very early and end very late at night," she explained. "It really depends on the day. We work twice a week at the office. On those days I take the kids to school and drive to our office in Tel Aviv and stay until late at night. But on the other days, I work from home mostly, so I can start much earlier, take breaks in the middle of the day to spend some quality time with the kids, have lunch with them and take them to after school activities, and then continue later on in the evening."

Lior Segal, who has been CEO at Third Eye for 12 years, added: "I believe that family and athletic lifestyle are very important and luckily, my wife helps me balance my work/private life. If I need to work on weekends it is usually when the kids are not around. During weekdays I try and come back at least an hour before they go to sleep."

"As a new CEO, I knew the first few months will not include a work-life balance, investing the majority of my time in the new role, company, and stakeholders," explained Ifat Bechor, who is settling in after three months in the role. "Once you understand it and make a rational decision about it, it gives you the strength to focus on your mission with a positive attitude and energy. The little time I have I dedicate to my family, and some meditation. I made an agreement with myself to start getting back to the elements that give my joy and balance – spending time with my family and friends, meditation, sport, concerts, movies after six months."

What was your strongest feeling when becoming CEO? Anxiety? Excitement?

Orad: "It's a combination of both. If you have only one of them, you're probably blind. A CEO who's not excited about the role and what should be done shouldn't take the role, you must have conviction, belief, and excitement about the future, but you also have to be realistic as there are always challenges, obstacles, and tough decisions to make. If you have zero anxiety, you're not seeing the wider picture and that would not go well in the end."

"It's always a mixed bag of both," agreed Eilat-Raichel. "Can't spare you from the worst cliches… It's both the hardest and most rewarding thing I've ever done."

Segal naturally grew into the role as he was the founder of the company. "When we became a public company my role changed significantly, and I am excited at the various opportunities and challenges that this big step brought with it," he said.

Bechor: "The new position required me to move back to Israel, so it involved new beginnings for me and my family. The strongest feeling was excitement, curiosity, and a major sense of responsibility for my new team as well as a smooth transition for my kids in Israel."

"After we secured our Seed round, I was fortunate to have full support from our investors to take decisions and lead the company to growth," remembers Gabay. "That was a big responsibility. Also, It was very exciting to pursue our dreams. We started before AmazonGo existed, and what we were doing at the time was groundbreaking in that it would reshape the way we shopped. Even stronger than this excitement though was the sense of mission. Once we got our first investment, we felt a greater sense of responsibility. We needed to shift our focus from following our dreams to building a strong team to deliver on our promise."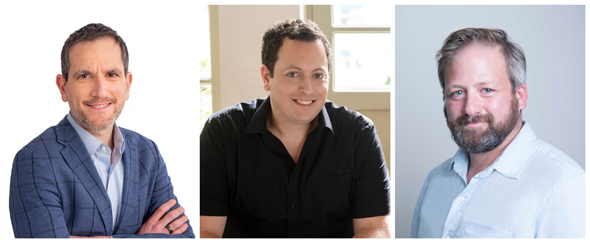 Amir Orad, Michael Gabay, Lior Segal. Photo: Yakir Shukrun, Tom Bartov, PR

Do you think there is a difference between being a CEO in tech vs. other sectors?

"First, being a leader is being a leader in every space and every domain," said Orad. "However, the one thing that is very different in technology today is the pace of change. Managing through high pace, high velocity of innovation, constant changes, and disruption is different and more complex than other domains. You need to have higher domain expertise to survive in this market than potentially other markets, given the depth and impact technology has on all of us."

Eilat-Raichel: "The one thing I can say is that I'm very lucky to be surrounded by the best, most committed, inspiring, and talented people every single day, and I'm not sure that's necessarily the case everywhere else. Of course, it also has to do with the levels of compensation that we're able to attract the best available talent, but I think it also has to do with the fact the tech tends to attract people who look for something beyond just work. Everyone at Sorbet is extremely passionate about our mission and building this company together, and it's truly one of my greatest pleasures in life to be a part of that."

"Being a CEO of a company, no matter the sector, is a challenging and most rewarding position, in many ways," said Segal. "Having that said, I think the tech arena is more competitive as you are not only facing companies which are in direct competition, but also a lot of companies are flexible enough to move into your industry and the other way around. And you are also facing the competition of human resources from a lot of companies that are not natural competitors but use similar technology."

"Being the CEO of a unique nonprofit that works with the tech world, teaches entrepreneurship, and builds ventures with teenagers at the periphery, allows me to adopt best practices from both worlds," added Bechor. "Our KPIs are different in their core. Our impact has short and long-term measurements that focus on social change and human capital development."

Gabay: "Being a CEO is challenging in any sector, but what's significant about the tech space is that your team is set out to do the impossible and break new ground. Not only do you face the standard business and operational challenges, but you have to also overcome tech difficulties that have never been solved before. You need to compete on a global level, but you also have to strive to be the best in your industry and allow your team to fail fast and learn from their mistakes.

What advice did you receive before you started your career? Was it helpful?

"Early in my career, I served in the Intelligence Corps," remembered Sisense's Orad. "What I discovered that resonated with me the most and had an impact on my professional life is that everything is possible. The ones who dream big, usually win. If you surround yourself with the right people, that dream can be accomplished. We at Sisense are doing the impossible every day, and it's rewarding to see how teams build things that started as just a dream."

For Sorbet's Eilat-Raichel, there was not one single piece of advice that stuck out. "My favorite managers led by example and just taught me to work hard, initiate, be creative, proactive and constantly challenge the status quo. Ultimately, I believe that good work never goes unnoticed for long," she said.

Segal: "Becoming a CEO of a tech company, without an official technical background, was challenging to pitch customers who did not always believe in your vision. This is when my wife wrote me a note quoting Mahatma Gandhi: 'First, they ignore you, then they laugh at you, then they fight you, then you win'."

"Don't take anything and anyone for granted,' said Bechor. "Always open doors for people who ask for advice or support. Tomorrow it will be your turn and the world is round."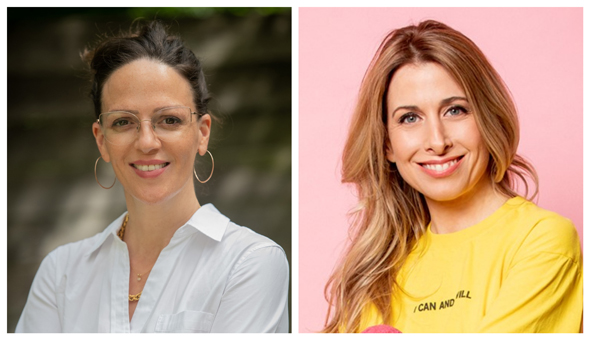 Ifat Bechor and Veetahl Eilat-Raichel. Photo: Kfir Ziv, Shahar Azran

If you could tell yourself one thing before your first day as CEO, what would it be?

"Take a deep breath because you're about to get on a rollercoaster and take a step back before reacting right away to any important decisions," said Orad. "As CEO, don't try to be perfect. If you're wrong, say you're wrong, if you don't have a decision, say you don't have a decision. When you make a mistake, celebrate, and learn from it. It humanizes you. People will appreciate it more versus someone who pretends everything is always good. Be authentic and vulnerable.

"Take a deep breath, It's going to be harder then you think - also, try to sleep more," Eilat-Raichel said.

"Luck comes when hard work and preparation meet opportunity, so work hard, be patient, focused, and it will come," said Segal.

"Be patient, celebrate small winnings, not everything will work immediately as you want it to be," Bechor added.

Gabay: "I would say 'trust your intuition, more than you think you should'. One of the reasons you got to where you are is because of your instincts, so listen to them. Trust your own analysis and take into consideration the advice of the team you've built. . If you have a feeling that something is a good idea, go with it. Similarly, if your gut feeling is to avoid something, there is probably a good reason for this. And if you make a mistake, fix it fast."

What two qualities have you realized are important for a CEO?

"Resilience is an extremely important quality," said Orad. "CEO's will be under endless pressure, and they must enjoy it. Not only must they enjoy it, but they must be comfortable with it, or they shouldn't do it. CEOs also need to balance being convicted in their way, yet also be flexible in listening to their team. They ultimately must really want leadership experience and responsibility, as it's a very tough job to be a CEO. They must also have passion."

"Being able to make decisions even under great uncertainty, and accepting that it's ok to make mistakes and that things don't have to be perfect," said Eilat-Raichel. "It's kind of two sides of the same quality so I'll add being able to build a great team of amazing people alongside you."

"The most important one is to never give up," said Segal. "Always consider it and think the solution is just around the corner to stay on your edge, and always run at least two parallel planes to solve issues that bother you. Second: always try to distribute your tasks to others first, since a CEO is always too busy. It is in those rare cases that he chooses his tasks – that's when he brings the best value. The more you get off your back, the more you focus on the most valuable tasks and it allows other organs in the company to spread their wings and challenge themselves to grow and evolve."

Bechor: "Assertiveness with a glimpse of Compassion. At the end of the day we all, as employees, want to feel valued and that we bring value, but we also need a clear vision and guidance from our CEO.

"Uncertainty is the only certainty there is - agility and the ability to pivot fast is of key importance in the tech sector because it's so dynamic," said Gabay. "Your mode of operation changes every day and it's crucial to stay on top of the constant stream of challenges that arise. For the second quality, I would say being a good listener. No matter how prepared you are, ten minds are better than one, and your employees will have a helpful perspective and are sometimes closer to your product than you are."

Are you born to be a CEO or is it something you learn over time?

Orad: "No one is born a CEO. Some are more natural leaders than others, some develop leadership over time, others are late bloomers, and find it out late in the game. Not everyone wants the lifestyle, pressure, and responsibility that comes with the job - it's an acquired taste. People evolve over time. We also have accidental CEOs, like tech CEOs who started as innovators and became a CEO because it was the only way they could fulfill their dream."

Eilat-Raichel: "I think it's a combination of both. It certainly helps to have certain qualities like being a great storyteller and having a certain charisma, but a lot of it also comes with experience and learning from other people along the way."

"I guess I was born for it, though I was not aware of it all along," Segal confirmed. "I did not enter the employment market expecting to become a "CEO" but soon enough I found the position natural for me as I felt my best self while founding and leading the company."

Bechor: "It's the same question about being a leader, as good CEOs can be defined in different ways. You can grow into a leadership position, and for sure being a CEO requires experience and has a learning curve before and during your tenure years," he concluded.