Intuit acquiring API security startup Imvision for $50 million
The Israeli company, founded in 2014, has developed a full lifecycle security platform that enables enterprises to automatically discover, test and protect their APIs
Financial technology platform Intuit is acquiring Israeli startup Imvision, which has developed a platform to secure enterprise APIs. Imvision's full lifecycle platform enables enterprises to automatically discover, test and protect their APIs. Intuit's R&D center in Israel employs over 300 engineers, data scientists and security experts. This is Intuit's third acquisition of an Israeli company and it is expected to add 20 of Imvision's employees to its team. Imvision has raised $8 million to date, with investors including Pitango, CE Ventures and Elron Ventures. The price of the purchase was not revealed, but is estimated to be in the region of $50 million.
Imvision, founded in 2014 by Sharon Mantin (CEO), Yossi Barshishat (VP R&D) and Eli Plotnik, uses NLP-based technology to analyze each API's unique dialogue and understand the application's behavior. The API sector is experiencing tremendous momentum over the past year, with Israeli companies Noname Security, which reached a $1 billion valuation last week, and local competitor Salt Security, among those benefiting.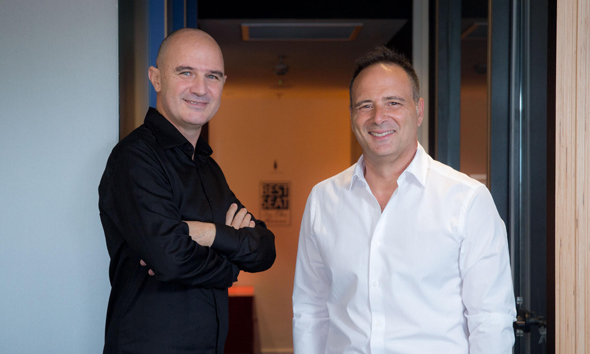 Imvision co-founders Sharon Mantin (CEO) and Yossi Barshishat (VP R&D). Photo: Imvision
Intuit plans to leverage the acquisition of Imvision to integrate security at the platform layer - allowing the company to protect its clients' most sensitive APIs. Intuit's 100 million clients, both consumers and small business owners, will receive an expanded security coverage thanks to Imvision's solution being integrated in Intuit's platform.
"This is an exciting addition to Intuit Israel's team," said Gene Golovinsky, General Manager of Intuit Israel and VP Security R&D. "We chose Imvision after searching for a proven solution that can cope with the many demands of our technology and the size of our client base. Imvision's technology strengthens our investment in API security and suits the core activity of Intuit in Israel."
"In the API-first era, preventing fraud is one of the biggest challenges for businesses and consumers," said Imvision CEO Sharon Mantin. "The merger with Intuit reflects the perfect opportunity to take our technology to the next level, to secure the data and activity of massive clients, beyond what we had ever imagined. Together with Intuit we are happy to strengthen our commitment to help enterprises open up without being vulnerable."