New digital health accelerator launched in Haifa
The accelerator is looking for Israeli startups in the fields of cybersecurity and medical information, diagnostic monitoring and remote medical treatment, medical equipment, detection, and prevention of dangerous and other diseases
A new digital health accelerator was unveiled on Tuesday in Haifa. The new program is named Startup City Haifa - Digital Health Accelerator and is led by JVP, Road2, Margalit Startup City, and the Israel Innovation Authority, in partnership with Superpharm, U-Bank, Phillips, NVIDIA Inception, Asensus Surgical, and Clalit healthcare services. The accelerator is looking for Israeli startups in the fields of cybersecurity and medical information, diagnostic monitoring and remote medical treatment, medical equipment, detection, and prevention of dangerous and other diseases.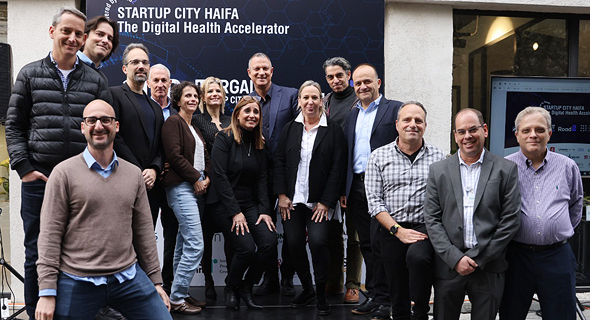 The Startup City team in Haifa. Photo: Micah Brikman.

The goal of the four-month program is to identify technology companies at various stages of growth, developing innovative medical and healthcare technologies, and to accelerate their transition to the next stage. The announcement of the new initiative included a call for candidate startups to apply for the program, with a deadline for applications at the end of January 2022. After which, a maximum of eight promising Israeli startups operating in the field of digital health will be selected.

"Our call today, is for new and existing ventures in the world of digital medicine to interface with the global giants of medicine through our international accelerator here in Haifa," said Erel Margalit, Chairman of JVP and Margalit Startup City.