Animal-free dairy startup Remilk raises $120 million Series B at $325 million valuation
The Israeli company, which has developed a method of producing animal-free dairy products through microbial fermentation, has seen its valuation surge tenfold in just one year
Israeli animal-free dairy startup Remilk has completed its Series B funding round. The company didn't reveal the magnitude of the round, but Calcalist has learned that the startup raised $120 million at a $325 million valuation, 10 times its valuation from one year ago. The Series B was led by Hanaco Ventures and included Rage Capital, CPT Capital, Precision Capital, Atento Capital, Tal Ventures, Chartered Group, Israeli dairy giant Tnuva and OurCrowd.

Remilk, founded in 2019 by Aviv Wolff and Ori Cohavi, completed an $11.3 million Series A at a $30 million valuation in December 2020, led by fresh.fund with participation from CPT Capital, OurCrowd, ProVeg and food manufacturers Hochland, Tnuva, and Tempo.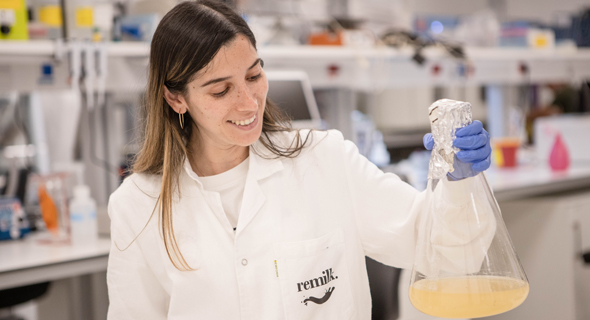 Lab technician Maya Danino holds up Remilk's alternative milk. Photo: Tal Zelicovitch

Remilk says its products are indistinguishable from the animal-based originals and don't compromise on the flavor, texture, and nutritional values of traditional dairy products, resulting in a product that is cleaner, healthier, and more environmentally friendly, requiring 1% of the land, 4% of the feedstock, and 10% of the water required to produce comparable products in traditional dairy systems.

Remilk has already signed deals with dozens of dairy manufacturers across the world and is expecting its product to become commercial during the coming year. The company estimates that its sales will reach $600 million by 2026.