Placer.ai raises $100 million at $1 billion valuation
"Our valuation has tripled since our last round six months ago," said Noam Ben-Zvi, CEO of the location analytics and foot traffic data platform
Israeli company Placer.ai, which develops a location analytics and foot traffic data platform, announced on Wednesday that it has raised $100 million in a Series C round at a $1 billion valuation. The round was led by Josh Buckley with participation from WndrCo, Lachy Groom, MMC Technology Ventures LLC, Fifth Wall Ventures, and Array Ventures. The round also included the participation of leading commercial real estate investors and operators including J.M. Schapiro (Continental Realty Corp), Eliot Bencuya and Jeff Karsh (Tryperion Partners), Daniel Klein (Klein Enterprises/Sundeck Capital), Majestic Realty, and others. Placer has raised a total of $166 million to date.

Click to view Israel's full list of unicorns

"Our valuation has tripled since our last round six months ago," Placer CEO Noam Ben-Zvi told Calcalist. "We are nearing $30 million in annual revenue and have 1,000 paying customers and thousands of other free users.

"One of the investors in this round is a fund named WndrCo which is led by former Disney chairman Jeffrey Katzenberg, who introduced me to a lot of people and opened a lot of doors for us," added Ben-Zvi. "Like other investors, Jeffrey also wanted to increase his stake in the company after already leading our Series B, so we found ourselves raising another funding round after just six months. The round was very quick and included some new investors, some of them are clients, including real estate companies who are investing in the technology they use."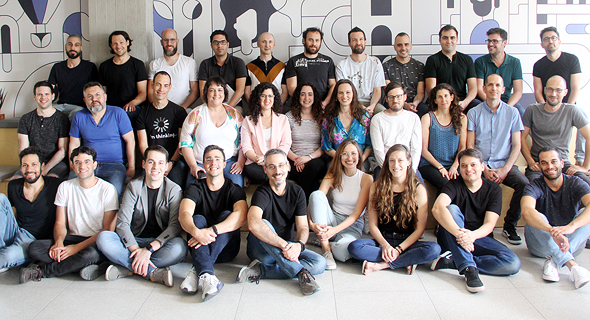 Placer.ai team. Photo: Jonathan David

Placer.ai was founded by Ben-Zvi, Zohar Ben-Yehuda, Ofir Lemel and Oded Fossfeld. Placer's foot traffic analytics platform allows customers with a stake in the physical world to generate insights into any property for a deeper understanding of the factors that drive success. The company employs 300 people, 160 of them out of its offices in Ramat Gan, and intends to recruit dozens of new employees. "We collect anonymous data from cell phones and credit cards, data on real estate, and data from dozens of other sources and combine it all to learn about a location," explained Ben-Zvi. "Companies ask us if and where to open stores, who visits their stores, and more."

Regarding the issue of privacy, Ben-Zvi stated that "even before we receive the information we introduce noise into the data so that people can't be identified. All we are looking for is statistics."

Since launching in November 2018, Placer.ai has been adopted by over 1,000 customers including industry leaders in commercial real estate and retail like JLL, Regency Centers, Taubman, Planet Fitness, BJ's Wholesale Club, and Grocery Outlet. In the wake of Covid-driven upheaval, the company saw widespread adoption among a series of new categories, among them hedge funds and CPG leaders including Tyson Foods and Reckitt Benckiser.

"We have long felt like the disruption Placer can bring is massive, but the market demand has far exceeded our initial expectations," said Josh Buckley. "We see a powerful opportunity to continue partnering with Placer to improve the way decisions are made in the physical world, fundamentally improving the way these businesses and organizations operate."

"Placer provides instant, simple and actionable insights to questions we've been asking as operators for over 30 years. The pace of innovation, the unique trust that the company has developed, and the massive market demand all point to the magnitude and scale of what this team can achieve," said Jeffrey Katzenberg, Founding Partner of WndrCo.