Firebolt joins Unicorn club with $100 million Series C at $1.4 billion valuation
The Israeli startup, which develops a cloud data warehouse, has raised $269 million over the past 12 months
Israeli startup Firebolt, which develops cloud data warehouses for engineering teams, announced on Wednesday that it has completed a $100 million Series C funding round, reaching a $1.4 billion valuation just 12 months after emerging from stealth mode. This latest round of funding, which will all enter the company's account, brings its total investment to $269 million.

The company was founded in 2018 by Eldad Farkash (CEO) and Saar Bitner (COO), who also worked together at business intelligence Unicorn Sisense, of which Farkash was one of the co-founders. Firebolt raised a $37 million Series A in December 2020, and a $127 million Series B in June of last year. The company said that its Series C was heavily oversubscribed and was finalized in record time. Alkeon Capital led the round, with other participants in the round including Sozo Ventures, Glynn Capital, and existing investors Zeev Ventures, Angular Ventures, Dawn Capital, Bessemer Venture Partners, K5 Global and TLV Partners.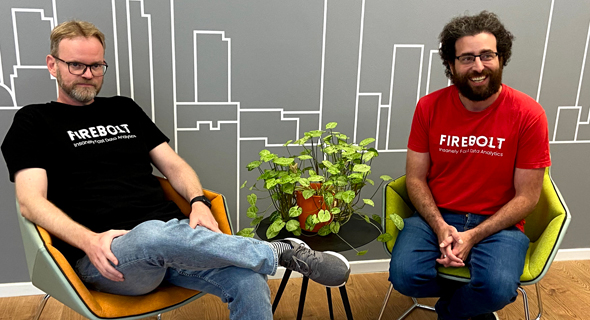 Firebolt co-founders Eldad Farkash (right) and Saar Bitner. Photo: Firebolt

Firebolt also announced the hiring of its CTO, Mosha Pasumansky, who was previously a principal engineer on Google's BigQuery team, and the opening of its Seattle office. The Firebolt team has almost doubled in the past six months to 200 team members in 25 countries. The new funding will primarily be used to further expand its product and engineering teams to enable Firebolt to capitalize on the exploding demand from tech companies to build analytics-enabled products.

"Data is at the core of every app today," said Firebolt co-founder and CEO Eldad Farkash. "This means that software engineers need to increasingly become experts in data. We see the role of the data warehouse as the foundation on top of which companies build a multitude of analytic experiences. Our purpose is to push the boundaries of what can be done with analytics and allow companies to leverage data into previously unreachable territories."

Firebolt's data warehousing solution tackles the biggest challenges of the global cloud analytics market by developing a cloud data warehouse that delivers sub-second analytic experiences at scale. Firebolt's technology allows companies to analyze much larger volumes of data than previously possible. This dramatically improves the ROI of collecting data and enables a myriad of new data-driven use cases with real business impact.

In just over one year of operation, Firebolt has gained strong traction with some of the world's fastest growing tech companies, providing the builders of data apps with the infrastructure to support their future growth and enable their agility.