Tricentis acquires SaaS test automation platform Testim for $200 million
The Israeli company introduced its AI-based testing in 2014 to accelerate application delivery by shortening the time it takes to author tests and automatically improving tests, troubleshooting tests, and handling test diagnostics
The software testing sector has been a lucrative one for Israeli companies down the years, starting with Mercury, which was sold to HP for $4.5 billion in 2006, through to Perfecto, acquired by Perforce for $200 million in 2018. Testim became the latest company to join that enviable list on Wednesday when it was announced that it was acquired by Austria-based Tricentis for $200 million. Testim has developed an AI-based SaaS test automation platform and will help extend Tricentis' own AI-powered continuous testing platform. Testim was founded in 2014 by CEO Oren Rubin and employs around 60 people, 35 of them at its local headquarters in Tel Aviv, who will all join Tricentis' workforce. Testim has raised $18 million to date from SignalFire, Meron Capital, Lightspeed Venture Partners, and NHV.

Tricentis, founded in 2007, has more than 2,100 customers including McKesson, Accenture, Nationwide Insurance, Allianz, Telstra, Dolby, and Vodafone. Its annual revenue is estimated to be around $110 million and the company employs around 1,000 people. U.S. VC Insight Partners invested $165 million in the company in 2017, becoming its largest shareholder. Tricentis is acquiring its second Israeli company after purchasing TestProject in 2019 and turning it into its local R&D center.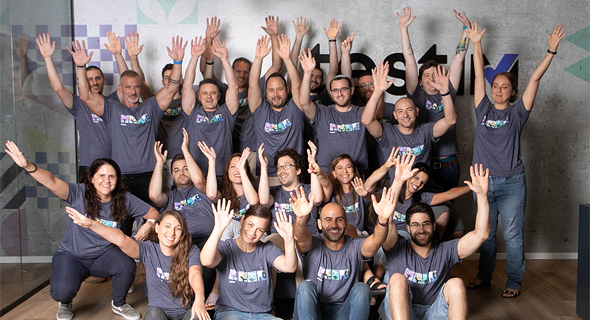 Testim team. Photo: Shay Henseb

Testim will expand and strengthen the existing Tricentis SaaS offerings for customers who want to adopt cloud-based testing capabilities with flexible consumption models. Tricentis customers have the flexibility to choose the products and services that best fits their needs, either self-hosted with an annual subscription model or SaaS with consumption-based pricing. A common data model and cross-product integrations allow customers to mix and match product capabilities specifically to suit their requirements.

"Tricentis aims to help customers deliver better business outcomes by producing high-quality, high-performing, and highly secure applications, no matter where or what the app might be," said Kevin Thompson, Chairman and CEO of Tricentis. "The addition of Testim expands our already formidable lineup of testing products further into Saas and the DevOps space."

Testim introduced its AI-based testing in 2014 to accelerate application delivery by shortening the time it takes to author tests and automatically improving tests, troubleshooting tests, and handling test diagnostics. As development teams iterate and the application evolves, Testim uses self-healing algorithms to keep the tests stable and the automation resilient.

"Tricentis has built a comprehensive offering to support the full testing lifecycle across the enterprise application landscape. The unique capabilities of both companies complement one another perfectly, and devs around the world will enjoy a more robust, comprehensive platform and higher productivity," said Oren Rubin, Founder and CEO of Testim.

Tricentis is a global leader in enterprise continuous testing, widely credited for reinventing software testing for DevOps, cloud, and enterprise applications. The Tricentis continuous testing platform provides a new and fundamentally different way to perform software testing. An approach that's automated, low code, and powered by AI. Tricentis has been widely recognized by major industry analysts, including being named the leader in Gartner's Magic Quadrant for five years in a row.