The next work perk: Will Israeli high-tech move to a shortened work week?
Sage's development center in Israel will begin a pilot where they will work Monday through Thursday, will others follow suit?
After some companies around the world have already moved to a four-day work week, the trend has started to reach Israeli high-tech as well. Sage's development center in Israel, which employs 30 people locally in a company that employs 12,000 people worldwide, will begin a year-long pilot in which workers will work a four-day work week - Monday through Thursday.
The company is not the first in Israel to announce a transition to a four-day work week. In June 2020, Forter, which deals with the prevention of e-commerce fraud, moved to a four-day work week once every two weeks, unlike Sage, which will adopt the model every week.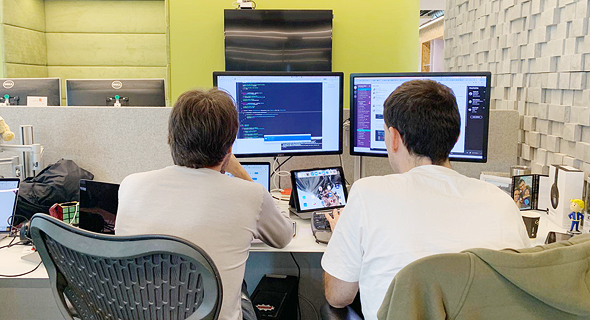 Tech employees. Photo: Autodesk Tel Aviv
The pilot at Sage, which provides business management solutions for medium and small customers, is expected to begin on April 3rd, the first day of the coming quarter and its goal, says Segev Baron, Head of Sage's Israel R&D Center, is to reduce employee stress levels and provide more balance between home and work life. "One of the things we noticed during the pandemic is that people do not leave their computers. You start working in the morning and the fact that your friends are also working also creates work for you and in the end you have no time for anything so we thought of this step which can really lower stress levels," he says.
With this decision, the directors of Sage's development center in Israel approached the corporation's headquarters three months ago and received their consent for a one-year pilot in which the 30 company employees in Israel will move to a working week of Monday to Thursday. The pilot will last a year so they can measure if there is any decline to productivity.
Today many high-tech companies work or are connected to work even on weekends and are available at all hours of the day. There are deadlines and unexpected things that come up, especially in development, how can this work along with a shortened work week?
"We reached a collective agreement among the workers regarding what needs to be done for it to work and one of the things we agreed upon is that there are special cases where we must work, especially when there is a customer crisis or a problem in production. It happened once last year and I estimate that the next time it happens we will work, even if it falls on a Friday, Saturday, or Sunday, but it's really very rare and because we're a big company we do not have the deadlines that start-ups do."
It sounds like a gimmick to attract talent in today's competitive high-tech environment?
"Obviously I think, or hope, it will bring us more talent. We're recruiting nicely and if we get more talent as a result then that's great and yet, people who come or stay at our company just because of that are probably not the people I'm looking for. We need to stay competitive in all directions. I would not recommend to anyone to join our company solely because of this 4-day work week, it is part of a whole package of what the workplace offers."
Forter, a unicorn company, which, as previously mentioned, has already adopted every other Sunday off since June 2020, and employs 230 workers in Israel, says that the model works well and made it permanent last July. "When we look at people's appreciation and motivation we see that this is really a different and amazing perk and also in the surveys we do on employee involvement we see high numbers compared to the market," says Noam Wakart, HR director at the company.
According to him, the main advantage of a free Sunday once every two weeks is the motivation of the employees. "We started it in June 2020, when there was a lot of burnout of the people who worked from home under the pandemic conditions and the goal was to improve the quality of life. It's not a normal thing to do to recruit workers. It's another day off from the calendar, a day off that is entirely yours, the worker. It is no longer a pilot, so the fear that it will end soon is gone. It is now known that this is how we work," he says.
In terms of employee productivity Wakart says executives have not seen any decline but he said it is just one measuring stick. "Because in the last year the company has almost doubled in size it is difficult to estimate only the productivity index. The importance of the move lies in looking at the employees in the long run and not in the short term, measuring short term tasks instead of the wellbeing of employees in general. This perk of a 4-day work week leads to satisfied and motivated employees and this in turn leads to higher productivity."
Grubhub, the American food delivery giant, also moved to a four-day work week once every two weeks in early 2022, so the 50 employees of the company's development center in Israel will have one day off once every two weeks. On those Sundays off, the employees' calendars will be blocked and they will not be able to schedule appointments. The company, whose work is mostly done with the U.S., chose Sunday because it is part of the weekend in the U.S. so the work momentum is not compromised. Company employees in the U.S. work half days on Fridays and in Israel they have adjusted the model to Sundays once every two weeks so it has become a fixed model of working in the company and not a pilot.
"We believe that every employee is responsible for their personal time, task management and producing their best work. Beyond this change, we will continue to be attentive to our employees and make the necessary adjustments to give them the best solution for their personal needs," says Tamir Klein, Sr. Director Of Engineering, GM for Grubhub Israel.