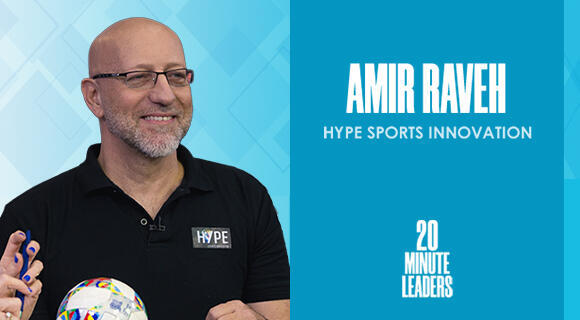 20-Mins Leaders

"Tech now allows clubs, fans, and brands to tell a story even better than before."
As a young entrepreneur in the 1990s, founder and president of HYPE Sports Innovation Amir Raveh had no one to talk to about the challenges his company faced.
As a young entrepreneur in the 1990s, Amir Raveh had no one to talk to about the challenges his company faced. That is one of the reasons he founded HYPE Sports Innovation, creating a platform that connects founders, investors, mentors, and sports brands. His vision is to combine sports and technology to impact lives around the world. Raveh explains that sports can bring people together in a special way, and new technologies make it easier than ever to share compelling sports stories. He shares that to help founders and startups in the sports field, HYPE had to create partnerships with the top sports brands. With those connections, they can help founders break into the top tiers and help the big teams and companies find the best innovations. Areas they are working on include engaging with fans in the metaverse, creating NFTs, and providing new views of games.
Tell me a little bit about yourself, how you got introduced into this whole sports world, and what is the vision for HYPE Sports Innovation.
I very much believe part of the way of sharing the story of HYPE, and sharing any kind of vision, is through stories. Recently, I remembered when I was five years old, my grandpa—who was a Beitar Jerusalem diehard fan—took me when I was five to see the rivalry team, Hapoel Jerusalem, because that was the only game that was that weekend. The game was Hapoel Jerusalem versus Hapoel Haifa. It was nil-nil, he said, "The most boring game in the world." But for me, it was an unforgettable experience.
Now, 40 years later, I'm taking my son to Germany, to the Bundesliga, to see FC Köln versus Bayern Munich in Cologne. I'm saying, "Bloody hell, not much has changed since I was a kid."
So later on, together with Bernd Wahler, who used to be the CMO of Adidas, we developed HYPE Sports Innovation to the next stage. We had nine accelerators of sports tech around the world.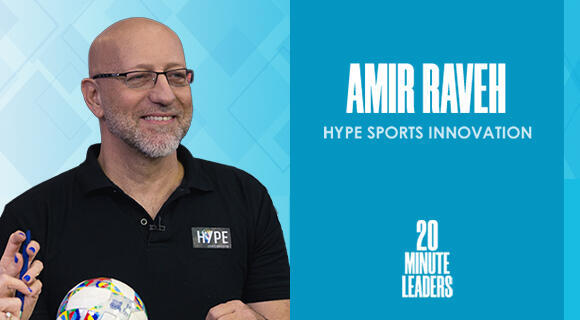 At that moment, what is the thesis that you build around the potential for innovation and technology to be integrated into sports? What is your role in that?
In that stage, I saw that there is a gap, there is an opportunity. There is a lot of innovation around me, and I couldn't really explain why there is not enough innovation in sports. Now, of course, with the new generation, they have to innovate in order to get hold of the next generation. And as an entrepreneur in the wrong side of the 50s, I thought maybe it's about time I do something I really, really love.
My passion is always sports and innovation. As an entrepreneur, I sold my business in 2003 and then started investing in a small investment house. But I was looking to come back to my entrepreneurial role to create something, to make an impact, to drive something forward. With HYPE, what we found was that in order to help entrepreneurs and startups and invest in them later on, we need to have the other side. We need to have the brands as partners. We can work with them and enable them to use the best innovations. Once we have them as customers, we can bring them the best technologies and the best startups.
What is the platform that brings everybody together that allows for this innovation to actually take place?
The vision that we had is to impact people's lives through the power of sports and innovation. If you are an entrepreneur, the biggest hurdle for you to really break through will be to get a pilot or commercial deal with a top tier club. So that's what we do basically.
With the pandemic, we started the GVA, Global Virtual Accelerator. We shut down all the physical accelerators in a day and we created this global platform, which to be honest, is much more effective. We've learned to work as a global community with mentors. We have about a hundred mentors from all over the world. We have investors, brands, and of course, startups. Every side of the platform can engage and can give value to the other.
What are some things that you are excited about as innovation is unfolding in sports?
To give you an idea, we are doing this weekend [July 30] a game between Roma and Tottenham Hotspur. They are coming to Israel, to HAIFA, to Sammy Ofer, where we created the I-Tech Cup. We don't have the restrictions of the leagues, so we can put in any innovation we want. You will be able to see the ball from the angle of the player. You can see it from the goalkeeper. We have a camera on the referee. We have NFT, a metaverse engagement to the fans globally so they can engage, they can talk to each other.
How is this new virtual engagement going to increase my presence or my engagement with this team or player that I love?
It's yet to be clear the full impact. But since blockchain is a very real technology that brings a lot of unique values, I think this is the basic that will be the fuel for all the Web three to continue to grow. Add to this a layer of a new monetization platform that was not there before to the clubs, the brands, the federations. If you hold a ticket to the final in Wembley as an NFT, and this NFT also gives you credit or access to a shop later on where you can get something or you can get access to another game with a discount, or you can have this as a memorabilia, that's something that probably people will use.
We are doing a scarf where we have some kind of NFC chip into them so you can freely get into a game. It allows you access to additional content. So there is now the metaverse, of course, and you can just see that there is a potential here to create something big. At HYPE, we would like to continue to help drive this industry forward, help be a force for good and continue to build our business. We are a for-profit organization. We have a portfolio now of about 250 startups we have equity in. And have some fun on the way, if possible.
This equity is primarily from the accelerator that you bring in those startups and you work with them and you create that platform for them, right?
Yes. It actually started when I was an entrepreneur about 27 years old. Your age. I remember after starting my own company in London, I had four pilots. With the fourth brand, which was the Bank of Scotland, I got a no after a pilot of three months. I felt it's the end of the world and I had nobody to talk to. It was '97. There was very little internet, if at all. To speak to somebody, you needed to call. It cost a fortune. I had very few people in London I knew. And I was really on my own. I remember walking on London Bridge and looking down, literally. One of the reasons we created this startup and founders' platform is to enable them not to be on their own, to enable them to have other founders they can talk to, to have mentors in different topics. The feeling of being on your own is something that I would say had a very strong impact.
If you are looking at the future of sports and innovation and tech, what are some things that you are particularly excited about as an entrepreneur yourself?
It's difficult to predict how things will shape up. Especially with the young generation. I do know that sports has a very special power to connect people and a special power to do good. I want to see sports more involved in that. If you think about the potential of the metaverse, in terms of equal opportunities. Not everybody can fly and see the champions league final. Allowing people to experience, allowing people to communicate, reducing emission by less people flying, there are a lot of good things that can happen.
Life is about telling a story. Tech now allows the clubs, the fans, the brands to tell a story even better than they could before. The ability to bring people together, although you are on your own with an empty fridge, technology has the ability to do that.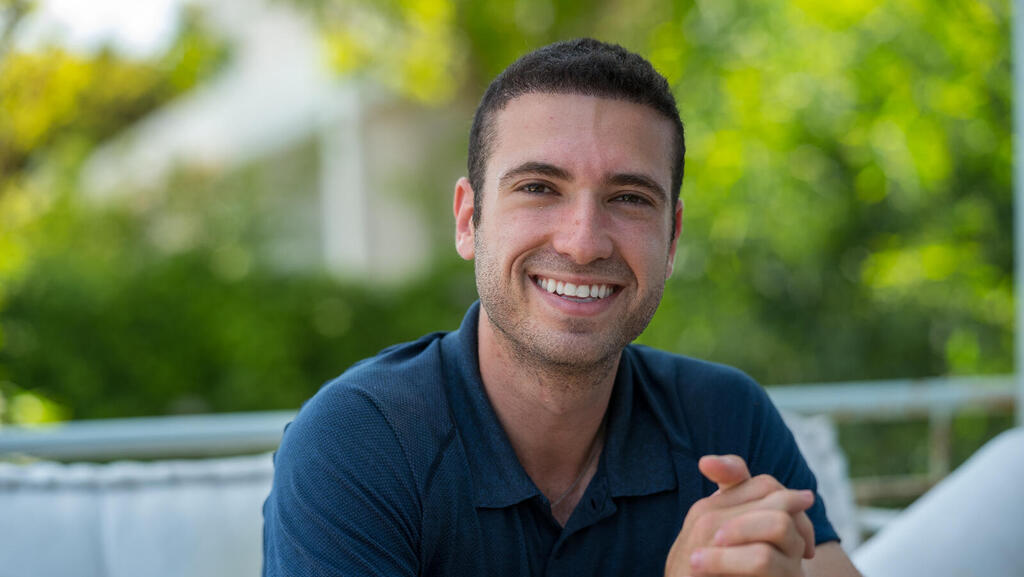 Michael Matias, Forbes 30 Under 30, is a Venture Fellow at Innovation Endeavors as well as investment Venture Partner at Secret Chord and J-Ventures. He studies Artificial Intelligence and Human-Computer Interaction at Stanford University, and was an engineer at Hippo Insurance. Matias previously served as an officer in the 8200 unit. 20MinuteLeaders is a tech entrepreneurship interview series featuring one-on-one interviews with fascinating founders, innovators and thought leaders sharing their journeys and experiences.
Contributing editors: Michael Matias, Megan Ryan