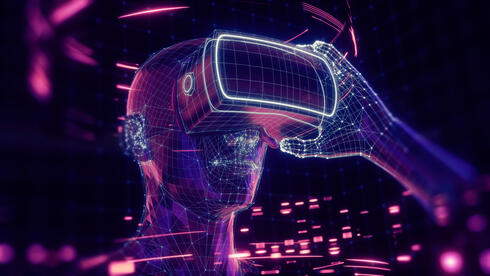 VR is hoping for a perfect world. Too bad for its creators, we don't live in one
"Creatures in the metaverse are neat and obedient, leaving no room - or tolerance - for the messiness of real life."
In the upcoming years, it will be essential that Meta attracts popular young content creators to help build online audiences in the metaverse. For the company, the stakes are high. In 2022, Business Insider reported that Meta's Reality Labs division, which is responsible for its metaverse and VR businesses, has lost a whopping $30.7 billion. What's more, the company predicts that its operating losses in 2023 would only grow. Meta's value has dropped $700 billion and it has recently fired more than 13,000 people.
To try woo people to these new platforms, Meta hosted a Metaverse fair in its offices in Tel Aviv, inviting a group of content creators to explore some of the new AR/VR content currently in development. The fair had on display its Meta Quest Pro device, some Ray-Ban Smart Glasses, Meta Sketch, and AI-based 'Digital Dogs' who follow you around different games and environments online. Its hope was that guest content creators currently posting on platforms like YouTube and Twitch would find value in all the new technologies that Meta has to offer.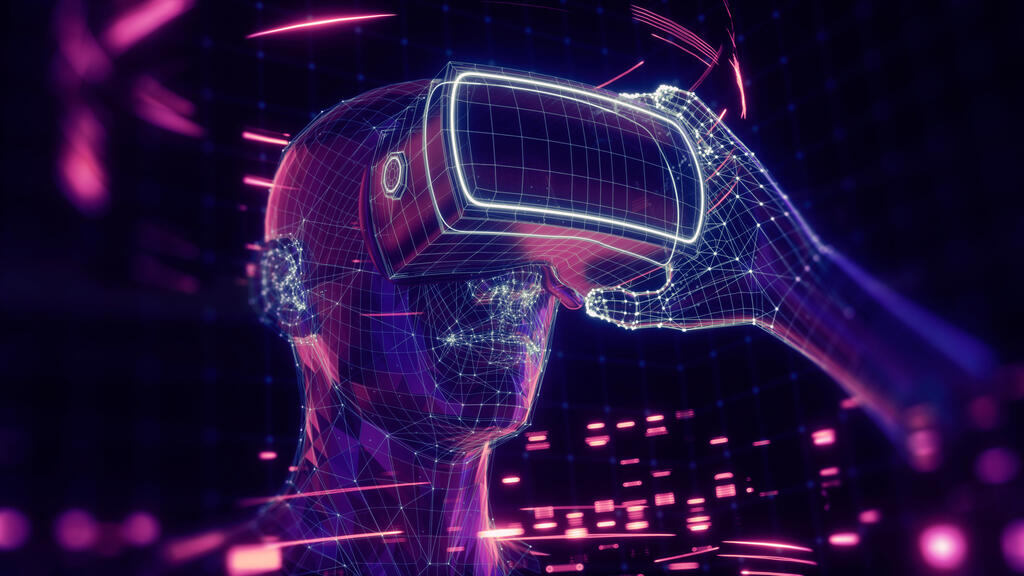 As visitors mingled in the 'real' world, Meta offered me the chance to explore the 'virtual' ones through a variety of headsets and eyeglasses, each uniquely tweaked to blend worlds together. This was the first time I had worn any form of headset, which required me to remove my 'dumb' glasses and fiddle with the focus to make sure the graphics were clear for my failing eyesight. Then, with the help of a human instructor nearby, two physical joysticks were placed into my hands and the first game was played: a round of Beat Saber.
Beat Saber is a virtual reality rhythm game similar to Guitar Hero. It takes place in a neon environment where the player must slice blocks each representing musical beats. In one hand is a blue saber, and the other hand contains a red one. It feels, for the first few seconds, as if Star Wars characters stopped fighting and suddenly started rocking out to techno music.
It is fun; albeit a superfluous evolution from the game once played by me and my friends when we were in college. Swiping at the musical beats as they fast approach is exciting, and the music tunes are catchy (I'm told more songs will be licensed for use in a few years). However, the totally immersive experience of playing a game in this format is isolating: players might feel vulnerable as their senses are cut off from the rest of the world, becoming dependent on those who are loudly shouting instructions from the physical world as you try navigate the virtual one.
The next station at Meta's Metaverse fair was a graffiti wall called Meta Sketch. For those of us who used to enjoy rebelling against our schools by spraypainting their walls can now have those thrills entirely dispelled by the virtual paints that can be digitally sprayed onto a clear wall and removed with a simple button.
"Pick up the spray can below you," I was instructed. Looking down, there was nothing. Once the headset was readjusted onto my head, it was time to 'pick up' a can which had digitally appeared by my feet next to the graffiti wall. After a few attempts, the cans remained on the floor (but 'knocked over', meaning I was unable to fully grasp the can but still able to make a mess). It was time to move to another station.
The next spot was my opportunity to meet my new metaverse pet. Digital Dogs presented its AI-based virtual dogs for owners to interact with, and train, through digital interactions. The company's dogs can be seen and petted through the headsets and joysticks, and they are also available as NFTs.
I bent down and pet a dog. I am told that the more I interact with her, the more she learns my voice and begins to follow commands - conventional training in the real world has now been swapped with AI algorithms for the metaverse. Interestingly, the dogs can be "transferred" between different platforms and between different experiences both in virtual reality (like other Meta Quest 2 applications) and in 2D experiences like Fortnite.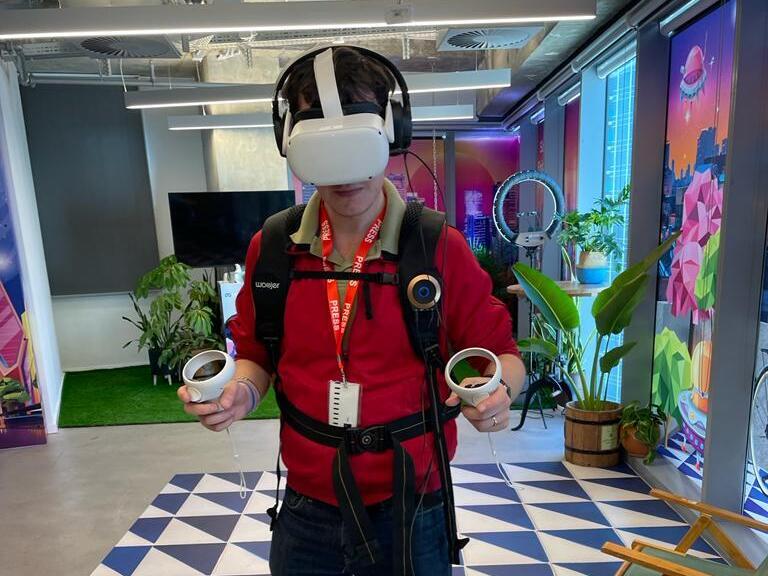 "Having her next to you is a nice icebreaker if you want to meet someone in the metaverse," I was told by the company. Suddenly everything got a little more depressing. Thoughts travelled to real life dogs in physical worlds; dogs who don't always follow commands and who sometimes leave accidents on the rugs. Dogs who have hair that is hard to get off the couch. Dogs whose eyes are filled with so much love that no algorithm could replicate it. The messiness and purity of real life is completely void in their digital alternatives.
A few years ago, I was invited to eat 3D-printed burgers. These patties were developed using perfect AI algorithms and designed to be completely replaceable and repeatable. At the time,
I wrote how
they were "personalized, but not personal… scientific, but not artistic." There is something similar to be said for the VR space. It is immersive but isolated, social but seclusive. Creatures in the metaverse are neat and obedient, leaving no room - or tolerance - for the messiness of real life.
My final experience was with Ray-Ban Stories, Meta's first pair of smart glasses. The glasses look similar to the famous brand, but these wearables are integrated cameras and microphones for photo and short video capture developed in partnership with EssilorLuxottica, a Ray-Ban parent company. They can be connected to a phone where videos and photos can be sent directly from our eyes to our pockets. They appear to be a privacy nightmare that will cause thousands of techies to look constantly into the corners of lenses instead of into the eyes of who they are photographing.
All this tech made me imagine a future where grandchildren might gawk at how glasses once upon a time could 'only' help refine sight in the normal world with no level of augmentation. That can already be seen today in some watches, where young people might be curious to think that historically they could 'only' tell the time. Soon, the idea of traveling outside to experience the world and interact with friends and animals might be met with the same confusion.
Upon leaving Meta's offices, I removed all semblance of AR and VR from my body (including an entire vest that would vibrate during shooting games). Walking by, I absorbed the view from the top of its building: the city of Tel Aviv could be seen for miles; tall skyscrapers penetrating the blue sky which were erected mere meters from the golden beach. The view stretched for miles, where thousands of tiny people could be seen living their day to day lives. It was the most amazing view seen all day.