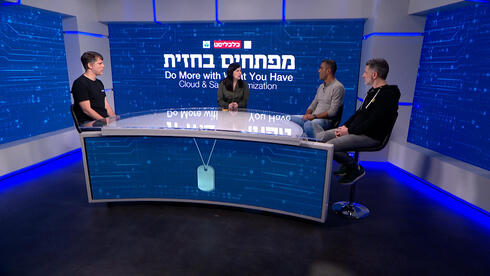 "There is currently much more interesting innovation than what happened in the last few years"
Liran Zelkha of Lili, Ilan Atias of Melio, and Tal Gispan of Guesty, talked about ways in which the high-tech slowdown affects the development field
"Optimization is a word we haven't used much in recent years, but its meaning has changed," said Calcalist reporter Sophie Shulman at the start of the panel on optimization in the face of economic instability held as part of Calcalist's "Developers at the Front Conference." The panel featured Ilan Atias, co-founder and CTO of Melio; Liran Zelkha, co-founder and CTO at Lili; and Tal Gispan, R&D Director at Guesty.
"How do the development departments at companies prioritize in an era when budgets are limited?" Shulman asked. Gispan from Guesty, which develops a platform for short-term asset management, replied: "We need to be very connected to the goals that the company's management dictates. Product and R&D (research and development) must deal with the priorities and make sure that this is what comes to fruition. From a horizontal perspective, it means looking at the things we want to do and making sure that we make them accessible as infrastructure so that it is easy to implement them in many places in the system, because our platform is very large."
Liran, Lili is a fintech company and you have end customers who are very aware of everything that changes in the product. How do you decide which feature to give up and which to develop?
"Lili is a digital bank designed for small businesses in the U.S. and we constantly listen to our customers. There are things today that we stop or slow down because during this period they might interest the customers less and on the other hand there are things that they need much more. They are more aware of the issue of cost optimization, for example. We constantly listen to what the customer wants and adjust the product and development accordingly."
How much does the product change during such a period?
"The product is constantly changing. The final goals are clear and known, but when it comes to a specific product and what specific feature is needed within that product it is constantly changing according to feedback from customers. We continue to develop at a higher rate because the competition is only increasing in the market, but we are trying to understand the customer's requirements. For example, if they have a separate product with which they issue invoices, then today we let them do it within Lili - which saves them a significant monthly expense."
Ilan, you are a unicorn - are you also influenced by the new reality?
"Melio has a platform for transferring payments between businesses in the U.S. and the prioritization does not necessarily change due to the situation. We are guided mainly by what will create more impact and more value for our customers. In this period there are different demands from the customers and they want certain features. We recently launched, for example, the ability to take a payment to suppliers and divide it into several different payments. Part of the prioritization can be influenced by the current environment, but not necessarily."
Does such a period encourage or inhibit innovation?
Zelkha: "Let's just say that today we don't sit in a development room and think of features that will be cool, but rather really understand what customers need. There is currently much more interesting innovation than what happened in the last two or three years, when the money was just lying on the floor and anyone could have it."
"The world now does produce innovation," added Atias. "In our case, the amount of value we give to customers has not changed. The world of payments between businesses in the U.S. is still basic and in its infancy and there is still a lot to innovate, so innovation exists and there will be more in the future."
"We lead our field, we want to continue to lead it and such challenges are constantly emerging from other directions. This is another challenge for us," Gispan said.