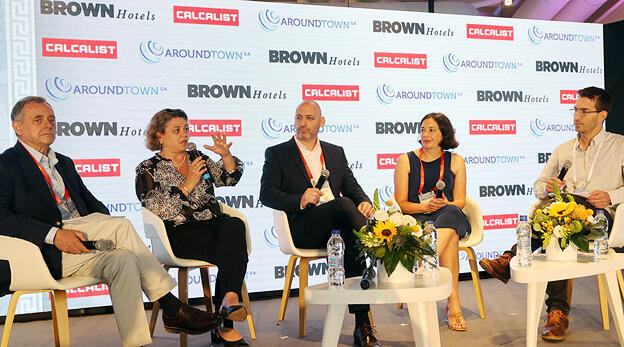 Israel-Greece Conference

"We are preparing for renewable energy and creating clean gas"
Dr. Katerina Sardi of Energean Greece, was speaking during a panel at Calcalist's Israel-Greece conference. Dorit Banet, CEO of Eilat-Eilot Energy added in regard to Russia-Ukraine conflict: "We are realizing the importance of energy independence"
"No crisis can stop our transition to renewable energy," said Yaki Noyman, CEO of Doral Energy, during a panel on renewable energy at the Israel-Greece conference sponsored by Calcalist, Brown Hotels, and Aroundtown SA. The panel was moderated by Calcalist's transportation and infrastructure correspondent Yuval Sade.
The panelists were in agreement on how the Russian-Ukrainian war is affecting the energy market. Dorit Banet, CEO of Eilat-Eilot Renewable Energy, said: "In light of what is happening in Russia, we are realizing the importance of energy independence. The best case scenario for any country is to be energy independent. Proper management of smart energy will bring independence. I live in southern Israel, and we are soon going to be 100% solar energy-based. If we can do it, everyone can."
"We are seeing the effects of the energy crisis around the world, mainly through high prices of raw materials, but we are also seeing the rising costs of energy. Renewable energy is the right solution, and is the cleanest and most efficient solution too," said Noyman.
"We are preparing for renewable energy and creating clean gas," added Country Manager and Managing Director of Energean Greece, Dr. Katerina Sardi.
You can watch the video above.