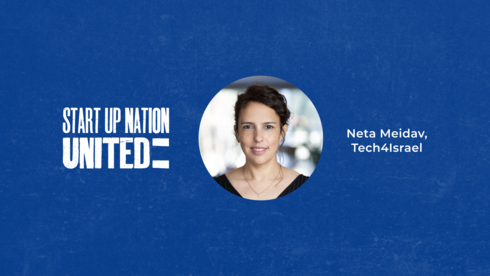 Startup Nation United

Tech4Israel: Mobilizing global capital for Israel's pressing needs
"Our society has demonstrated in the last two weeks how we yet again rise from the rubble, and we do that as one people."
Neta Meidav's initiatives,
Stand with Israel
and
Tech4Israel
, act as the ultimate connectors for global l donors to provide funds where they are needed most. In a country overflowing with humanitarian crises, these real-time donations are essential to the physical and mental well-being of Israel's society.
Neta's story is part of Startup Nation United, a series showcasing how individuals and organizations in the tech industry have united under a common vision to do their part during the ongoing war. The podcast is produced and moderated by Michael Matias and Yaffa Abadi, in collaboration with CTech, as a spin-off of the popular podcast series "20 Minutes Leaders", also published in collaboration with CTech.
Yet just three weeks ago, Neta Meidav, the co-founder and CEO of Vault Platform, had little connection to the world of philanthropy. That all changed on October 7th when she was awakened by her young daughters due to an unusual sound… Having lived in London until two years ago, it took two sirens to register what was happening and run to a shelter. Minute by minute Neta realized the scale of the disaster was far more than a few sirens and interception of rockets over Tel Aviv's sky.
Like many in our series, Neta was already part of groups and communities that had banded together to protest the judicial overhaul in Israel, communities that already knew how to work together efficiently towards a solid cause. And just like many of these communities, her Tech for Democracy initiative turned into Stand for Israel, uniting 500 leaders from the Israeli tech industry to address the country's pressing needs.
For Neta, who started getting phone calls from her US contacts asking how they could help, this meant mobilizing large amounts of capital from donors around the world in real-time. If there is one pattern in our series, it is that these leaders and organizations don't waste time. Neta found herself quickly becoming a donations maven. She partnered with Amit Sabag, and a team of volunteers from Wix, Stand with Israel was in action.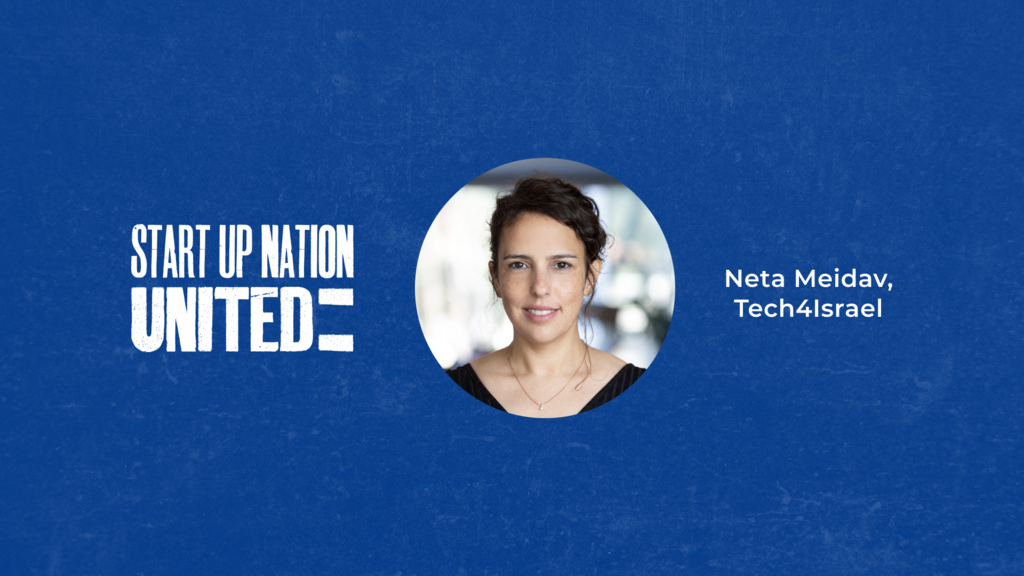 Stand with Israel acts as a central hub that consolidates Israel's major foundations and institutions and makes them easily accessible for those around the world to donate, particularly from the US. The platform acts as an aggregator that covers essential resources such as hospitals in central and southern Israel active in the war and significant organizations like Magen David Adom (Israel's Red Cross). It offers donors the flexibility to support causes aligned with donor interests, including smaller, community-based foundations. It also offers US donors the possibility of donating directly out of their Donor Advisor Funds. Neta points out that a lot of these foundations go towards mental health, as the mental trauma we face in Israel across the board is immense.
As of today, Neta estimates tens of millions of donations have flown directly to foundations in need.
Their second initiative Tech4Israel, was initiated in collaboration with influential figures in Israeli tech, including prominent CEOs and VCs. It serves as a channel for external donations to Israel and concentrates on securing substantial contributions on behalf of foundations, family offices, and businesses.
With visibility over ad-hoc, live requests, Tech4Israel is able to cover these urgent needs almost immediately. For example, hundreds of mattresses for a full community evacuated from Kibbuts or psychological services to displaced children. While nonprofits often have a mandate and a longer process, Tech4Israel steps in, true to their slogan "Immediate impact - Zero Overhead."
Neta emphasizes, "There are no salaries being paid, there's no overhead at all. We are a very quick, direct channel from donor to impact, and in no time"
This team's personal commitment to unity is mirrored by their platform's ability to unite people globally and empower them to contribute to the nation's most pressing needs. Neta was facing pressures as a mother who needs to care for the safety of her family, as a CEO who needs to keep her startup going, and as an Israeli, who, like so many others, is volunteering for her country. She has her company's team in London to thank, who have held down the fort so Neta and other members of the Israeli team can recover from the shock of the war, and focus solely on volunteering work such as the Tech4Israel, those CEOs and VCs who have thrown in their skills and connections, and each volunteer contributing their time and expertise.
In Neta's own words, "Our society has demonstrated in the last two weeks how we yet again rise from the rubble, and we do that as one people."
Yaffa Abadi is the founder and CEO of Abadi Brands, a boutique consultancy specializing in personal branding and thought leadership for investors.
Michael Matias, Forbes 30 Under 30, is the CEO of Clarity, a startup that preserves trust in digital media by fighting deepfakes, and an active angel investor in the AI and Cyber domain.