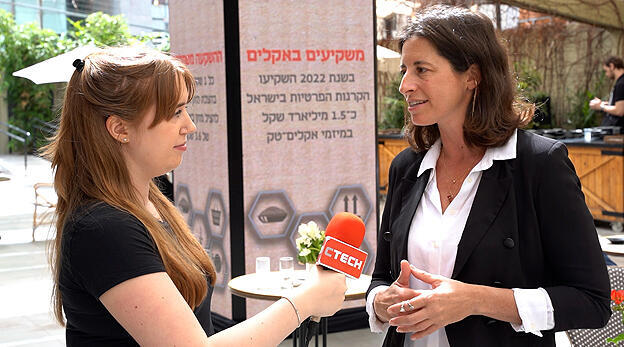 CTalk

"Food waste is a critical point of intervention"
Michal Bitterman, CEO and Co-Founder of the Natural Step Israel, talked to CTech at the Food Waste and Sustainability conference in Tel Aviv about what needs to be done to combat food waste
"We're investing a lot in understanding food waste and bringing actual solutions to really reduce the waste because we believe that food waste is a critical point of intervention so we can really leverage the whole independence of our food system," said CEO and Co-Founder of the Natural Step Israel Michal Bitterman, speaking to CTech during Calcalist and Sufersal's Food Waste and Sustainability conference in Tel Aviv this week.
Founded in 2012, the Natural Step Israel is the local branch of an international non-profit and the oldest sustainability organization in the world. It helps individuals and organizations take meaningful steps towards sustainability. One of the main concerns of the organization is combating food waste in Israel, where approximately 2 million tonnes and NIS 21 billion-worth of food are wasted every year.
Bitterman expressed concern about Israel's progress - or lack thereof - regarding meaningful sustainability policy in general, particularly on climate change, and said "I can say unfortunately that the government is really lagging behind and we are totally not [at] the pace or urgency and amount of effort as other countries in the developed world."
"We don't need to invent anything. We can look at other places, not only do they have the measures, they can also show the results. They can also show the lessons learned so we don't need to invent anything. We need to…make it relevant to Israel, but that's all," she added. "The government doesn't understand that it's crucial and it's part of a whole strategic view of independence, of resiliency. And, to maintain our society for the long term in a way that people can live and in a way that it's not so expensive, that is sustainable and so on. So as long as the government sees it as a niche...we're still really, really behind and it's unfortunate."
You can watch the full interview in the video above.