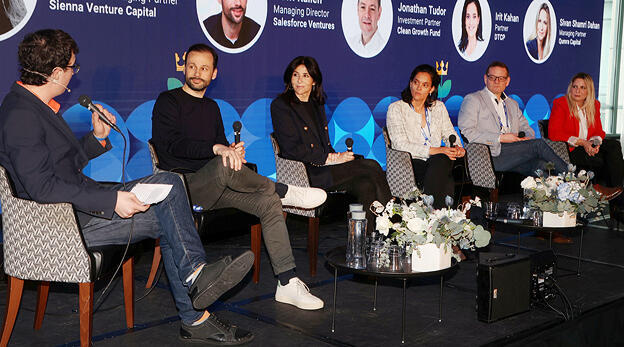 Mind the Tech London 2023

"Investments in Israel have all but disappeared - also because of the judicial coup"
"We see a poor appetite for investments on the part of foreign investors," Sivan Shamri Dahan, managing partner at Qumra Capital, said in an investing panel at Mind The Tech London, "but we also have less appetite as Israelis"
"The elephant in the room is that the investments in Israel in recent months have almost disappeared and this is also related to the macroeconomic situation, but also to the judicial reform coup that threatens to harm Israeli democracy," said Sivan Shamri Dahan, Managing Partner at Qumra Capital. "We see a poor appetite for investments on the part of foreign investors, but we also have less appetite as Israelis. I hope the situation will change and we will see the entrepreneurs establishing startups in Israel and choosing to continue Startup Nation."
Shamri Dahan was speaking as part of a panel entitled "So, Where and What Do We Invest in Next?" at Calcalist and Bank Leumi's Mind The Tech conference in London. The panel, which was moderated by CTech's James Spiro, also featured Isabelle Amiel Azoulai, Founder & Managing Partner at Sienna Venture Capital, Nowi Kallen, Managing Director at Salesforce Ventures, Jonathan Tudor, Investment Partner at Clean Growth Fund and Irit Kahan, Partner at DTCP.
When asked how Israeli companies can expand into the European market, Azoulai replied, "We have always helped companies from Israel enter Europe and it is not easy because the US is always the first and preferred market and Europe is actually several separate markets. But you have to remember that there are many financial institutions and huge industrial companies here. From our perspective in Europe, we have been investing in Israel for ten years and from our point of view there is still momentum in this market."
"We know that Europe is always secondary to the US for Israelis because it is scattered, they speak different languages, have different markets and different preferences," Kahan said, "But we help our companies with this very thing in understanding the different markets within Europe and connecting with the big companies."
Calcalist's annual Mind the Tech London conference focused this year on the changes experienced by the high-tech sector over the past year. The conference assessed how the shakeup in the markets affected the high-tech economy, reviewed the next trends in the world of technology, as well as which sectors took a leap forward and those that received an opportunity to reassess their course. ‍
You can watch the full interview in the video above.