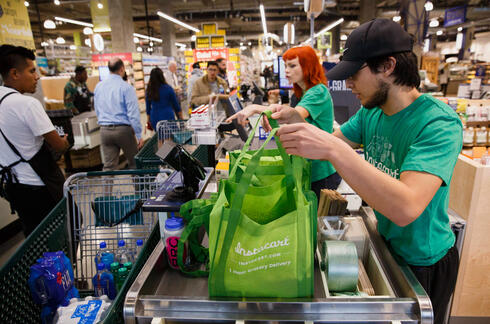 Analysis

Delivering the goods: Instacart on its way to a huge IPO
Instacart, which focuses mainly on grocery product deliveries, has recorded 5 consecutive quarters of profitability and is expected to be one of the largest IPOs of the year, second only to SoftBank's Arm
The prospectus Instacart submitted late last week was met with great enthusiasm and with a hope that together with the chip company Arm, the languishing IPO market would get a boost. Its shares are expected to start trading on Nasdaq later this month.
From the prospectus it appears that Instacart is one of the few profitable companies that operate in the field of the gig economy, which also includes the likes of Uber, Lyft and DoorDash. In the first half of the year, the company recorded a net profit of $242 million, its fifth profitable quarter in a row. Instacart concluded 2022 with a net profit of $428 million compared to a loss of $73 million in 2021. However, most of the profit in 2022—a total of $358 million—was due to a tax benefit.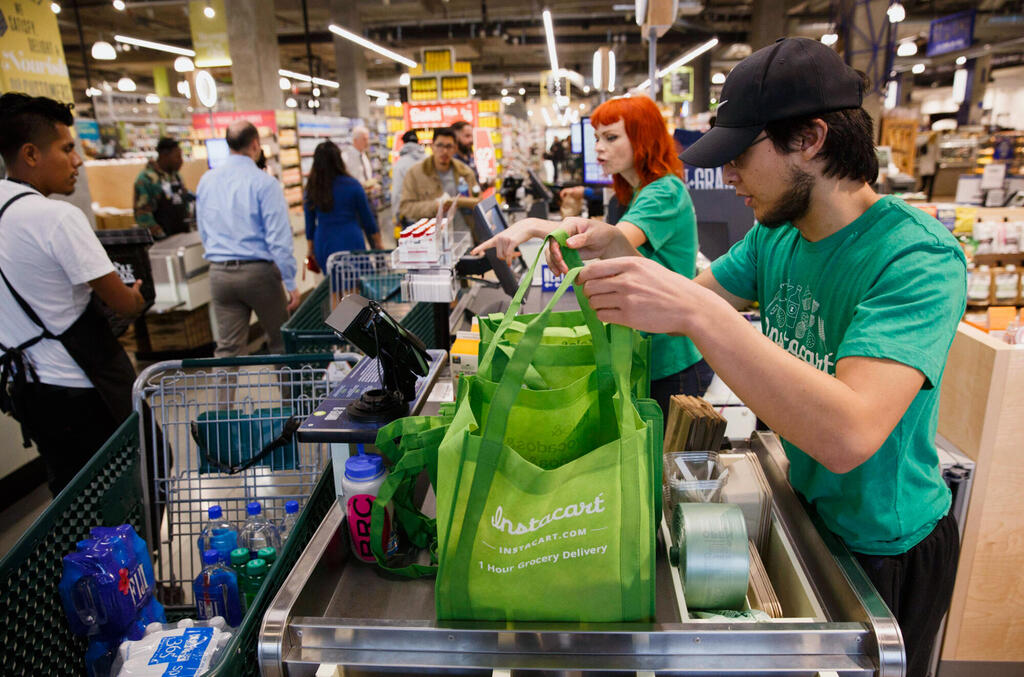 The last two years have seen a significant slowdown in IPOs of technology companies. Only 100 companies with valuations of more than $50 million were issued last year, compared to 397 companies in 2021. Instacart is expected to be one of the largest IPOs of the year in terms of market capitalization, likely second only to Arm, owned by Japan's SoftBank, which also filed a prospectus last month, and according to reports could be valued at as much as $64 billion.
About 9 million users a month
Instacart operates in the field of grocery deliveries, meaning mainly food products. However, in recent years it has expanded its operations to pharmacy chains such as CVS, convenience stores such as 7-Eleven and make-up and cosmetics chains such as Sephora. In total, the company maintains collaborations with over 5,500 brands throughout North America and over 80,000 stores that represent 85% of the American market. According to the prospectus, the company has 7.7 million monthly orders that stand at an average of $317, over 9 million active monthly users, and about 600,000 delivery people.
In the six months that ended on June 30, the company's revenues amounted to $1.48 billion, a jump of 31% compared to the corresponding period in 2022. On an annual basis, revenues grew from $1.83 billion in 2021 to $2.55 billion in 2022. The number of orders climbed by 18% from 223.4 million in 2021 to 262.6 million in 2022. In the first half of the year, orders totaled 132.9 million compared to 132.3 million in the corresponding period last year.
Since its founding in 2012 in San Francisco, Instacart has raised $2.7 billion in 17 funding rounds, according to Crunchbase. In March 2021, it completed its last funding round of $265 million from investors such as Andreessen Horowitz, Sequoia Capital and D1 Capital Partners according to a record value of $39 billion. In December 2022, the company lowered its internal valuation to $24 billion and then to $13 billion. According to the prospectus it submitted, the beverage giant PepsiCo is expected to enter as a major investor and has already agreed to purchase $175 million in shares in a private offering.
The company's business gained momentum and recognition mainly with the outbreak of the Coronavirus pandemic, when the demand among the public for deliveries from grocery stores and other small supermarkets soared. At the time, the delivery people who worked for it declared a strike for several days and called on customers to delete the app, after they claimed it did not provide them with minimal protection against the virus. They said that the company does not equip them with disinfectant or masks and does not provide paid sick days for those who become infected. A number of employees who joined that year were laid off in January 2021, as part of efficiency measures.
During 2022, it was also revealed that the company does not protect its delivery people from the practice of customers entering a high tip to entice delivery people to complete the delivery quickly, and then canceling the tip. At the end of 2022, the company also had to pay a fine of $46 million to delivery people from California whom it classified as freelancers, even though they should have been classified as employees. In the first two years of the pandemic, Instacart experienced exceptional growth and recruited thousands of employees. The inevitable slowdown led it to lay off thousands of workers gradually, starting in the second quarter of 2022, and currently it employs 3,486 workers. Accordingly, the costs of management expenses and general expenses reported in the prospectus shrank in the last quarter to $51 million compared to $77 million in the second quarter of 2022 and a record of $102 million in the last quarter of 2021.
Throughout the prospectus, the company emphasizes the scope of the American grocery store market, the great potential for online shopping and its commitment not to compete with the brands it works with. The advertising business, in fact, occupies a central volume in its activity and accounts for about a third of its revenues. In 2021-2022, advertising revenue grew from $572 million (31% of total revenue) to $740 million (29% of total revenue) in 2022, and from $327 million (29% of total revenue) for the first six months of 2022 to $406 million (28% of total revenue) for the first six months of this year.
The person who signed off on the development of this revenue segment is the company's CEO Fidji Simo, formerly Head of Facebook app at Meta, where she worked for about a decade. Simo joined the Instacart board of directors in January 2021, and in July was appointed CEO in place of co-founder Apoorva Mehta, who was appointed chairman. Before vacating his seat, Mehta tried to sell the company to Uber and DoorDash, amid slowing growth. His efforts were met with resistance from the board of directors and finally led to his leaving the position.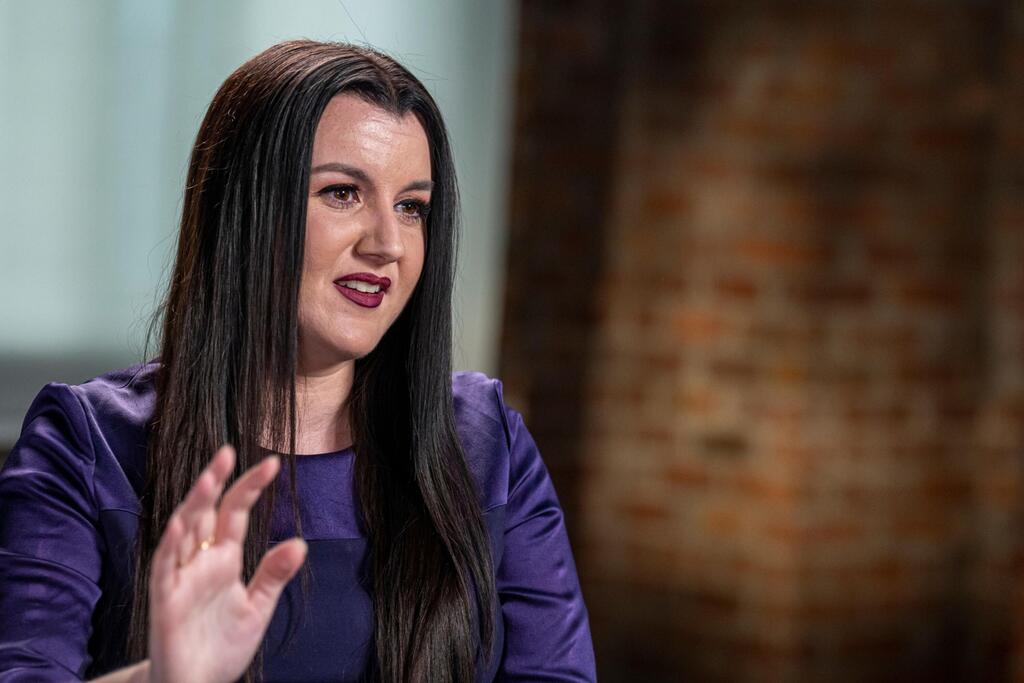 In the last two years, Instacart has acquired several companies in the field of artificial intelligence to help it with dynamic pricing, improve the recommendation algorithm and allow brands to pay for product placement within the app. Not only do the acquisitions indicate a focus and desire to nurture the ad business, but Instacart cites this as its risk factor in the prospectus. Although it is an almost inevitable natural trend for any technology company today to lean heavily on advertisements, this is not good news at a time when companies are pulling back on advertising spending due to high inflation.
The timing of the IPO also raises questions. The company's current valuation is significantly lower than its past funding rounds. The company itself planned to go public during the high tide of the technology sector in 2020 and had already, according to reports, recruited Goldman Sachs to act as underwriter in the offering which was supposed to be at an estimated value of $30 billion. The offering did not materialize and instead the company raised private capital. In May 2022, it submitted a confidential prospectus for an offering that it had planned for the last quarter of the year, but in October it became known that it postponed the move for an unspecified period, apparently due to the high volatility in the sector.
Despite the winding road to the IPO, and even though the company's performance presents a complex picture when it comes to the future of its profitability, Instacart has reason for optimism. Its competitor DoorDash, which was established a decade ago and completed its IPO in May 2022, is currently traded at a value of $32 billion, even though in all its years it recorded just one profitable quarter. The same goes for Uber, which just last quarter recorded its first profit in its 15 years of existence and trades at a value of $93 billion.