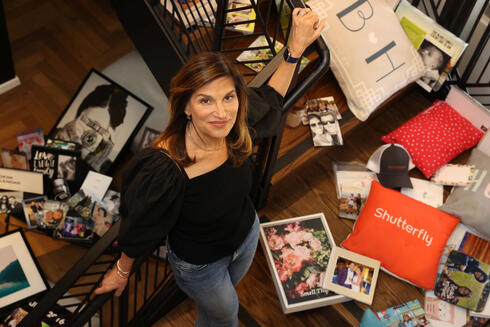 Interview

A picture of grandma on a porcelain mug is also high-tech
Shutterfly is the undisputed global giant in custom photo printing. This means that it takes the countless photos on your smartphone, and turns them into photo albums or prints on cups, textiles, puzzles and bottles. CEO Hilary Schneider explains why the company is absolutely high-tech, and how the algorithm developed in Haifa is responsible for a significant portion of their $2 billion annual revenue
It's not too early in the morning at the Shutterfly development center in the lower city of Haifa, and the director of organizational happiness is giving me a tour of the company's designed offices, along the way she gives a Namaste greeting to the passing employees. "Why the Namaste?", I ask suspiciously, and she gestures with her hand to the area where the lights are dimmed and people stretch out, explaining that a yoga class has just ended there. An hour later the employees will gather again here for a lecture by one of the company's employees on Lego in space. In between, they will complain that the view from the windows - the sea of ​​Haifa and the local port - is not amazing today. But despite the facilities and manners typical of Israeli high-tech, Shutterfly does not deal with cyber, fintech, gaming or the services economy. The company's product is the furthest from this: Shutterfly prints photos on albums and on greeting cards, canvases, puzzles, mugs, bottles, textiles, houseware and what not.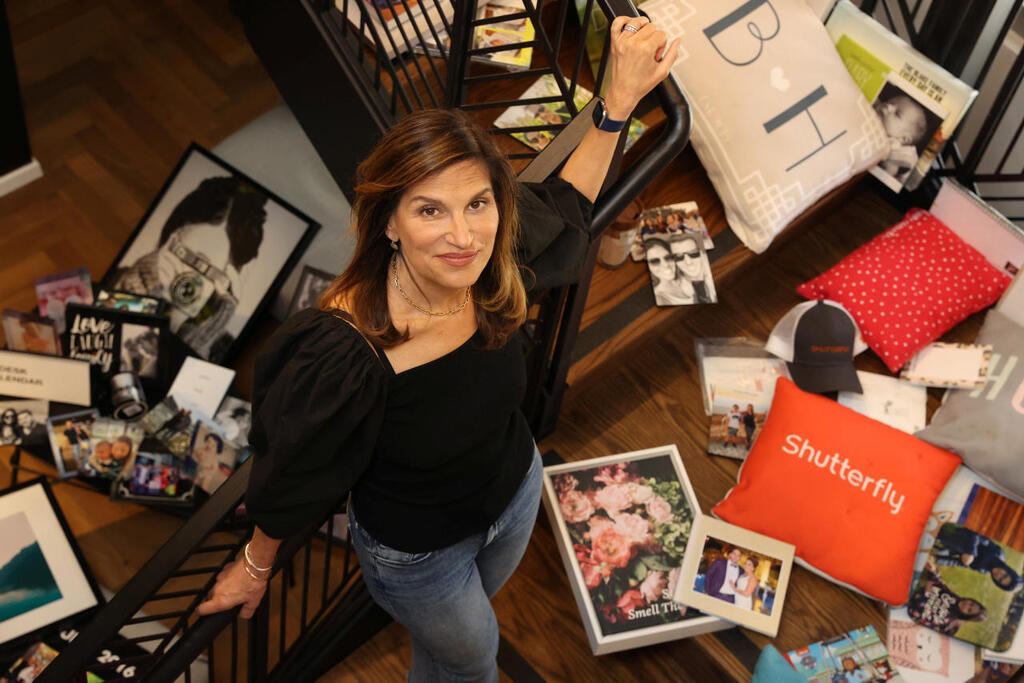 The company is the undisputed global web-to-print giant, with sales of $2.3 billion a year, as of 2021. In Israel its name is not very well known, but in the United States and Canada, where more than 90% of its customers are concentrated, the company is a cultural phenomenon and a commercial embodiment of the smiling North American photogenic family. It is an empire that employs 13,000 workers and another 9,000 contractor workers around the American holiday season, which sent no less than 370 million shipments last year. According to the Wall Street Journal, its value was estimated at $4-5 billion last year. By comparison, Cimpress, the second-largest company in the industry and which owns the competing brand VistaPrint, was traded at about $2.5 billion at the time (and is currently worth about $1.15 billion).
And the growth engine of this huge operation is located 200 meters from Wadi Nisnas. "In 2012, we acquired a small Haifa startup called Photoccino, which was at the forefront of understanding photography and machine learning," says Hilary Schneider, CEO and president of Shutterfly, when we met during her visit to Israel. "At the time, it had eight workers, but in the decade since then it has grown to 150 workers - Jews, Muslims, Christians and Druze - and is still growing." This is Shutterfly's only development center outside the United States, and it's hard to overstate its immense importance to the company. An algorithm it has developed is responsible for processing 10 million images daily. "This is our center of excellence. The team here is focused on mobile and innovation in artificial intelligence and machine learning," Schneider says proudly.
Pardon me for asking, but what machine intelligence is needed to sell photo albums and mugs with the caption "The best dad in the world" under the picture of a bearded guy?
"Take for example one of our flagship products, a personally designed photo album. Originally, designing an album on our platform involved hours upon hours of users' work: sorting photos, cropping them, placing them on the page, etc. In its 23 years, Shutterfly has produced hundreds of millions of customized products, thus collecting unprecedented data on how our users design their albums.
"A decade ago we recognized that the album market has insane growth potential, if we just make the product simpler. This is what machine learning staff do here in Haifa: they have developed an algorithm that goes over all the albums we have printed before and checks what can be deduced from them. For example, regarding the photos selected for the album or on the order in which they appear in them. We 'train' this algorithm, almost as Google trains its search algorithm, and we do it based on the vast body of knowledge we have accumulated, to predict what will make the album better. The result is that last year we launched a service which designs an album for you in 90 seconds. You just upload your photos to our server, without selecting, and our system alone chooses the photos that have the most chance of being the ones you want in your album."
On what basis does the system select?
"It analyzes the centrality of the object in the image, its volume, its scale, and many other parameters."
The album knows by itself who got married to whom, and when
Anyone who has ever been required during their lifetime to create a digital album - in honor of their parents' birthday, their daughter's bat mitzvah or the finishing on an IDF service - knows the despair which is inherent in this Sisyphean work: choosing photos, resizing them, labeling their location, background, font, and then adding titles and captions in a way that will make it possible to understand what is happening in the photographs.
That's why Shutterfly refers to the automated albums they have created as nothing less than a tremendous technological breakthrough. "It's a huge engineering challenge," explains the center's development director, Roy Amir. "We create a smart photo album based on deep learning analysis. Our product reads the photos on the user's device in real time, chooses how to place them, turns it into a graphic engine that you can play with, and allows you to order the result to your home.
"These are huge amounts of data that need to be run quickly and efficiently, and constantly refined and refined. I will never underestimate eBay and Amazon, but the challenges in choosing the product, uploading images, providing graphical capabilities that will compete with Google Images, and then packing it all together into one fast, good and professional experience - are huge. "
Suppose I got married yesterday, your product knows on its own how to create a wedding album without offending any aunt?
"Our deep learning team uses the latest technologies to analyze and understand a lot about users, like who married whom and when, without you telling them. And it knows how to differentiate between a wedding and a trip you just returned from and identify the places you were at and when. And it knows by itself if you have pets, for example, and all kinds of segments like that. Shutterfly provides an image storage service that competes with Google Photos, but unlike it, stores the full size images for free, so many users in the United States use us as a secondary engine for backing up images. But we, unlike Google, also know how to turn these images into content. It causes users to go to the site or app and buy things based on their memories or recent events."
Do people still want to turn digital photos into a physical product?
"Our mobile applications generate revenues of close to $300 million a year, plus a considerable profit from custom components. And all of this was born here, in Haifa, and this should grow even more with the company's expansion to additional products and customized content for each user."
Your products are very personal as well. Where can personalization be improved?
"We are now introducing even more advanced personalization capabilities. For example, if we - that is, the algorithm - know that someone loves dogs, they will see more products with dogs on them."
These challenges bring to the development center workers who do not exactly meet the accepted profile in the Israeli high-tech industry: Shutterfly is not aiming for fresh graduates from IDF computer units, or even students - but slightly older workers, aged 25-30, for whom this is not their first job in the field. "We are looking for people with strengths in engineering and product vision, and we do not usually employ people who have just graduated, although we have a partnership with the Technion where we offer training," says Schneider.. According to her, about 40% of the recruitments are via word of mouth.
Young people in particular want to go beyond the digital framework
Shutterfly began in 1999 as a digital camera image development company, grew tremendously, and in 2006 was listed on Nasdaq and made a long list of acquisitions - the largest of which, in early 2018, was that of Lifetouch, which captures all students in the American education system each fall and spring. But a year and a half after this acquisition, Shutterfly found itself in debt of $900 million, and was bought for $2.7 billion by the private equity fund Apollo, which took it private again and then merged it with its competitor Snapfish.
The Israeli startup Photoccino, which was founded in 2011 and became its tie-breaker, was acquired by Shutterrfly for only $20 million. But tie-breakers also need the right circumstances to thrive, and those came in January 2020, with Schneider (61) appointed CEO and president of the company. Schneider previously held senior positions at Yahoo, and in 2016 led the cyber company LifeLock's acquisition by Symantec for $2.6 billion.
"When digital cameras just hit the market, the thesis was that people would lose interest in printed photos and print products with photos because they have a digital copy of the photo, which is, ostensibly, enough," Schneider says. "The reality is, of course, that the more digital photos you have, the less likely you are to find the photos you want when you want them, and the greater the fear that you will not have the souvenirs you want."
The younger generation, it turns out, quickly understood this phenomenon. "One of the interesting phenomena we encountered during the Corona period was that our fastest growing age group was 26 and under," Schneider says. "They were isolated and they wanted to create, give and connect with their family and friends. The idea of a physical product still being of significant importance is not going anywhere."
But the idea of ​​a physical product also poses a huge environmental challenge. Millions upon millions of mugs with children's photos, embroidered pillows, "best grandma" plates or automatic photo albums are actually millions upon millions of not really essential, recyclable complex products that are accumulating. Not to mention the pollution that their production and transportation creates across the globe. This disturbs the peace of mind of the young people who are enthusiastic about the physicality of the products, and Schneider is aware of this. "We're doing everything right, but not telling the story well enough," she sighs when I tell her I was surprised not to find a "sustainability" tab on the Shutterfly website. "We are in the midst of a consumer study to re-examine the color of our packaging, which is as orange as our logo - because it may be that because of the color, the consumer does not understand that it is 96% recyclable."
These packages are just a drop in the bucket of the goods you produce.
"Shutterfly's commitment to the environment began even before I joined the company. Our greeting cards, and in fact all of our paper products, are all made of carbon-neutral paper (offsetting the carbon emissions caused by paper production, through support for projects that reduce carbon emissions), and all our plants use electricity from renewable energies. The plant in Winnipeg, Canada, operates entirely on renewable energies."
But when you dive a little deeper, you find that Snapfish's products, for example, are not made from recycled materials, as well as some of Spoonflower's products, another brand of the company (we'll get to that later). On the other hand, although it is only to be expected that the company would relocate production to the Far East, all five of Shutterfly's plants are located in North America (four in the United States and one in Canada), which saves tremendously in transportation costs.
"Shutterfly does this out of a commitment to the communities we live in," Schneider says, arguing that commitment is personal for her. "When I was studying at Harvard Business School, the bottom line was always how to make more profit from something. And I actually thought, 'Do I care about that? Does that motivate me?' I did not know if I wanted to spend my life understanding how companies could make more money. It took me a while to realize that there are companies that are financially successful but also make the world a better place - and the combination of those two is what motivates me."
How does Shutterfly make the world a better place?
"Our product connects families and memories. And the first thing I did when I joined Shutterfly, for example, was recruit women to the board. Today we have five women on board, three of them non-white. I did it because women make up 80% of our customers and 60% of our workforce. And if they do not have representation in the senior management, they will be wronged."
Why only pictures on glasses, and not also curtains?
Trying to better understand customers achieves additional, intra-organizational goals: Forbes recently announced Shutterfly as one of the best companies to work for and one of the leaders in social diversity. But the effort to understand customers also had significant business results: Last August, it led Shutterfly to acquire American textile, wallpaper and household design platform Spoonflower for $225 million to address what is known as the 'creators' market.
"Spoonflower is an artists' marketplace, selling both directly to consumers and through a very successful store on Etsy," Schneider explains. "The designers who sell it are mostly women who work from home and contribute to the family's livelihood by uploading a graphic design or piece of art that can be printed on a line of products that you, as a user, can print on fabrics, wallpaper, plates and cups. Once the designers make their design public and a user orders a product with this design, they get 10% –15% of the revenue. It's an amazing ecosystem. Shutterfly and Snapfish both began with photo personalization, and Spoonflower allows us to expand to full personalization."
"Because full personalization is the ultimate self-expression and future of e-commerce. As a child I wanted my parents to only buy me things that came from the mall, that were the same things that everyone had. But today's generation only wants unique, customized things. In recent surveys, 80% of consumers reported that they were much more likely to buy from a company that offers customized products."
What next? In March last year, when the SPAC frenzy was at its peak, the Wall Street Journal reported that Shutterfly was also considering returning to the stock market through a merger with a SPAC, and was even in the midst of talks with a specific company. Since that SPAC has already been merged with another company, where do you stand in relation to returning to the stock market?
"Shutterfly is a successful company backed by private equity, so as you can imagine, we've come across a lot of rumors and speculations about the company's future. This is not surprising, given our market position. Usually we do not comment on speculation, but I can assure you that we are not examining the track of a SPAC merger. At the moment, we are focusing on the continued growth of our family of brands and expanding our customer base."