The Global Trend of Dark Marketing
User information collected on social networks such as Facebook powers specialized advertising campaigns that pinpoint target audiences
A visit to Apple's Facebook page will reveal an interesting phenomenon — it is completely blank. Though the page has 7 million followers, Apple doesn't bother advertising its products through the platform, in what may appear to some an entirely wasted marketing opportunity. Why does this tech colossal who spends billions of dollars a year on digital advertising not publish a single post on Facebook, the world's largest social network?

In truth, Apple does advertise on Facebook, even running a number of various campaigns simultaneously. But in the spirit of targeted marketing, Apple ensures that each post reaches the audience it will resonate with most, and doesn't bother with broadcasting one ad to Facebook's entire userbase — including Apple's competitors.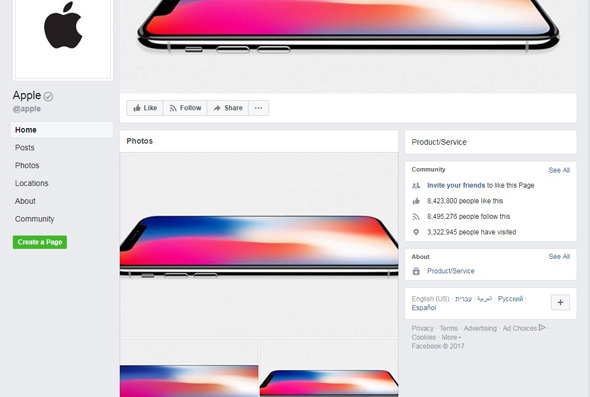 Apple's blank Facebook page

Apple's Facebook page is a prime example of an emerging digital advertising phenomenon called "dark marketing" — advertising campaigns aimed at relatively small audiences that produce unprecedented results for advertisers. This trend is led by the two leading figures in the digital advertising world, Google and Facebook.

The Google-Facebook duopoly currently dominates 50% of global digital advertising spending, and their market share is continuously increasing at the expense of other advertising channels due to their unique and valuable offerings: the ability to publish ads in a number of channels (Google through YouTube, Facebook through Instagram) and in a variety of mediums (text ads, graphics and video), extremely accurate segmentation capabilities that allow advertisers to personalize their marketing to each population, and full control over a variety of parameters such as campaign duration, text and design. These enable a more effective and efficient use of advertising budgets and significantly improve the ads' results.

But though these two players are still both growing at a faster rate than the overall market, a closer examination reveals that while Facebook's sales are still less than half of Google's, Facebook's growth in both profitability and earnings is outpacing that of its older rival. Facebook's net profit was only 20% less than Google's in 2017's second quarter and it is growing rapidly.

The results Facebook published in July were impressive — the company beat analysts' forecasts and recorded $9.3 billion in revenues, with an operating profit of $4.4 billion. In this quarter Facebook saw over 2 billion active users, 1.3 billion of whom used the mobile app or the site on a daily basis. These results are even more impressive since they do not include users who only use other Facebook services, such as Instagram or Whatsapp, but not Facebook itself. In the second quarter, Facebook averaged $19 in income for every American user, a significant 25% growth compared to the previous year. In addition to the increase in the number of users, Facebook is constantly improving their strategies for generating revenues from each user.

So what is behind Facebook's dizzying success? As we know, Facebook holds a huge and unprecedented amount of personal information on each user. Every day, 1.3 billion users worldwide add billions of photos, likes, and shares to Facebook's database. The average user reveals almost every detail of their personal life, and since most do so through their smartphones, Facebook also stores information about their location, contacts, and more.

Facebook's sophisticated analytics tools enable the company to gain a vast amount of insight into each user and user group, and this information is a goldmine for advertisers. The ability to accurately reach different target audiences at the right time and with the right message delivers unprecedented results. A prime example of Facebook's unique analytics capabilities is their Lookalike service, which enables advertisers to input a list of existing customers and receive a list of new customers who are practically identical.

The enormous impact of these tools on advertisers is reflected in the fundamental changes that have occurred in the marketing world in recent years. In the age of dark marketing, advertisers are learning to take advantage of the tools Facebook and other social networks offer to quickly test the effectiveness of new ads and messages tailored to specific audiences, to target new audiences, and to respond quickly to shifts in this competitive arena.

Based on Facebook's documents, we can assume that this trend will only grow in the coming years, and that Facebook will continue to take full advantage of its impressive database to offer new tools and insights to advertisers and gain an even larger share of global advertising spending. Furthermore, Facebook is far from exhausting all of their assets — for example, the Whatsapp mobile app has almost 1.3 billion users, and is currently ad-free.

Not everything is positive in the dark marketing world. This new trend brings with it a threat, as the practice hinders companies in collecting business intelligence about the dark marketing activity of their competitors. In the past, companies researching their competitors' open marketing factored that intelligence when preparing their advertisements and marketing budgets.

In the dark marketing era, companies are losing this edge, as traditional intelligence tools do not allow for a full examination and understanding of competitor activities. Today, an aggressive competitor can launch an effective campaign targeting a specific population, grabbing some of its competitors' market share while leaving them clueless regarding the reason for their unexpected decline in sales.

Entrepreneurs are already rising to meet this new challenge. Venture capital firm Glilot Capital Partners (a company of which the author is a founding managing partner) recently led a $2 million seed round in BrandTotal, an innovative new startup that helps marketing teams regain that competitive edge. 92% of current brand posts on Facebook are dark marketing, but BrandTotal allows companies to shed light on their competitors' dark marketing activity and restore their position on the playing field.

As marketers come to realize the benefits and advantages of dark marketing, the future marketing world will resemble a battlefield in which small, secret forces act based on detailed and up-to-the-minute intelligence, maneuvering their targets surreptitiously, attacking them effectively and disappearing before the defensive force is even able to respond. In the future, the appropriate collection and analysis of competitive intelligence, combined with insights provided by advertising platforms, can become strategic tools for advertisers to identify and act on their competitors' vulnerabilities while at the same time responding quickly to aggressive moves.

Arik Kleinstein holds a MBA from Tel-Aviv University's Recenati Business School. He is a founding managing partner at Glilot Capital Partners, a seed and early stage venture fund focused on cyber security and enterprise software.