Rakuten Looking to Expand Investments, Collaborations in Israel
The Japanese online retail company bought Israeli messaging app Viber in 2014 for $900 million
In 2014, Japanese e-commerce company Rakuten Inc. acquired Israeli messaging app Viber Inc. for $900 million and made it a central part of its integrated services vision. Now the company is looking to expand its investments and collaborations with Israeli companies, according to Rakuten executive vice president Yasufumi Hirai.

For daily updates, subscribe to our newsletter by clicking here.

Hirai visited Israel last week as part of a delegation of state officials and business executives that accompanied Japanese Minister of Economy, Trade, and Industry Hiroshige Sekō in a state visit to Israel. Companies represented included Mitsubishi Corporation, Toshiba Corporation, and Sony.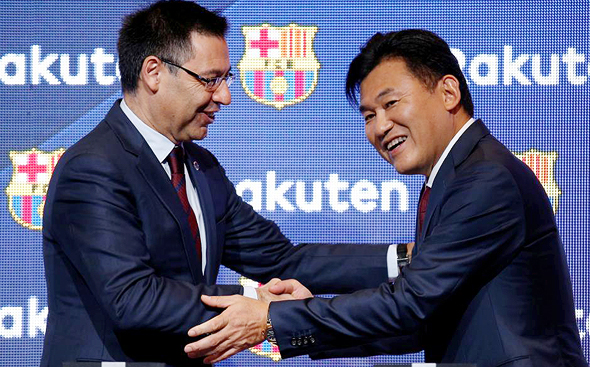 Hiroshi Mikitani and FC Barcelona's President Josep Maria Bartomeu shake hands. Photo: Reuters

Users spend a lot of time on chat applications, and Rakuten intends to turn Viber into one of its main e-commerce platforms, Hirai said in an interview with Calcalist.

Rakuten has over 120 different services and global brands under its umbrella, including e-commerce, financial services, and media. In a 2017 interview with Calcalist, founder Hiroshi Mikitani said outlined Rakuten's intention to integrate all of its services via Viber, in a similar way to Tencent's WeChat in China.

Currently, the app is also used by FC Barcelona for its public account, following Rakuten becoming the club's main sponsor.

Rakuten wants to expand its local investments, and collaboration with Israeli academia, startups, and accelerators, either through Viber or directly, Hirai said.