Tips
Must-Have Apps for the Overwhelmed Visitor to Tel Aviv
Ahead of the Eurovision festivities scheduled for this week, thousands of tourists are flooding the city's streets. Below is a list of apps that can make their visit a little more laid-back
Tel Aviv is currently flooded by thousands of tourists crowding its streets ahead of the 2019 Eurovision song contest. Spread over the entire week, the Eurovision events will end with the finals on Saturday.
From sunny beaches and unique cuisine to museums and historic neighborhoods, Tel Aviv has a lot to offer visitors regardless of the Eurovision. But, like any unfamiliar place, it can also be a little overwhelming and confusing.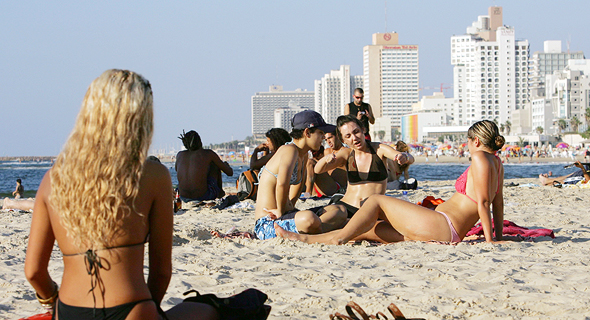 Tourists in Tel Aviv. Photo: Getty Images
Below are a dozen apps any visitor to Tel Aviv should get familiar with.
Easy
Easy is a location-based app that lets users know what attractions, restaurants, supermarkets, or even ATMs are in their immediate vicinity. Users can search places by category or by entering keywords and the app automatically finds the most relevant spots. The app can even tell you what establishments are on your way from location A to location B. Easy warns that its English version is slightly limited but it can still be a great tool to help you find your way around the city.
Moovit
A free navigation app that integrates the various modes of public transportation available in Israel in order to offer users the most efficient route. In addition to buses and trains, the app also offers pedestrian and bike routes.
Bubble Dan
A relatively new shared-ride hailing service launched last month by New York-headquartered ridesharing company Via Transportation Inc. in collaboration with Israeli public transportation company Dan Bus Company. Operating only in Tel Aviv during weekdays, the app lets users reserve seats in 10-passenger vans whose routes are optimized according to the pick-up and drop-off points selected by different users. A single ride costs between NIS 12.5 (approximately $3.5) and NIS 15 (approximately $4.2), about twice as much as a bus ride, but significantly less than a taxi.
Cool Cousin
Tel Aviv has a lot to offer and the variety can be somewhat perplexing at times, making you wish you had some kind of cool local friend or, say, cousin that could take you by the hand and show you around. Tel Aviv native app "Cool Cousin" does just that—the app features first-hand recommendations for anything from restaurants and bars to museums and shops curated by a select few.
Gett/Yango
Though it is currently gunning for an initial public offering, home-grown taxi-hailing app developer Gett Inc. has recently suffered a blow in the Israeli market due to the entrance of Russian taxi booking service Yango, operated by multinational technology company Yandex NV. The two companies operate under a similar model, using licensed local taxi drivers hailed by users through an app and charging the normal state-regulated fee. Still relatively new to the market, Yango offers 50% off the first ride as well as occasional discounts.
Tel Aviv Beaches
With all due respect to the Eurovision, here's an app that deals with the real reason you came—spending a beautiful day (or two, or maybe a week) at the beach. Tel Aviv's official beaches app informs users on the current water temperature, wave height, the availability of lifeguard services and other facilities, and whether or not it is safe to swim. Entering all beaches on Tel Aviv's coastline is completely free but some facilities such as using beach chairs and parasols carry a small fee, which can be paid through the app.
Micro-mobility apps
Tel Aviv is rampant with on-demand bicycles and electric scooters, operated by both local and international companies that offer a quick and relatively cheap way to move around the city. The catch is having to navigate through its busy streets, where bike lanes are often just part of the sidewalk. Most services charge a flat fee per ride and an additional sum per distance traveled.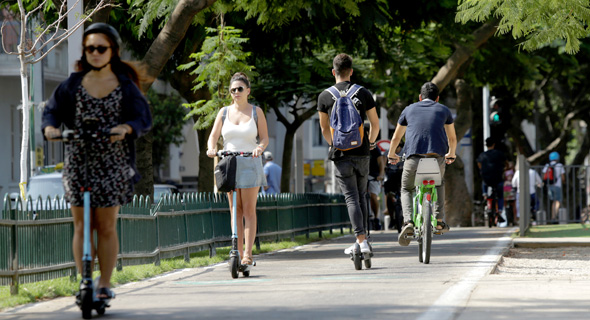 Micro-mobility in Tel Aviv. Photo: Amit Sha'al

E-Scooters:

Bicycles:

EatWith

Another Tel Aviv-native, EatWith connects tourists with locals for food-related experiences including private meals in chefs' homes, cooking classes, and culinary tours.

Colu

Digital wallet app Colu uses blockchain technology to create localized digital currencies designed to encourage local spending within communities. The app awards each purchase with credits that can be used in other small local businesses listed on its service and also offers location-based recommendations.

Wolt

Feeling like staying in for the night but feeling a little peckish? Takeout delivery app Wolt will let you order food from dozens of local restaurants and eateries, committing to relatively short delivery times.

Kvisi

When visiting a city like Tel Aviv you'll want to make every second count and you'll definitely want to avoid wasting time on doing your laundry. In comes Kvisi, a mobile app that lets you order laundry services including washing, ironing, and dry cleaning, picked up from and delivered to your Airbnb doorstep.