Israeli Cannabis Company BOL Files Canadian IPO Prospectus
The company is aiming for an IPO valuation of over $1 billion, according to several people familiar with the matter who spoke to Calcalist on condition of anonymity
Breath of Life International Ltd. (BOL Pharma), an Israeli producer of medical cannabis and a developer of cannabinoid pharmaceuticals, has filed on Friday a preliminary prospectus for an initial public offering on the Toronto Stock Exchange. BMO Nesbitt Burns Inc., Cowen & Company LLC and Scotia Capital Inc. are the joint bookrunners for the deal.

For daily updates, subscribe to our newsletter by clicking here.

The company is aiming for an IPO valuation of over $1 billion, according to several people familiar with the matter who spoke to Calcalist on condition of anonymity.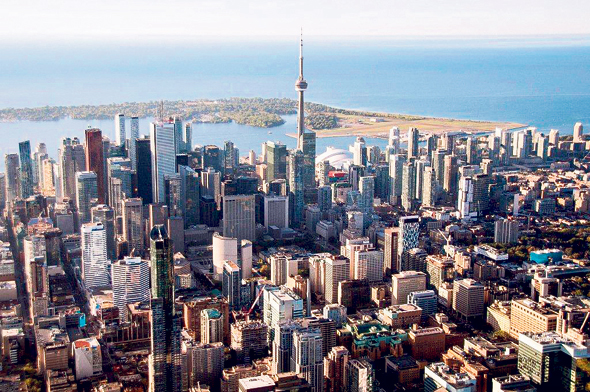 Toronto. Photo: Bloomberg

In its prospectus, BOL's outlined assets include 377,000 square feet of greenhouses in Israel, currently in the process of being expanded to 3 million square feet. The company also operates a facility capable of manufacturing up to 340 tonnes a year of CBD oil and flowers as of 2019, which the company estimates could manufacture up to 870 tonnes in 2021. The company currently has 7 phase II clinical trials underway.

According to the prospectus, BOL reported revenues of $3.5 million for 2018, compared to $3 million in 2017, and a net loss of $29.3 million in 2018, compared to a net loss of $6.3 million in 2017. For 2016, the company saw a net income of $602,000 despite lower revenues. For the first three months of 2019, BOL reported revenues of $1.12 million and a net loss of $14.7 million.

Canadian pharmaceutical and cannabis company Tilray Inc. listed on Nasdaq on July 2018 according to a company valuation of $1.43 billion and has since reached a market capitalization of $4.27 billion; Canadian MedReleaf listed in June 2017 at a valuation of around $670 million, and in 2018 was acquired by Aurora Cannabis Inc. according to a $2.5 billion valuation. Tilray reported revenues of $43.1 million for 2018, while Aurora reported revenues of $55.1 million.

Israeli cannabis cultivator Canndoc Ltd., a subsidiary of Tel Aviv-listed InterCure Ltd., is another Israeli cannabis company in the process of listing abroad. The company filed a confidential prospectus for a Nasdaq initial public offering in April.