Intel Postpones Construction of New Israeli Factory
Intel announced its intention to expand its Kiryat Gat fabrication operations in late 2018 as part of a global manufacturing push
Intel has informed its suppliers that it is postponing the construction of its new fabrication facility in southern Israeli town Kiryat Gat to an unknown date, according to an anonymous tip sent to Calcalist. After reaching out to the company's local suppliers, two subcontractors confirmed to Calcalist on condition of anonymity that work on the planned expansion, initially intended to begin in 2019, is being pushed off to an undisclosed date.

For daily updates, subscribe to our newsletter by clicking here.

Intel has notified all its suppliers and subcontractors and offered them the option of ending their contracts, the two said, but all have decided to stay.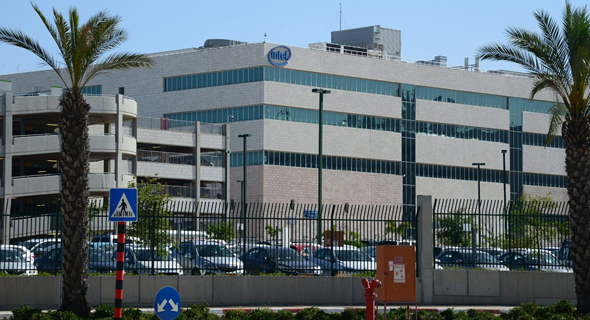 Intel's Kiryat Gat facility. Photo: Herzl Yosef

While Intel has not provided a new date yet, it has stated the project is being delayed by six to 12 months, one of the subcontractors said. At this point, the expansion plans themselves seem to be unchanged. Construction was originally expected to end by 2024.

Intel CEO Robert (Bob) Swan, currently on his first visit to Israel in his role as the new head of the company, referred to the planned facility in a press conference Sunday, stating the company is "looking forward" to the new facility.

Intel announced its intention to expand its Kiryat Gat fabrication operations in late 2018 as part of a global manufacturing push. In January, Israel's Minister of Finance Moshe Kahlon announced the company has agreed to invest NIS 40 billion ($11.09 billion) in the expansion, in return for a wide range of government benefits.

The most significant benefit is a grant worth 9.1% of Intel's investment, to be spread over 10 years until 2029, with most of it provided after 2022. Intel will also receive a separate grant worth 4%, to be added to a previous 4% grant it has received on a previous investment in the facility. Following the completion of the new facility, Intel will also receive a 10-year tax benefit that will see it pay a corporate tax rate of 5% instead of 23%.

Intel has a five-year window to complete its obligations and still receive the agreed-upon benefits.

Intel is currently the largest private tech employer in Israel, employing 11,700 people across several locations, and another 1,100 under automotive chip subsidiary Mobileye.

Intel is committed to Israel and continues to invest in the country, an Intel spokesman told Calcalist, adding that Israel is one of Intel's global manufacturing and development centers, with activities such as the Kiryat Gat fab facility and Mobileye's Jerusalem campus. Every investment Intel makes is spread across several stages, he said, and changes are always a possibility, based on business and financial requirements.

In addition to Israel, Intel has announced it will expand its fabrication operations in Ireland and Oregon, with analysts estimating the company will focus mainly on increasing the manufacturing capabilities of its 10 nm processors. The current delay could perhaps be attributed to Intel's disappointing first-quarter reports and to the fact that the company has already received government approval and benefits in Ireland as well.

One of Intel's main challenges today is to provide consistent competition for the 7 nm processors manufactured by rival TDMC (Taiwan Semiconductor Manufacturing Company Ltd.). TDMC's processors are knocking out Intel's 14 nm processors in every aspect while the company still struggles with overcoming shortages in its supply of 10 nm processors.