FINTECH 2019
Payoneer Will Do Anything to Partner With Libra, Says Founder
Yuval Tal spoke Monday at a fintech conference held in Tel Aviv by Calcalist, Bank Leumi's tech banking arm LeumiTech, and accounting firm KPMG
"I really want Libra to work," said Yuval Tal, founder and president of Israel-based online payment company Payoneer Inc. Speaking Monday at a fintech conference held in Tel Aviv by Calcalist, Bank Leumi's tech banking arm LeumiTech, and accounting firm KPMG, Tal said that while it might not be Libra but another digital coin that eventually makes it, Libra is a "beautiful initiative."

For daily updates, subscribe to our newsletter by clicking here.

Facebook has its WhatsApp, and its Instagram, and they realized that if it is possible to transfer a video, they can transfer money as well, Tal said. "The system is broken," he said, adding that there is no reason why an entity like Facebook shouldn't be the one to fix it.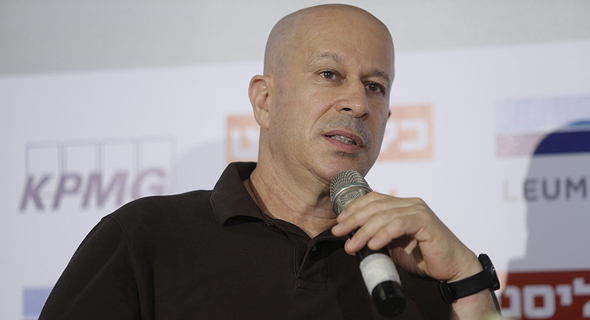 Yuval Tal, founder and president of Payoneer. Photo: Amit Sha'al

Choosing the terms blockchain and crypto is smart, Tal said, as bitcoin is an anarchist venture against banks, while Libra is a venture set up with the intention to work together with the banking system. A possible obstacle is how countries will view it, Tal added. "If it is seen as a threat, or regulatory demands will be used to make it cumbersome, it can hinder success."

The decision to fix Libra's valuation according to leading currencies and not the dollar could pose a threat to less stable countries, where a sudden and widespread shift to Libra could hurt a country's monetary flexibility, Tal said. But it will not happen to countries like Israel, he added.

Payoneer will do anything to partner with Libra, especially when it comes to converting Libra to local currency, Tal said, pointing out that Facebook is already a company client.

While the local payment industry has seen some innovation in recent years, Tal believes Libra could serve as a growth engine for Israel. "Libra's open source software will enable a lot of local entrepreneurs to take part, and a lot of companies will create value for shareholders around Libra," he said. The Israeli fintech industry has a very healthy relationship with the regulator and the fact that one of Libra's key people, Tomer Barel, is based in Israel means Israel could export innovations worldwide, Tal said.

While he does not discount the risks of giving Facebook even more power, Tal said that Libra is meant to answer a real need, offering a way to transfer payments to anyone in the world, in real time, without paying a cut to multiple middlemen. "At the end of the day, I am not concerned over countries," he said, "you can always limit a company using court orders."

Speaking about Payoneer's future, Tal said the company is now focusing on providing users with added value. As part of the payment revaluation, the fees paid to transfer funds are decreasing, as a global trend, he said. But as the industry becomes more complicated, there are fewer and fewer banks that can manage such services on a global scale, and that's where companies like Payoneer come providing their services to banks, Tal said.