Aeronautics-Rafael Deal Jammed by Regulatory Concerns
The acquisition of Israeli drone maker Aeronautics by defense contractor Rafael and partner Stolero was approved by Rafael's board in April, but concerns have been raised about the high valuation given to Aeronautics and the proposed ownership structure
Israel's Government Companies Authority is set to recommend against approving the acquisition of Israeli drone maker Aeronautics Ltd. to Israeli defense contractor Rafael Advanced Defense Systems Ltd. and Israeli businessman Avihai Stolero, according to one person familiar with the matter who spoke to Calcalist on condition of anonymity. If completed, the deal, announced in January and approved by Aeronautics' board of directors in April, will see Rafael and Stolero each own a 50% stake, acquired according to a company valuation of NIS 850 million ($237 million).

For daily updates, subscribe to our newsletter by clicking here.

The deal has raised concerns both due to the ownership structure it proposes and due to the valuation it gives Aeronautics—almost twice the amount Rafael and Stolero first offered, and around $70 million more than the second bidder, government-owned defense contractor Israel Aerospace Industries Ltd.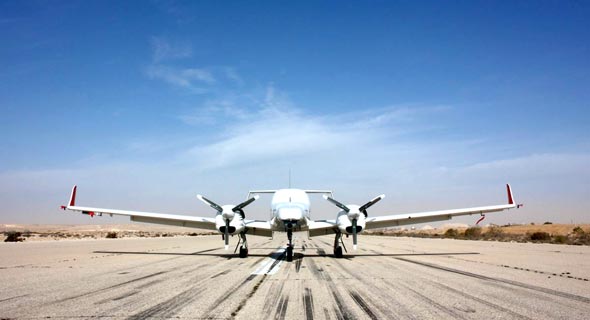 An Aeronautics drone. Photo: PR

Last week, the authority completed its assessment of the deal, and is now intending to demand "significant changes" to the partnership structure between the two would-be owners, according to the person familiar with the matter. According to the authority, Rafael might be carrying more risk and enjoying fewer benefits than Stolero, despite the 50-50 split, the person said.

Rafael could have acquired Aeronautics alone, but that would have turned the drone maker into a government company, a designation that would have piled difficulties when it comes to competing in tenders outside of Israel due to increased regulatory demands. While Rafael was not required to hold a tender for a partner, the choice of Stolero has been questioned before. When the deal was signed, people familiar with the matter told Calcalist Rafael picked Stolero due to his ability to raise significant credit and his connections in the domains Aeronautics operates in.

Aeronautics develops products for military drones across the entire supply chain, with customers in over 50 countries, though a quarter of its revenue comes from the Israeli Ministry of Defense. The company's stock took a big hit when in August 2017 the Israeli Ministry of Defense halted the company's license to export a loitering munition UAV system to an unnamed but prominent client, leading to the launch of an investigation by Israeli Police and the Israel Securities Authority for suspected violations of the Israeli defense export controls law. While the license was reinstituted in February, Aeronautics' CEO Amos Matan, as well as two other senior executives, are still suspended from the export registrar.

As Rafael is a government company, the deal requires government approval. If the government decides to accept the authority's recommendations, Rafael's board of directors and Stolero will need to decide whether they agree to the changes demanded.