Election
The Bottle Cap Challenge Kicks Off Israeli Campaign Season
Former Israeli Prime Minister Ehud Barak, who announced his return to Israeli politics last month, tweeted his own video of the bottle cap challenge Tuesday, adding a taunt: "Bibi, I am challenging you"
In nine weeks, Israel's citizens will once again trudge to the polls, just five months after April's election ended in a stalemate. Israel's politicians, meanwhile, have found a new way to take the edge off, or more accurately take the cap off, the current campaign season: the viral bottle cap challenge.

For daily updates, subscribe to our newsletter by clicking here.

The bottle cap challenge went viral on July 1, after action movie star Jason Statham posted on Instagram a video of himself unscrewing a water bottle with a roundhouse kick, without knocking over the bottle itself. The video has been viewed over 20 million times at the time of writing, giving rise to the bottle cap challenge, which calls on people, mostly celebrities, to film themselves removing caps from water bottles in increasingly creative ways. Celebrities that have taken part in the challenge include Mariah Carey, Justin Bieber, and Ryan Renolds. Two of Israel's leading politicians are the latest entrants to the fray.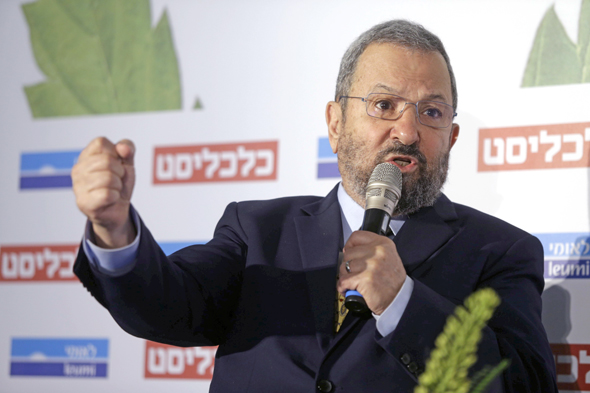 Ehud Barak. Photo: Amit Sha'al
Former Israeli Prime Minister Ehud Barak, who announced his return to Israeli politics last month, Tweeted his own video of the bottle cap challenge Tuesday, aiming a taunt at Israel's Prime Minister Benjamin Netanyahu: "Bibi, I am challenging you."
ביבי, מאתגר אותך.#bottlecapchallenge #רק_התחלנו pic.twitter.com/4ayXAj9lKu

— אהוד ברק (@barak_ehud) July 10, 2019
In his challenge video, Barak said "Bibi, drink something. Relax. We've just started."

The following day, former Minister of Finance Yair Lapid, who joined former Israeli military Chief of Staff Benny Gantz in February to found the centrist Blue and White party, which gained 35 seats in Israel's April election, tweeted his own rendition, saying "I rose to the water bottle challenge."
נעניתי לאתגר הבקבוק!#thebottlecapchallenge pic.twitter.com/ALdudvmklV

— יאיר לפיד Yair Lapid (@yairlapid) July 10, 2019
Benjamin Netanyahu tweeted a parodic video Wednesday that combined Barak and Lapid's challenges, reminding viewers of the importance of drinking between eight and 12 liters of water per day, and of leaving out some water for stray cats as well. After poking fun at his two political opponents, the video concluded by reading "Netanyahu. Proven leadership."
המציגים הינם שחקנים pic.twitter.com/PVjdNJy07M

— Benjamin Netanyahu (@netanyahu) July 10, 2019
Netanyahu has yet to formally post his own version of the challenge.