Pouring Thousands of Dollars on Wanted Ads, Israeli Startups Still Opt for the Referral System
With the ever-increasing demand for tech talent in Israel, some startups report spending a fortune on online wanted ads, but find themselves doing most of their hiring through referral systems
With the ever-increasing demand for tech talent in Israel—and the continuous rise in salaries that inevitably follows—local startups spend tens of thousands of dollars on placing wanted ads and other recruitment efforts. While many believe the solution would come from the inclusion of various populations such as the Arab minority or ultra-Orthodox Jews many of these companies still opt to stick to who they know and hire their employees' military or university buddies.

For daily updates, subscribe to our newsletter by clicking here.

Data storage startup WekaIO Inc., online payments fraud prevention startup Riskified Ltd., and database software developer Redis Labs Inc. say they have spent tens of thousands of dollars for advertisements on LinkedIn alone, and are paying employees thousands of dollars for each referral that gets hired by the company. Each of the companies has received between 15,000 and 20,000 applications in the first six months of 2019.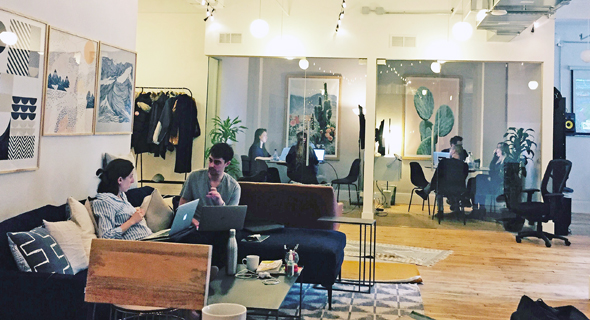 Riskified offices. Photo: PR

According to company data, 20,000 resumes have been sent to WekaIO since January of this year. Of these candidates, 45 employees were eventually hired by the company. Riskified recruited 107 employees out of the 19,000 applications it received since the beginning of 2019. Likewise, Redis Labs received 15,000 resumes within six months. Of these, 1,147 applicants underwent an initial phone interview, 480 reached the next round of interviews and tests, and 107 applicants went on to be recruited by the company.

In the past, a company's resources were channeled exclusively to the development of technology, Omri Palmon, founder and CEO of WekaIO, said in a recent interview with Calcalist. "Experience has taught us that technological advancement is important of course, but that employees are no less crucial," he said. Founded in 2013, WekaIO develops scalable file storage for data-heavy applications and has raised more than $66 million to date.

Retaining employees is no less of a challenge than recruiting them, Palmon said. WekalO recruited 45 employees in Israel since the beginning of the year and a similar number of employees in the U.S. The company is in the process of growing and increasing the number of employees by about 6 per month, Eyal Zuckerman, WekaIO's director of human resources said in a recent interview with Calcalist.

70% of the company's employees are alumni of Israeli military technological units, and about the same number of employees were recruited by referrals from existing workers, Zuckerman said. To encourage the referral system method, WekaIO employees are rewarded $3,000 and a package of options for each person they refer that gets hired.

Similarly, Riskified had invested $30,000 in recruitment conferences in Israel and $10,000 on advertising ads on LinkedIn, and spent 10 man-hours in recruiting efforts for each of the 107 employees hired by the company over the first six months of 2019.

Founded in 2012, Riskified employs some 390 people, about 75% of which are based in Tel Aviv and the rest in New York. Half of the company's management team is made up of women.

Redis Labs received 15,000 applications in the first half of 2019, but the majority of its hiring was done through its employee referral program. Referral bonuses ranged from $1,500 to $7,000 per employee hired, depending on the new hire's position and experience. "There is a double bonus for referring women to technological roles in our company," Adi Stern, vice president of human resources at Redis Labs said in a recent interview with Calcalist. "This is our way of encouraging a gender balance," she said. Of the 337 resumes received through existing employees' referrals, Redis Labs hired 51 applicants.

Over the last year, Redis Labs invested $110,000 on advertising on LinkedIn and Glassdoor and currently employs 300 people, she said.