Israeli State-Owned Gas Transmission Company Sets Out to Break Natural Gas Duopoly
Israel Natural Gas Lines is promoting a plan to set up a new terrestrial gas pipeline to compete with Tel Aviv-listed gas company Delek and Texas-based Noble Energy
Israeli state-owned natural gas transmission company Israel Natural Gas Lines Ltd. (INGL) is promoting a plan to set up a new terrestrial gas pipeline to compete with the duopoly of Tel Aviv-listed gas company Delek Group and Texas-based Noble Energy Inc., according to several people familiar with the matter who spoke to Calcalist on condition of anonymity.
INGL has been holding negotiations with Egypt's national gas companies over the past six months in order to establish a comprehensive work plan, the people familiar with the matter said.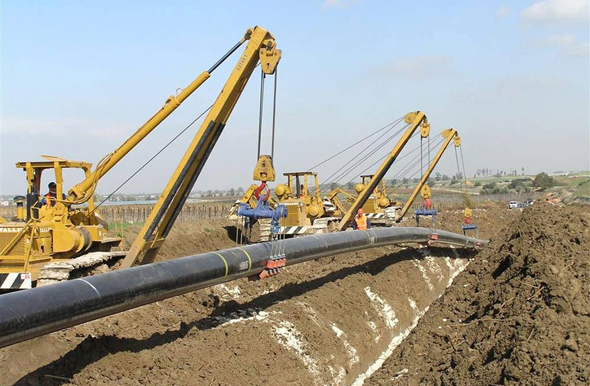 Set up of an INGL gas pipeline. Photo: PR

According to the proposed plans, INGL will set up a 35-kilometer pipeline between the Negev in southern Israel and the border with Egypt, where it will attach to an Egyptian 25-km pipeline connected to the country's national gas transmission system, the people said. Both pipelines are expected to be completed within a year at a total cost of several tens of millions of dollars.

Responding to Calcalist's request for comment, an INGL spokesperson said the company is examining several alternatives to streaming natural gas to Egypt, including setting up a new pipeline.

In May, The Tamar Gas Consortium, responsible for operating Tamar, one of Israel's largest natural gas fields, began a trial to stream gas from Israel to Egypt, as part of a $15 billion deal announced in February.

The major partners in the Tamar Consortium are Delek subsidiary Delek Drilling LP, which owns 22%, Tamar Petroleum Ltd.—in which Delek Drilling owns a 22.6% stake under two different entities—which owns 16.75%, and Texas-based Noble Energy Inc., which owns 25%.

Earlier in July, Calcalist reported, citing several people familiar with the matter who spoke on condition of anonymity, that lacking necessary regulatory approval, Tamar, has postponed the streaming of gas to Egypt by several months to the end of 2019.