Ethiopian-Israeli Delegation Heads to Addis Ababa to Compete in a Tech Event
The delegation is composed of members of Tech-Career, an Israeli non-governmental organization working to help integrate Ethiopian-Israelis into the local tech sector
A delegation of young Ethiopian-Israelis working in the Israeli tech sector has arrived in Addis Ababa Tuesday to partake in the annual SolveIT innovation competition run by Addis Ababa-based tech company iCog Labs. U.S.-based Kudu Ventures, the firm sponsoring the Israeli delegation, made the announcement. As part of the competition, participants will pitch their products to Ethiopia-based investors, and receive mentorship from local entrepreneurs. The competition, which takes place August 13-16, is funded by the U.S. Embassy in Addis Ababa and the Japan International Cooperation Agency (JICA).

The Israeli delegation are all members of Tech-Career, a local non-governmental organization that operates as a tech training center for Israel's Ethiopian community. The delegation will be participating in a two-week intensive tech startup boot camp while visiting Ethiopia, which includes a reception with the President of Ethiopia Sahle-Work Zewde, visits to several incubators, and a pitch event with potential investors.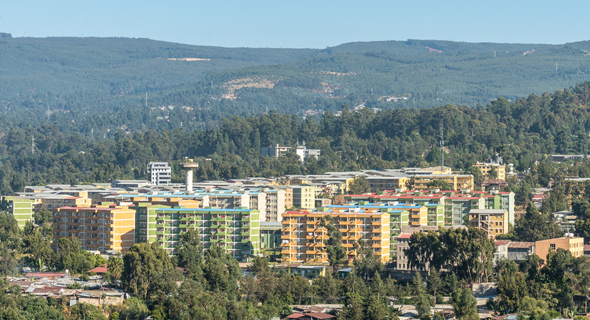 Addis Ababa, Ethiopia. Photo: Shutterstock

Data published recently by the Adva Center, a Tel Aviv-based non-partisan Israeli policy analysis center, shows that the Ethiopian community in Israel is the poorest minority group of Israeli Jews, with 23% of Ethiopian households defined as poor compared to 13% in the country's general Jewish population. In 2016, the net monthly income for an Israeli-Ethiopian household was NIS 11,250 (approximately $3,150), according to the Israeli Central Bureau of Statistics, substantially less than the average monthly income for the entire population standing at NIS 15,751 (approximately $4,400) for all households in Israel.

training in tech-related fields.