Aeronautics' CEO to Step Down Amidst Criminal Investigation
Amos Matan announced in a letter he will be replaced by Moshe Elazer, currently the naval systems director at Israeli defense contractor Rafael, one of the Aeronautics' owners
Amos Matan, CEO of drone maker Aeronautics Ltd., is set to step down from his position in the next few weeks. Matan announced his upcoming departure, amidst a criminal investigation against the company ongoing since 2017, in a letter sent Sunday to employees and reviewed by Calcalist. In his letter, Matan named Moshe Elazer as his successor. Elazer currently serves as the naval systems director at Israeli defense contractor Rafael Advanced Defense Systems Ltd.

In September, Rafael and Israeli businessman Avihai Stolero completed the acquisition of Aeronautics for over $230 million.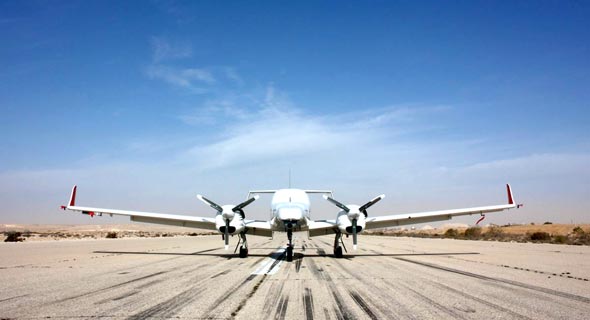 An Aeronautics drone. Photo: PR
Founded in 1997 and based in central Israeli town Yavne, Aeronautics develops military drones and has more than 45 defense, military, and homeland security customers worldwide.