Interview
Burnt by Homogeneous Tech Ecosystem, Israeli-Druze Entrepreneur Sets Out to Eliminate Hiring Bias
Tech veteran Aiman Amer of the Druze village of Julis in northern Israel left his position at software testing company Qualitest to found human resources company SkillInn
For tech veteran Aiman Amer of the Druze village of Julis in northern Israel, the lack of diversity in the local tech industry is a sore spot. For nearly two decades, following his military service in Unit 8200—the Israeli military's equivalent to the NSA—Amer worked in an industry that, while parched for talent, practically ignores the country's Arab minority, which amounts to about 20% of its population.

In 2017, Amer, who formerly worked for Intel and Nokia, left his position at software testing company Qualitest Ltd. to found human resources company SkillInn Technologies Ltd. Based in Herzliya in central Israel, SkillInn set out to diversify the workforce by eliminating bias and focusing on a candidate's proven skills. "The idea for Skillinn came from the pain that I carried throughout my career, which included a lot of recruiting," Amer said in a recent interview with Calcalist. Amer said his experience taught him that even big and prominent companies struggled to find the right talent. "I tried almost every available tool and could not find something to help me measure technical skills without having the person come in," he said.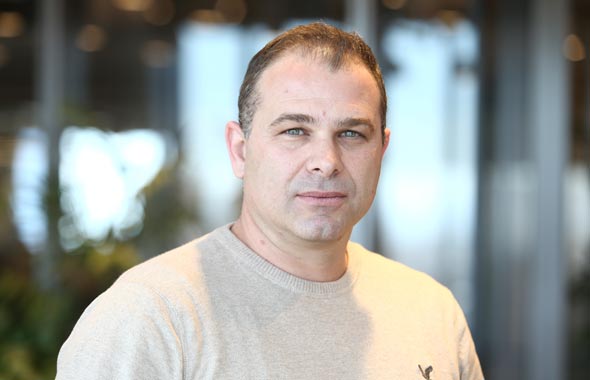 Aiman Amer. Photo: Orel Cohen

The Israeli tech sector's severe lack of diversity is evident. According to data released by The Israel Innovation Authority (IIA), the Israeli government's tech investment arm, in December 2018, women accounted for just 16% of people in tech management. Arabs accounted for just 1.4% of tech workers and ultra-Orthodox (Haredi) Jews, about 11% of the population, accounted for just 0.7% of industry workers, the data showed. For comparison, women, Arabs, and Haredim account for 40.2%, 17.4%, and 4.2% of the country's general workforce, respectively.

Skillinn is not the first company that attempts to increase diversity by keeping job candidates anonymous—Israel-based Gloat Ltd., formerly known as Workey Employees Recruitments Ltd., and San Francisco-based Blendoor Inc. are two examples—but Skillinn distinguishes itself in focusing on technical skills by crossing data provided by the candidate with external information sources, including external websites and social networks. Skillinn's system goes beyond obvious data sources like LinkedIn. It also digs through professional online forums and community posts on GitHub, to fish for information.

Skillinn's system reaches a far more accurate level of compatibility than traditional recruitment techniques that flood HR personnel with resumes, most of which are irrelevant to the job, Amer said.

Skillinn is still taking its first steps. Since it launched its service six months ago, 8,000 candidates registered and it has placed over 100 engineers, 20 of whom were Arab. Backed by Israeli serial entrepreneur David Maman, Skillinn is currently in the midst of raising an initial $2 million round and is looking into expanding to the U.S. Available in Arabic, Skillinn already operates in Nablus in the West Bank and in Jordan and is in negotiations with partners in Dubai, Amer said.

To reach the right candidates, Skillinn collaborates with Israeli nonprofit itworks, dedicated to promoting workforce diversity. For Skillinn's system to work it needs a supply of relevant employees from diverse populations, Ifat Baron, founder and co-CEO of itworks said in an interview.

According to Baron, it is not just employers that hamper diversity. The job application process is affected by the patterns and inhibitions of both employers and employees and these often unconsciously affect their decisions, she said. "A lot of the Arab candidates out there have a distinct preference and tend to limit their options by only applying for jobs at large multinationals," she added. According to her, Arab workers don't bother with companies that are not, say, Microsoft or Intel, because working for a well-known multinational gives them more prestige than working for a startup that their families and acquaintances may not have heard of, she explained.

Employers, on the other hand, often tend to instinctively prefer people they perceive as similar to them, regardless of their skills, Baron said. "When companies look at a resume and see the name Muhammad or a 1960 birth date they are set back because they are looking for a specific typecast," Amer said. Focusing on the candidate's technical abilities removes a lot of the noise and when these details are revealed only after compatibility was established, there is more willingness to diversify, he added.

This past month, Skillinn successfully managed the hiring of both an Arab and an Ethiopian Jew by Cisco Systems, according to Amer. They did not hire them because they were members of minority groups, but because their skills were compatible with the job requirements, he said. It was Skillinn's system, however, that gave them a better chance, he added.