Marketing Company AppsFlyer Raises $210 Million at $1.6 Billion Valuation
Calcalist first reported that AppFlyer was raising the round in October, citing one person familiar with the matter
Herzliya, Israel-headquartered marketing analytics company AppsFlyer Ltd. has completed a $210 million series D funding round at a company valuation of $1.6 billion, the company announced Tuesday. Calcalist first reported that AppsFlyer was in the process of raising the round in October, citing one person familiar with the matter.

The round was led by growth equity firm General Atlantic, with participation from existing investors Goldman Sachs Private Capital Investing (PCI), Qumra Capital, Deutsche Telekom Capital Partners (DTCP), Magma Venture Partners, and Pitango Venture Capital.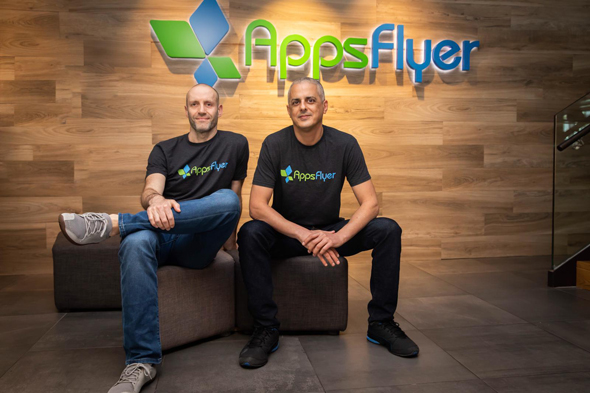 AppsFlyer Co-Founders Reshef Mann (left) and Oren Kaniel. Photo: AppsFlyer

Founded in 2011, AppsFlyer's software tracks and analyzes the performance of marketing campaigns on mobile apps, enabling app operators to know how their most profitable users reached the app—for example from Google searches, Facebook ads, Twitter, commercial text messages, or television spots. The company's latest round, $56 million, closed in 2017. In Calcalist's 2019 Top 50 Startups list published in May, AppsFlyer placed second.

Since its previous round, the company has upped its annual revenues by more than five times, Oren Kaniel, the company's CEO and co-founder said in a Tuesday interview with Calcalist. AppsFlyer employs a team of 850 people in 18 different offices around the world, Kaniel said.