Gigantic's 'connected reality' brings claw machines arcade to your smartphone
Blending mobile apps and physical devices, Gigantic is bringing the arcade to our homes
Gigantic, an Israeli company that develops mobile arcade games connected to physical counterparts, wants to change the game. Its flagship product, Clawee, is just like your typical arcade-based claw machine - except players can tap into their chance of winning a prize by connecting via an app and playing the machine via a live stream.

"Clawee is just the beginning," Gigantic's co-founder and CEO Ron Brightman told CTech. "Our vision is to make real arcade games playable through the internet. Not only mobile phones but the desktop, too."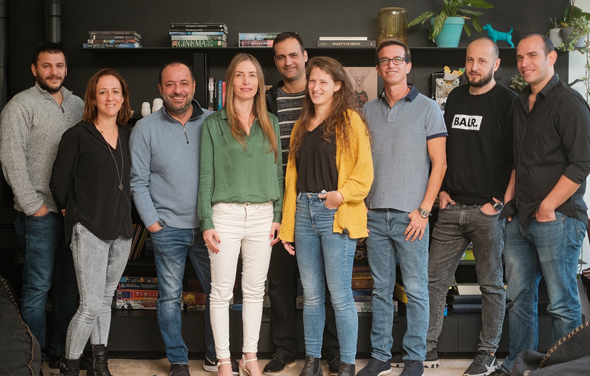 The Gigantic team. Photo: PR

CTech was invited to Gigantic's main location in the town of Petak Tikva, about a 30-minute ride outside of the country's tech capital, Tel Aviv. Upon walking into the gaming studio - something that resembles a mixture of an arcade and a factory - visitors are introduced to more than 250 machines, all hand-built by Gigantic's team and constantly being used by players from all around the world.

Gigantic was founded in 2017 and Brightman told CTech that Clawee already has 8 million players per month. Unlike traditional arcade claw machines which are usually played 50-100 times a day, the machines in this warehouse can be utilized up to 2,000 times in a 24-hour period. It means that the machines require constant monitoring in the event they may break down.

Ahead of the visit, CTech downloaded the Clawee app to try our luck on the arcade machine from a distance. Forever skeptical of the ability to win these kinds of games in traditional circumstances, we were surprised to win a small Pikachu plush in our third attempt. Dozens of attempts over decades never resulted in a win; it was a few moments on an app that removed the skepticism.

"Skepticism creates interest," Brightman told CTech after handing over the prize. Gigantic has already shipped hundreds of thousands of prizes, ranging from small plushes to jewelry, gadgets, or toys. When prizes are shipped, it usually takes approximately one month and a one-time $4 fee to arrive at the players' doors. While the warehouse is in Israel, nothing is shipped from there directly - for that, they rely on partnerships in China and Miami, Florida. The Israel base acts only as the base for the products, with R&D employees constantly working on building new claw games, shooting games, or magnetic skill games.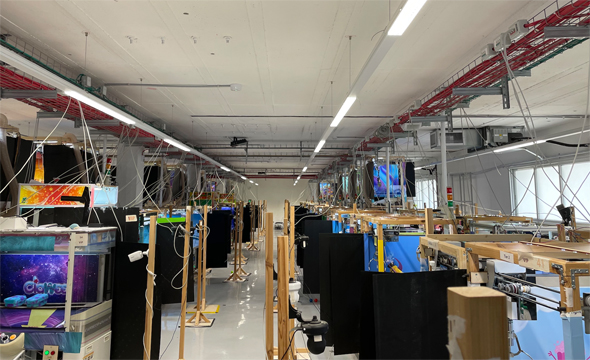 A look inside the Gigantic factory and its 250 machines. photo: James Spiro

"There is so much knowledge and know-how that is required to operate a successful gaming business," explained Brightman. "Gaming is already super competitive, obviously. The biggest companies in the world are in that, with lots of money and smart people. It's a global industry and you need to compete against everyone."

When asked about specific competitors for gaming, Brightman admitted that "you can look at it as either everyone in the gaming industry or specifically in our vertical" of connected reality games. In terms of checking in to physical games that can ship real-life prizes, the competition is small. "In Japan, China, and Korea there are companies doing connected reality games. But I think we're currently the vertical leader in this - definitely, in the U.S., we're the biggest."

Of course, a big part of arcade gaming isn't just the prize you may or may not get at the end. There's also the social aspect - meeting friends, going on dates or celebrating special occasions. While Covid-19 may have kept everyone at home for a year, surely there is a rush to get back into physical locations and no longer rely on online gaming to pass the time.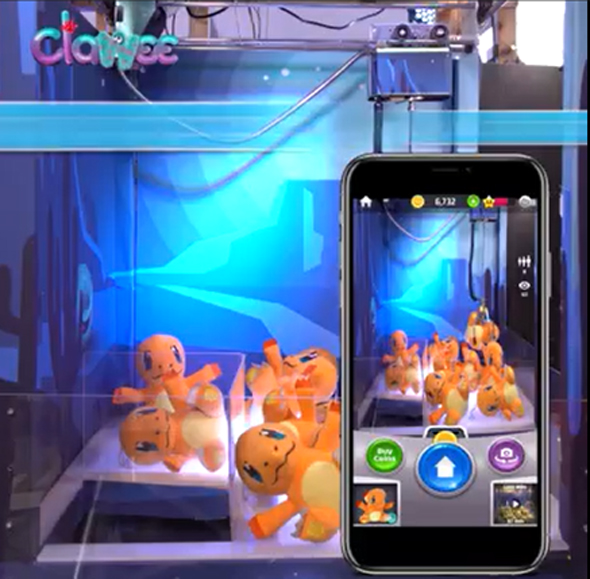 A Gigantic claw machine. Photo: Gigantic

"We managed to recreate the arcade experience because the game is live," said Brightman. "When you go into a machine, usually, sometimes you would see someone else is already playing that machine. So what we found is that actually players love to watch someone else play in front of them. When you go into a machine you can see someone else is playing, when they're done and you start playing, he or she will stay and watch how you're playing. So there is a built-in social element because the game is live."

To date, Gigantic has raised $7 million in funding from NFX Capital, VGames, and Union Tech Ventures. In total, there are 60 people at the company who are largely based in their Tel Aviv offices, with a minority making sure that the warehouse operates smoothly. It plans to use its funding to expand operations and build more physical games as well as work on its software development and supply chain of prizes that get shipped around the world. It may look simple, but the connected reality company is forced to wear a lot of hats.

"Doing software that is good enough is a huge challenge on its own," he explained. "But we also have the hardware, which makes it more complex. We also have live streaming, and we have the entire e-commerce aspect… Sourcing items, pricing them, storing them, shipping them."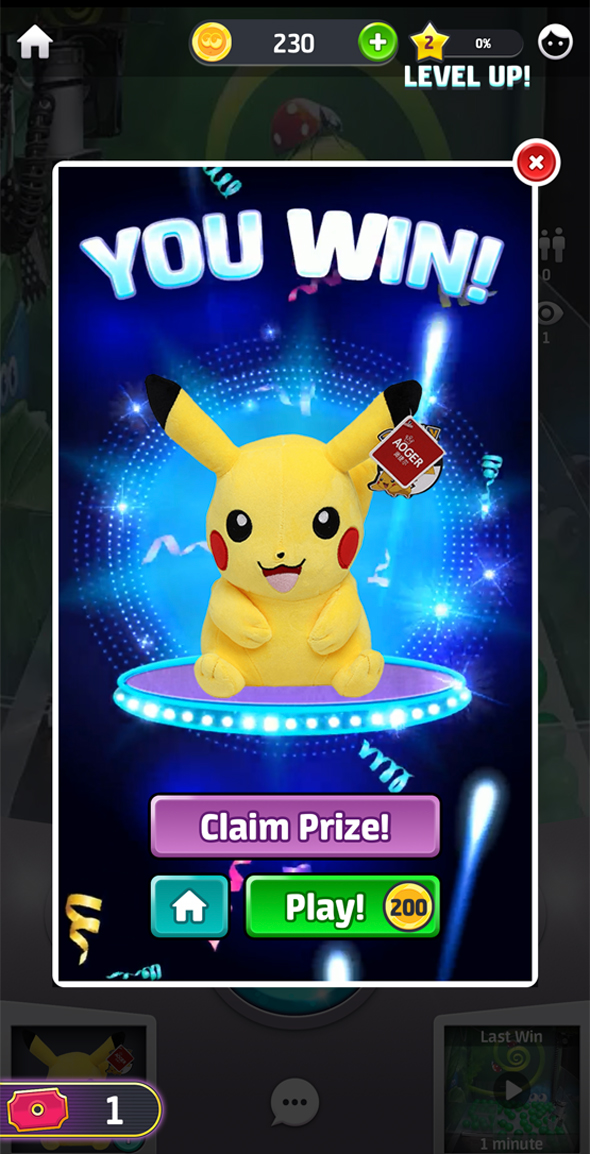 After years of failed real-life attempts, we won on the app version. Photo: James Spiro

When CTech joked that the next arcade game developed by Gigantic could be a 'real-life racing game with cars on the street', it was not laughed off but confirmed as part of the future vision of the company. "Our CTO, his vision is to do Robot Wars, let people have a robot and control them," Brightman revealed.

For now, the company is remaining in the arcade itself: that means more claws, shooter games, basketball, golf, and football units that are being built physically in Israel to be played by millions around the world. "It's something built into humanity - you have to play. Playing is a basic, necessary part of being human. I think for us, we managed to create something that brings back people to playing on real things and makes it very connected to real experiences," Brightman concluded.