Interview
Amai Proteins has found the sweet solution for sugar
The foodtech company has developed a healthy sweetener made from computer-designed proteins. While it is still not available publicly, the additive could reduce sugar content in anything from soft drinks to ice cream
Cutting down on sugar is difficult, and the ingredient is prevalent in everything from cereals to soft drinks and even in healthy food items such as fruit and honey. Once it accumulates in the body however, it has adverse effects. Sugar is a leading cause of a multitude of health problems, from obesity and diabetes, to heart, liver, and skin problems. However, Amai Proteins doesn't believe people need to cut sweetness from their lives in an attempt to reduce sugar intake. Amai Protein has developed a sweeter that is made from 100% protein that are generated through computationally-design, screened and produced using biotechnology methods, and taste-tested by a board of flavor profile experts to mimic the taste of sugar.

The foodtech startup is based in Rehovot, and is led by CEO Dr. Ilan Samish, who has spent 18 years in academia where he studied photosynthesis in hot springs, microbial technology, and taught courses in computational biology, after publishing a book on computational design. The company also has VP for Food Technology Sam (Shmuel) Marko onboard, who was a former CTO of Materna (acquired by Nestle Corp.), and CTO of Israeli-owned Sodastream (acquired by Pepsico). Currently, it employs 25 people, with nine equipped with PhDs, 70% of whom are female, and aims to recruit an additional five soon.
Amai Protein's team includes 9 equipped with PhD's and employs 70% women. Photo: Chana Nudelman-Faust

Creating sweeteners is complex, he explained, and also limited in fashion. "Unlike with pharmaceuticals, we can't make millions of different variants. In foodtech, we can only test very few, since we have to work with the human tongue human tongue can taste a very complex flavor profile which no high throughput machine can replicate yet is limited by the number of samples it can taste. Thus, the number of different samples we can test is very limited. Currently, we have an expert sensory panel with 20 test-tasters, and about 35 different sample variants," Samish told CTech in an interview.

The company wanted to make a global impact, solve a world problem, and chose to follow the UN's Sustainable Development Goals to halt the rise of and improve the health of those who suffer from diabetes. "We chose to focus on sugar. lIt's the largest non-communicable disease and threat to health, and also isn't a sustainable market. The burden of the sugarcane market is great: there is a high need for crops, fertilizers pollute the soil, go underground or into the sea and are a huge contaminant, and the production and transportation also releases a lot of carbon emissions."

Designer proteins

To that effect, Amai - which means sweet in Japanese - chose to rely on computational design. "Currently, there is a gap between the proteins which exist in nature and are unstable, and the needs of the mass food market. We wanted to fix that," he added.

"Proteins usually live in mellow temperatures or low acidity, and in order to move them to the mass food market we need to ensure they have a long shelf life. We want to know how they survive in harsh environments," he explained, recalling his studies of proteins from Yellowstone, Antarctica, and the Dead Sea. "We mimic the mechanism of protein adaptations to adaptations to extreme environments - whether they prefer hot environments (thermophiles), acidic ones (acidophiles), or colder ones (psychrophiles). Then we implement into these proteins functionalities which are found in nature, such as sweetness. Currently, there are over 200 sweet proteins, including the lysozymes present in our tears, tears, with very few defined as hyper-sweet or 3,000 times sweeter than sugar."

These hyper-sweet proteins are located in low-lying shrubs along the Equatorial Belt from Malaysia through West Africa, and aren't found easily in nature. Amai's sweeteners are proteins that can survive the harshest conditions, or as Samish puts it "are fit to survive in hell." Current sweeteners are small molecules, he explained, which interact with our inner organs and can raise insulin levels, cause obesity, or are carcinogenic metabolites. "We create proteins, which are a necklace of beads of amino acids. Amai's proteins are digested just like other proteins and are safe. They also have no potential allergic response. Our sweetener activates the sweet receptor in oral cavities like all others, but doesn't interact with other organs, because it is already fully digested in the upper digestive tract.."

Amai has designed designer food proteins with a sweetness threshold that is 16,000 times sweeter than sugar. "These molecules are extremely stable, and can be put into a hot cup of coffee, and still taste sweet." Currently, the company is focused on creating sweet substitutes for ice cream, soft drinks such as lemonade and soda, chewing gum, yogurt, ketchup, and more. Its sweetener is added to these products as a substitute, reducing overall sugar, fat, and even salt content. Amai's offering has less lingering taste compared to some sweeteners like stevia.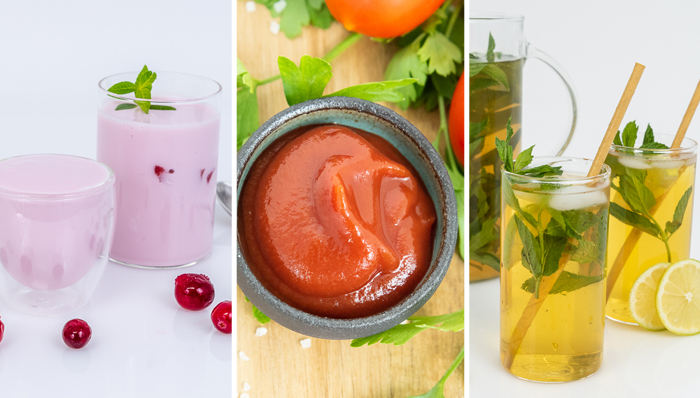 Some of Amai's products (from right to left): ice tea, ketchup, and cherry-flavored yogurt. Photo: Pazit Assouline

Food of the future

The idea behind Amai Protein's invention is based on Samish's expertise in the area of computational design. "It's a very good method for developing the food of the future," he noted. Amai's innovation takes place in three parts: a team uses computational protein design to design novel proteins, tests them in labs using biotechnology production and screening methods, and lastly has a flavor house food technology team that formulates the ingredients into numerous products. This includes a team of expert tasters to help create the best flavor profiles which are indistinguishable from full sugar products.

"We're not in the business of sugar elimination, but sugar reduction," Samish repeated, adding that in order for foods to be labeled as sugar-reduced, the figure needs to be cut down by 30%. However, Amai narrows down that number to between 35%-80% without compromising on taste. "We compete with the sugar market and not the diet market, which we believe is much broader and important in fighting diseases like diabetes."

Sweetness isn't the company's only focus, and it aims to revolutionize the foodtech industry with its slew of designer protein products for meat, milk, and plant industries. While proteins are abundant in health benefits, their relative stability in nature is rare, so the company wants to introduce new proteins that are not found in the wild.

Sustainability is also another crucial factor. "Currently two-thirds of our land use isn't sustainable, and we need to find methods to sustainably produce healthier food." The company relies on precision fermentations to grow its proteins in the lab, and the method is safe and not harmful to the environment. It is similar to how beer, Korean kimchi, or yogurt is made, and according to the FDA, is GMO-free.

A global solution

At the moment, Amai's products are unavailable to the general public, but it hopes to launch some by the end of 2022 in the United States. The company receives financial backing from the Israel Innovation Authority launching via The Kitchen Foodtech Hub incubator of the Strauss Group, as well as from other non-diluted funding sources including the bi-national Singapore Israel Industrial R&D Foundation (SIIRD) and several EU-funded EIT Food consortium grants - with partners such as VTT Technical Research Centre of Finland Ltd., the Technion Institute of Technology, Danone, and Pepsico. It recently completed a $11.3 million Series A equity round with investors including iAngels, Welltech1 Ventures, Zora Ventures, Sucden, BayWa, Dragones, SGInnovate, K3 Ventures, Japan-Israel Hi-Tech Ventures, and others. The company plans to conduct a Series B round, prior to making an initial public offering. "There is a good chance of us going public, but I am unsure when," he commented.

When asked whether Amai's sweetener will completely replace sugar, he remained unwavering: "Our goal isn't to replace sugar, but we can use less as it's very common to use a blend of sweeteners in sugar reduction. That's where the biggest market is, and we want to change the entire sweetener market, and be a global solution."

Have a sweet (and healthy) new year.