Should Israeli companies move overseas?
More companies are moving to Europe and the U.S to conquer larger markets - CTech searched for some of the best ways to do it
It is assumed nowadays that Israeli startups will think about their plans to expand outside of Startup Nation once they gain funding and fame. Expanding to North America or the European Union can be a life-changing event for a company in healthcare, fintech, cybersecurity, and a variety of sectors that wish to serve dozens of governments or millions of consumers.

CTech spoke to four experts - Lior Shahar, CPA, head of High Tech and IPO's sector at BDO Israel; Gal Defes, SVP & Head of International C&I, High Tech and Investment Services at BHI; Ayelet Shtaub, Partner, Head of U.S Services at Brooks-Keret Financial Management & CFO Services; and Dr. Ayal Shenhav, Co-Managing and Head of Hi-Tech Practice at Gross Law Firm - about some of the risks and rewards of moving your company overseas.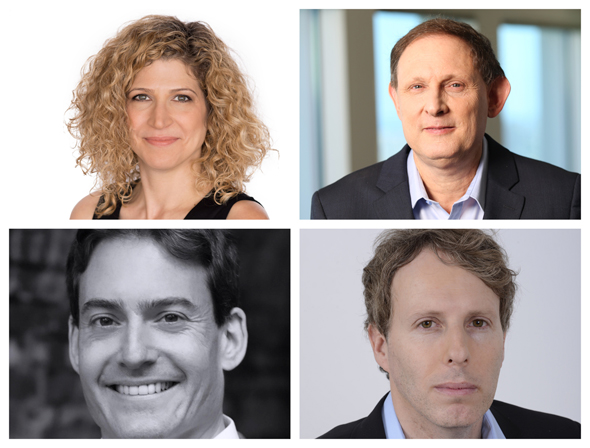 Ayelet Shtaub, Dr. Ayal Shenhav, Gal Defes, and Lior Shahar. Photo: Tammy Bar-Shay, Ayal Shenhav, Gal Defes, and Lior Shahar

Is moving overseas suitable for every company?

"Moving abroad is usually suitable for tech companies in certain sectors in which they have reached a certain level of maturity and scale of operations," explained Lior Shahar CPA, head of High Tech and IPO's sector at BDO Israel. BDO Israel is a member of the UK company BDO International and is an accounting and consulting firm.

"There are many challenges in moving overseas, and specifically to the U.S," said Gal Defes, SVP & Head of International C&I, High Tech and Investment Services at BHI, which is the U.S arm of Israel's Bank Hapoalim. "The company needs to give consideration to many aspects like managing employees remotely, organizational culture or how to define operating principles that will apply to all employees across all locations, and cultural gaps between U.S. and Israel. Some companies can withstand these challenges, but some will not," he warned.

"Very much so," argued Ayelet Shtaub, Partner, Head of U.S Services at Brooks-Keret Financial Management & CFO Services. The company is a financial management firm that supports startups and tech companies. "The Israeli market is a very small one, at best would serve as a Beta site, but usually would be used for R&D activities only. The U.S on the other hand is a huge potential market for practically all industries."

Dr. Ayal Shenhav, Co-Managing and Head of Hi-Tech Practice at Gross Law Firm argues that moving overseas is an important part of the growth and success of every startup. "Startups develop a product that is by its nature global. Startups aim to sell their products in international markets. To be close to the clients and the market the move overseas is needed. However, this move is typical of management and marketing. This does not entail the move of the R&D center or other teams," he said.

Which sector of tech is the transition to the U.S is more critical?

"The sectors that make the overseas transition are usually in the software sector and could be either: cyber, AI, adtech, medical health, gaming, insurtech, fintech, etc. Less common for the transition are the semiconductor sectors or other sectors that own a significant amount of inventory," Shahar explained.

"The need to expand to the U.S. is not necessarily driven by the company's sector, but more by the company's stage of life and where the growth potential is," added Defes. "Yet, for some sectors, transitioning some of the activity may be inevitable. For example, if you are a life science company that needs the 'FDA approved' stamp, a proptech company that needs to have a local presence in order to understand the local real estate market and trends, or a fintech company with a product that needs to be integrated with their local client to some extent… On the other hand, we see a trend where software companies who sell to SMBs continue to manage their operations from Israel, even when the company is mature and leading in its space."

"I would think that the main factor is the business model of the startup and not the sector," agreed Shenhav. "If the startup is a B2B product, the move is more critical since the sale is based largely on face-to-face meeting and tailoring a solution to a specific client. If the business model is B2C, it seems that location is less relevant since sales are achieved online. If the company is operating in a regulated environment, such as fintech, I think the move is more important."

Shtaub: "Almost every type of tech company is targeting the U.S as their potential market. Though in the last few years we see many cybersecurity companies starting operations in the U.S, our clients come from all fields of hi-tech."

Does the size of a company matter? Is there a difference when the company is small or large?

Shahar: "From our experience, we usually don't see seed or small tech companies that make the transition abroad, but rather growth companies that finished their R&D stage and have reached initial revenues of at least a few million dollars and are not preparing for the next breakthrough stage."

"Unlike the low-tech industry, some high tech companies will move when they are small and when the product is still under development, and some will move only after there is a product ready to sell, yet the company will continue to invest heavily in R&D usually from Israel," said Defes. "It depends on many factors. For example, the entrepreneurs themselves, the product, the investors may have a 'say' as well, and so on. When the company is ready for an IPO (or when IPO is part of the ultimate 'game plan'), then most Israeli companies choose to become public on Nasdaq."

"Operating costs in the U.S are much more expensive than within Israel, in every aspect – from payroll to rent, logistics and shipping," explained Shtaub. "Companies looking to set operations in the U.S should make sure they are able to finance such operations, which is why we will advise small companies that haven't raised more than initial seed money, to wait until they are able to do so, and of course ensure that they have a product ready. So the bottom line is that we'll usually see more stable companies setting up U.S operations."

"The size of the company is not so important," believes Shentav. "The important factor is if the company has a product which it can offer to clients. With today's technology, it is possible to cooperate and work as one team from several locations."

Do you need to move the whole company, or are there elements that should remain in Israel?

"The ones that are moving overseas will probably be the key departments and officers whose roles require them to be as much as they could be near to the people they work with," explained Shahar. "These key employees could be the CEO who needs to be close to key customers and investors and make top-level decisions, the sales department who need to initiate sales processes, and the need to be very responsive and close to its clients within the same time zone. The CFO, who is the right hand of the CEO, also needs to be close to any potential investors who can inject funds to secure the future growth of the company. Usually, the CTO and R&D employees will stay in Israel to keep the know-how in its original place."

Defes: "Usually, R&D will stay in Israel. Nowadays, because of the growing cost of labor in Israel, some companies will also relocate their R&D overseas, for example to Ukraine and Poland. Yet, the company will usually hire a local U.S. sales team to be on the ground. We have noticed that once the activity in the U.S. grows, C-level executives (CEO, CFO, etc.) may consider relocating to the U.S as well so that they can better manage the activity."

"Israel is called the Startup Nation for a reason - we have great tech minds here," said Shtaub. "Therefore the R&D activities will usually remain in Israel and only biz-dev, sales, and marketing activities will be set in the U.S."

"In most cases, the elements that move abroad are Management (CEO) and marketing/sales," affirmed Shenhav. "The Israeli operation continues to lead the R&D, QA, Technical Support. In many cases, the CEO remains in Israel and the U.S side is handling only sales, marketing, and business development."

In general, what are the benefits of going overseas?

"The main reason would probably to be as much as you could be at the same geographic playground in which your customers and the investors are playing," suggested Shahar. "This will allow the company to be with their boots on the ground, overcome time zone differences, make personal eye-to-eye contact and feel the customers, be more responsive, and adopt the same mentality of their designated customers and investors."

Defes: "The U.S. market is huge in comparison to the Israeli market, therefore the potential for the company to succeed is propelled to another scale. For example, fintech companies who sell their product to financial institutions will be limited by the relatively small and highly concentrated Israeli financial market, while there are over 4,000 commercial banks in the U.S. Therefore, the probability of a POC (proof of concept) approval in Israel with an Israeli bank is much lower in comparison to the U.S. market."

"The main benefit is the market. The Israeli market is very small and is not always a good fit for all verticals (either no need at all or not sufficient demand) whereas the U.S market is almost endless," said Shtaub.

Shenhav: "Better understanding of the market, competition, clients needs and more. Ability to work in the same time zone as clients which boost business development and sales opportunities, and the ability to recruit experts and local know-how in relevant countries."

Which areas or states in the U.S are most suitable?

Shahar: "We usually see headquarters move overseas to the greater New York area or the Silicon Valley area where they can find most of their customers or potential investors and VCs."

Defes: "In the past, Silicon Valley used to be the tech hub and where most companies wanted to relocate. Over the years, it became very expensive. Today, despite the reluctance of many Israelis to endure winter weather, New York is the preferred base for Israeli tech companies, also because of the more convenient time difference and ease of traveling to Israel in comparison to the West Coast."

Shtaub said how "at first when the Israeli hi-tech started spreading to the U.S, companies mostly set up in Silicon Valley, but later on, companies settled to other areas as well such as New York, Texas, Massachusetts, depending on the company's sector."

"In recent years we see a diversification in the states and locations," agreed Shenhav. "Many companies choose to locate in New York, other locations include Boston, Austin, Miami, and even Detroit."

Do cultural / business culture differences matter? Did challenges arise?

Shahar believes that "differences in culture need to be taken into account as the Israeli and U.S cultures are different. Therefore, it is recommended that the key officers who will make the transition will be those who are familiar with the foreign culture, know the language, and even lived there once in the past."

Defes: "When you become a global company, it is harder to maintain a certain culture across the organization. Managing employees remotely is also very challenging and may affect employee satisfaction and retention. Negotiations are handled differently in the U.S. vs. Israel and understanding the nuances, whether verbal and non-verbal, are crucial."

"My best advice would be to hire a U.S key person to reach out to potential clients, investors, business partners, etc," said Shtaub. "Understanding local culture could make or break a deal."

Shenhav: "I think that today many Israeli founders have a lot of U.S experience. Many of them studied in the U.S or lived in the U.S prior to founding the company. Many worked in a U.S multinational. So I think the cultural differences are small or smaller than in the past."

Are there any taxation or legal challenges?

"Any overseas transition needs to be carefully examined as there are quite challenges mainly from a tax perspective and business model ones," warned Shahar. "Which type of legal U.S company structure will be incorporated, will it be a subsidiary or a parent company to the Israeli one, will future revenues be recorded in Israel or overseas, what are the exposure of any IP exit from Israel, and so on."

Defes agrees that there are many aspects that need to be taken into account. "Tax incentives by the states; general tax implications that can affect the decision what type of entity to establish and where; or where the proceeds from the equity rounds should go (the Israeli entity vs. the US entity). U.S. investors may insist that proceeds from the equity round will flow into a U.S. entity. Other things to consider are where the IP should be (under what entity the patents will be registered); employment laws that apply to local employees, and so on. It is recommended to consult with experts that understand local laws and regulations.'

Shtaub: "There are many taxation and legal challenges in almost every aspect, however in my opinion, the business needs should always lead. You need to consult with the proper advisors – U.S attorneys, U.S CPAs, international tax specialists, service providers such as Brooks-Keret, all depending on the issue, and once you have an understanding of the taxation and legal implications and requirements and you are able to mitigate the risks if possible, then make your decisions based on your business needs."

Shentav argues that on the tax side, questions should be asked like "should the company be restructured ("flipped") from Israeli parent to U.S. parent? What is the intercompany structure? Where is the best location for IP?" On the legal side, the main ones include setting up a U.S entity, visa employment, and general employment agreements in the U.S.