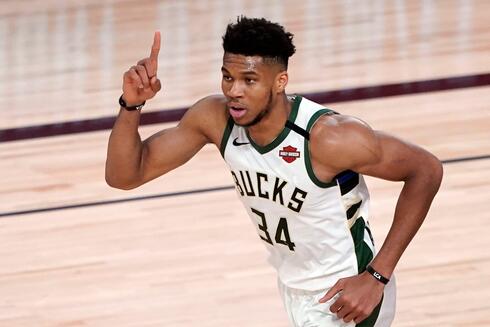 NBA superstar Giannis and Antidote Health commit $1 million for free mental health telehealth services
The services of the "Leave No One Behind" campaign will be provided by board-certified physicians to the people of Milwaukee
Israeli telehealth startup Antidote Health and the Charles Antetokounmpo Family Foundation (CAFF), a global foundation created by the Antetokounmpo Family, have announced the "Leave No One Behind" campaign to deliver free mental health care telehealth services provided by board-certified physicians to the people of Milwaukee. The campaign was made possible by a $1 million commitment from Antidote and CAFF.
"My family's path to the United States wouldn't have been possible without the kindness of others," said Milwaukee Bucks superstar Giannis Antetokounmpo, who, in addition to co-founding CAFF with his family members, has also served as a brand ambassador for Antidote Health since last August. "I believe that by investing in others, we unlock their true potential, regardless of their origin, race, color, or faith. That's why I'm delighted that CAFF and Antidote Health have come together to provide mental health care services to those in need. It's another great way we can give back to this community that has given us so much."
"Antidote Health and CAFF are bound by a shared commitment to providing affordable healthcare to all, regardless of race, location, or circumstance," said Avihai Sodri, co-founder and Chief Executive Officer of Antidote Health. "By leveraging CAFF's support and providing our leading mental health care to the people of Milwaukee—the city Giannis himself calls home—at no cost through Antidote's platform, we are getting incrementally closer to realizing that common goal."
Under the terms of the "Leave No One Behind" program, eligible Wisconsin residents will receive free mental health care treatment conducted via teleconference with a board-certified physician. No-charge services included in the program include an evaluation, clinical diagnosis, medication management, and follow-up visits—plus up to $30 per month assistance with out-of-pocket drug expenses.
Antidote Health provides treatment for the seven most common mental health conditions: Major Depressive Disorder (MDD Depression), Generalized Anxiety Disorder (GAD), Panic Disorder (including Panic Attacks), Social Anxiety Disorder, Post-Traumatic Stress Disorder (PTSD), Obsessive Compulsive Disorder (OCD), and Insomnia Disorder.
Antidote Health aims to provide tens of millions of uninsured and underinsured Americans with a virtual HMO via Artificial Intelligence that connects users to doctors with a smart chatbot and through video calls. The company, which has raised $34 million to date, laid off around a third of its workforce last October.
First published: 10:38, 12.03.23