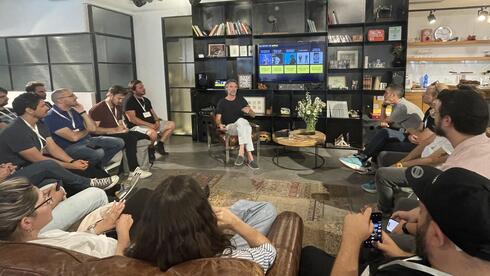 Israeli tech has some amazing stories. So why are founders so bad at telling them?
James Vincent helped Steve Jobs tell Apple's story - here's the advice he has for Startup Nation
If you own an iPhone - or simply see one - you might think it is the pinnacle of creative thinking. Perhaps when you book your vacation on Airbnb, you feel a sense of human belonging. In the event you use Snapchat, you might consider it a nicer alternative to toxic social media channels that focus on authentic friendships.
Those feelings, those stories, were the work of a carefully crafted narrative built behind the scenes by professionals who helped companies grow to values of more than $2 trillion. While Israel's Startup Nation can boast a number of impressive unicorns, the ecosystem has admitted a blind spot in crafting long-lasting stories to share with customers, investors, and employees.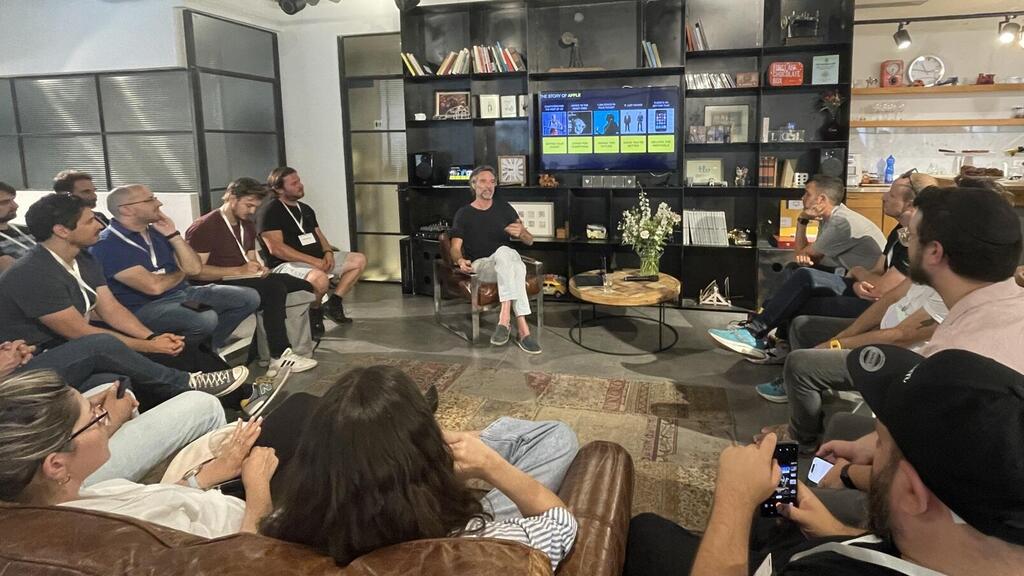 "[Steve] Jobs was the first humanist in technology at a crossroad of technology and liberal arts… If you are going to make a revolution out of the core things in your life, you have to understand both," said James Vincent, Founder and CEO of FNDR. During a visit to Israel's Startup Nation last month, Vincent spoke to a room full of entrepreneurs at TLV Partners to discuss the impact that storytelling can have on a business. Originally a Brit who moved to California, Vincent is described as 'having been in the room for pivotal business innovation moments' and worked directly with Jobs in those historic early years.
"His two loves were product design and experience. My job was to talk about storytelling and marketing," he explained to the room. "You need your head and heart together. There are two ways to look at the world and Apple wanted to be both."
Vincent was speaking to a crowd of Israeli founders who were looking at building their own stories for companies that are currently being built, either in the ideation phase or later on in eras of growth and expansion. He assisted Jobs with famous campaigns helping Apple secure its position as the brand that helped change music. Vincent was directly responsible for the '1000 Songs in Your Pocket' campaign from 2001 and the first generation of the iPod. The company has always produced memorable advertising, and much of the experimentation in the early days is what the company can credit for its $2.3 trillion valuation today.
"Entering the U.S. market can be tough for Israeli entrepreneurs, even if they are second-time entrepreneurs who have done it before," added Dana Harel, Head of Marketing at TLV Partners. "Nailing the right narrative and connecting with the U.S. audience is no easy task."
Speaking to CTech after the event in Tel Aviv's Sarona district - a popular hub of startups and aspiring entrepreneurs - Vincent outlined some of the strengths and challenges for Israel's Startup Nation. "The national identity in Israel requires relentlessness and rigor just to survive," he observed. "It is in your DNA - that is a core attribute of being a founder. Of all the founders I've worked with, there are a lot of tough moments, and as a nation, there have been a lot of tough moments. It builds resilience from the outset."
While he identifies a "discipline to the industry that is not California", Israel still struggles to tell its stories in ways that have proven successful for companies from the U.S. and Europe. "Here I think there are a lot of potentially robust businesses that don't take full advantage of their opportunities to tell their story well," he said. "And so because it is a fairly pragmatic business here, it is not whimsical... The bluntness of the conversation that would happen from the very outset means that the value attributed to storytelling and its ability to elevate exponential value is just fluff, in a way."
Israel has a unique ability to focus on the 'now' - the product, the immediate deal, or what's right in front of the founders' eyes - and disregard some of the storytelling elements needed to improve companies in the eyes of the customer. To be "about the features rather than about the context" means that Israeli companies don't take full advantage of some of the qualities they have to boost companies to success.
"A company that focuses on good storytelling can be worth $2.3 trillion… They focus on how their product is elevated by their storytelling. I think here there is a little bit of a blindspot when it comes to storytelling," Vincent said. "Because it is so focused on toning a product and cutting to the chase, I think that creates very resilient founders but I think it creates a blindspot in regards to storytelling for your business."
Vincent concluded by offering a piece of advice for founders looking to tell their stories, be it to customers, investors, or friends. "You need one central narrative - this is what your company stands for. But every time you deliver it, think for a second about who is receiving it, where are they starting from, and how to bring them along."