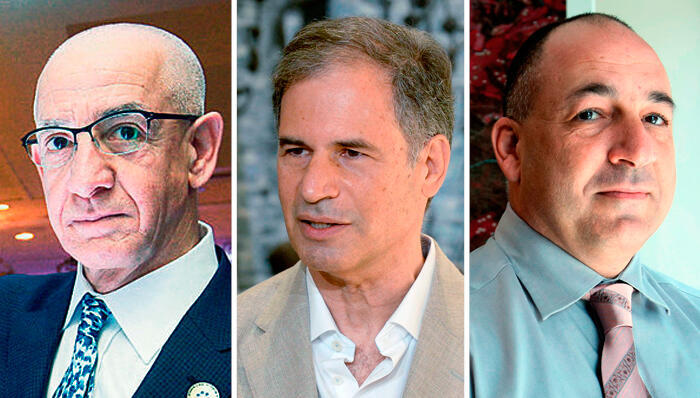 Israel's space tourist being sued for hundreds of millions by the Minesweeper
Avi Buzaglo-Yoresh, who developed a technology that can detect minefields through aerial images and was Eytan Stibbe's partner, is suing the next astronaut, claiming he is owed funds from defense exports and projects in Africa. Stibbe: My connection to this activity and lawsuit is zero
After Calcalist revealed the legal troubles that next-Israeli astronaut Eytan Stibbe is embroiled in with the former partners of his firm the LR Group (Luminer) in Africa, it has been revealed that Stibbe had an additional business dispute with a former partner, who is filing a lawsuit against Stibbe's activity in defense exports in Africa.
That partner is Avi Buzaglo-Yoresh, the founder of Geomine, which developed a technology that can detect minefields through aerial images, which earned him the Prime Minister's Prize for Initiatives and Innovation, as well as the nickname Minesweeper. Buzaglo-Yoresh is suing Stibbe, as well as his former partner Haim Taib, for hundreds of millions of dollars, claiming that he deserves an equal share of Stibbe's funds from defense exports and projects in Africa when they were partners. The lawsuit was heard in a confidential arbitration hearing conducted by (ret.) judge Dan Arbel.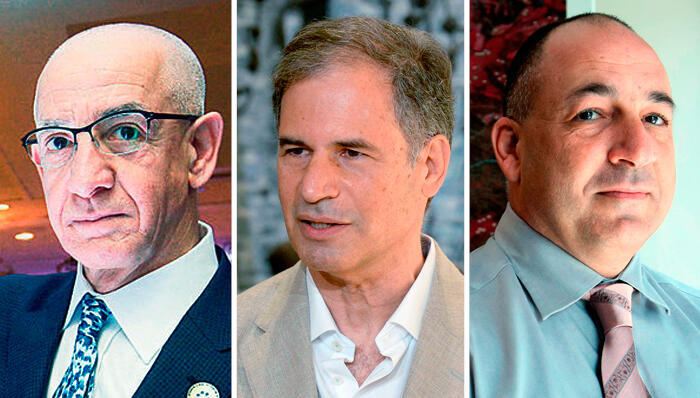 Buzaglo-Yoresh first became interested in minefields during his military service, where he served in the rescue force, Unit 669, in the Israeli Air Force, rescuing tourists from minefields in the Golan Heights. After his military service, he studied geology in college, and later served as a head geologist and later as an intelligence officer in the army. In 2007, upon his retirement from the military, he founded Geomine. Several years later, he brought in two partners, who consistently remained under the radar. The two, who at a certain point held more shares in the company than he did, were Stibbe and Taib, who departed LR in 2012, but continued their business together in Angola.
"Millions of dollars in profits"
A few years ago, disagreements arose between Buzaglo-Yoresh and the two partners when they worked together in Africa, specifically in Angola, where Geomines operated, clearing minefields as well as in other security areas. The core of the dispute is related to those security projects and the export of defense equipment to Africa, which is estimated to have reached billions of dollars. Buzaglo-Yoresh claims that he was allegedly deprived of the company's profits, and that he was stripped of his fair share of profits in these projects. In addition, the parties also disagree on the value of the projects and defense equipment sold, which are at the core of the disagreement.
At the end of 2019, Buzaglo-Yoresh, Stibbe, and Taib turned to the head of the Israeli Bar Association, Defense Attorney Avi Himi, and asked him to appoint an arbitrator to resolve their disagreements. Himi consulted with the Bar Association's Appointment Committee, which recommended appointing retired Judge Dan Arbel, to oversee the case. "I hope that the arbitration hearing will reach a swift resolution of the disagreements between both parties," Himi wrote to Buzaglo-Yoresh, Taib, and Stibbe in a letter dated January 2020, which was also addressed to Arbel. Since then, the parties have been entangled in the arbitration process, but the details remain entirely confidential since the proceedings are being conducted behind closed doors.
At the center of the arbitration is a lawsuit filed by Buzaglo-Yoresh against Stibbe and Taib and several other companies that the group either owned or co-owned, such as the Mitrelli Group Consulting and Logistics Ltd. and other Israeli companies, which were registered in tax-free countries. Buzaglo-Yoresh is represented by the law firm Doron, Tikotzky, Kantor, Gutman & Amit Gross law office while Stibbe and Taib are being represented by the Tadmor, Levy & Co.
In December, Calcalist revealed that Stibbe had a prior disagreement with two of his former business partners, with whom he founded LR, Roy Ben Yami and Ami Lustig. The two claim that Stibbe deceived them and kept what they believe should be their profits.
Taib also plays a role in this disagreement, since he revealed to Lustig and Ben-Yami information about alleged fraud, deception, and misrepresentations that he claims Stibbe committed against them, when the parties decided to dissolve LR in 2012. Ben-Yami and Lustig noted that as part of the arbitration, they intend to sue Stibbe for more than a billion shekels (approximately $308 million). Stibbe denied the allegations, calling them "unfounded." Over the coming days, the parties are expected to update the court as to whether or not they accept the arbitrator's resolution.
Taib and Stibbe left LR and began working with the Mitrelli Group, concentrating on investments in Africa, until the two split from the group in 2019. That split led to an additional monetary dispute, between Stibbe and Taib. As revealed by Calcalist, confidential arbitration proceedings between both parties is being conducted in London. In that dispute, the two had originally agreed that Stibbe would receive NIS 588 million ($182 million) for the company's operations in Africa.
That activity focused on social and infrastructure projects in Angola, the Ivory Coast and Congo. The sum that Stibbe was meant to receive was paid in full, but a dispute later arose between the parties, where additional employees and consultants who worked with their group in Africa claimed they deserve part of the funds, as revealed previously by Calcalist. In a recent appeal filed to the court by Buzaglo-Yoresh, in which he attached Calcalist newspaper clippings, he noted that similar to what he claimed in the arbitration proceedings, "the defendants in the previous arbitration proceedings also generated billions of dollars in high revenues and profits from carrying out projects and exporting defense equipment."
Stibbe's indemnity agreement
Stibbe claims in arbitration proceedings that according to the terms of the indemnity agreement he received from Taib following their split, the obligation to compensate the said-party regarding their joint activities in the past is Taib's sole responsibility. In addition, following the split, Stibbe transferred his shares in Geomine to Taib. Sources close to Stibbe claim that Taib led security activities in Africa, while Stibbe's involvement was only marginal.
Buzaglo-Yoresh's lawsuit has an additional element too; it exposes something that Stibbe may want people to forget: he made millions, according to claims, in defense projects in Africa. Those funds helped him, among other things, to purchase his ticket to space as the second-Israeli and first-private astronaut, which sources say cost $50 million. Although these legal disputes are confidential and being conducted in discreet arbitrations, if the information is leaked to the public it could tarnish Stibbe's public image.
Stibbe's representatives said in response: "This is an arbitration dispute regarding Geomine. Eytan was not involved in the prosecution events, and this was explicitly explained in the arbitration proceedings. Eytan sold his Geomine shares to Taib in 2019, and his connection to the company's activities and the lawsuit in question is zero. Therefore, there is no justification for including him in the arbitration proceedings had it not been for a puzzling insistence on behalf of the plaintiff. Either way, most of the allegations mentioned in the arbitration are not directed against him."
Buzaglo-Yoresh's lawyers stated: "Since the arbitration procedure is being conducted behind closed doors, we do not intend to provide the media with details as to what is being discussed in the legal proceedings between both parties."
Taib's lawyers did not respond to a request for comment.