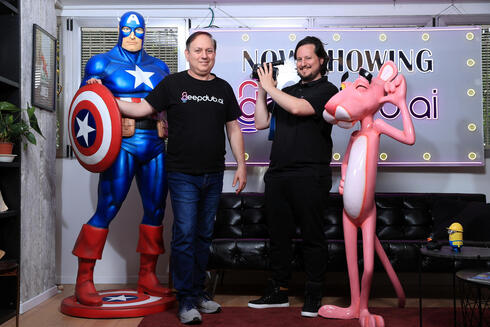 Interview

The big Krakowski: Israeli startup Deepdub takes on Hollywood
CEO Ofir Krakowski takes CTech on a Deepdub deep dive behind how his Tel Aviv startup became the first AI dubbing solution to receive content security accreditation from Hollywood's Motion Picture Association. "We support 30 languages," Krakowski beams, "and by the end of the year we hope to support 60"
It's impossible to miss the giant poster of Star Wars' Jedi Master Yoda brandishing a lightsaber next to the phrase "May the Force be with you!" in giant lettering that hangs on the office wall behind
Deepdub
co-founder and CEO Ofir Krakowski. He smiles and nods in approval when I suggest that based on his poster we should have conducted the interview on May 4th, Star Wars Day - 'May the fourth be with you!' But as I quickly discovered in talking with Krakowski, 'the force is strong in this one.
The story of Deepdub, a Tel Aviv-based startup with over 30 employees, the majority of whom are in Israel and the rest in the U.S., and which has raised $26 million to date, did not begin 'a long time ago in a galaxy far, far away', but rather in 2019 when Ofir and his brother Nir Krakowski (CTO) co-founded it.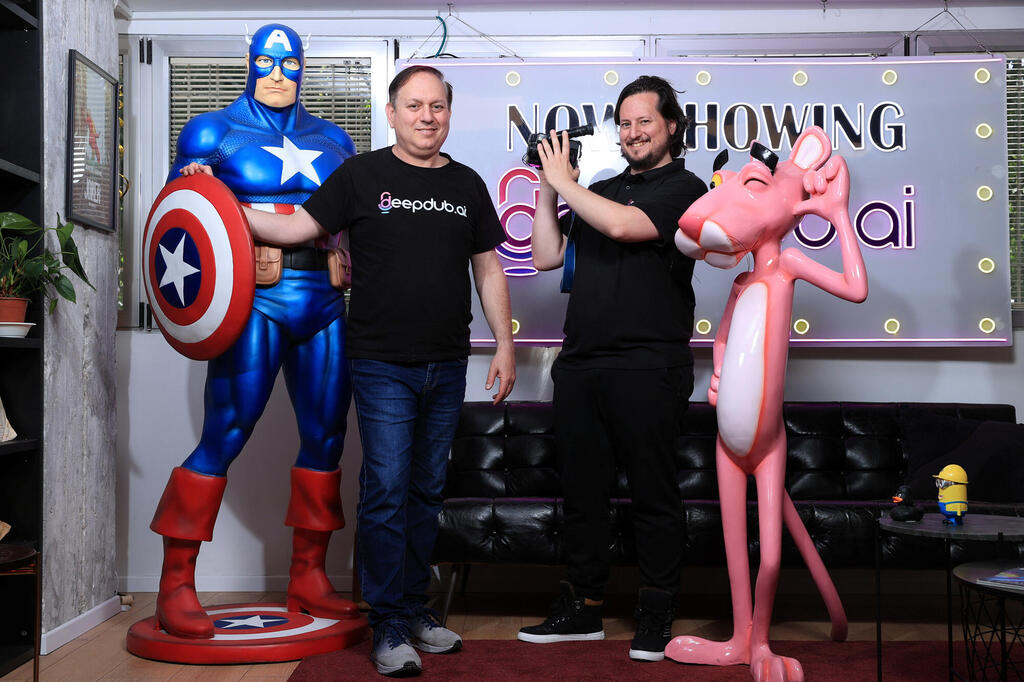 Ofir and Nir are an impressive pair. Ofir served in the Israel Air Force's Ofek 324 technology unit while Nir was one of the founders of the Shin Bet's cyber unit. Ofir's vast experience in machine learning grew as the founder of the IDF Air Force Machine Learning & Innovation department, where he led the organization for 10 years. It was Ofir's 30 years of computer science expertise and machine language experience combined with his passion for the potential of AI, that led him to develop the concept of Deepdub.
Deepdub aims to bridge the language barrier and cultural gap of entertainment through high-quality localization. Deepdub's platform leverages AI technology with a human touch to allow content creators, owners, and distributors to extend their international reach and scale their offerings while maintaining the highest level of quality. For audiences, this means watching their favorite film and TV programs dubbed in native languages without losing any aspect of the original experience. The movie "Every Time I Die", shown on Netflix, was dubbed by Deepdub, which signed a multi-series partnership with Topic.com to bring their catalog of foreign TV shows into English.
Deepdub: Not lost in translation
Your AI and machine learning expertise comes from your decades of experience in the field in the Israeli military, how did the transition to the media entertainment industry come about?
"That's an excellent question. We wanted to harness the power of AI to make an immediate impact and we found the entertainment media field to be a great opportunity. The problem with content, any type of content, is that it is always created in one language. When you want to transfer it to another language you get stuck in translation. It's a convoluted, costly, and time consuming process. This is why most of the content around the world does not carry across languages. Most of the time you will see it only in English and it prevents most of the people around the world from being able to enjoy it. If it is translated at all, it's often done poorly. One cannot monetize such content, because nobody would pay for the localization of it. This is the problem we at Deepdub seek to solve, the democratization of the creation and localization of audio-visual content."
"People today, especially our youth, are consuming more and more audio-visual content as opposed to textual content. For young people it's via platforms such as TikTok, YouTube and the like. We then asked ourselves, how can we solve the biggest problem in this field, like for a major theatrical release, like a Disney movie. If we could handle that issue for a major production, then we could handle any localization project of any size. That's really how Deepdub was born. Well, that and due to the fact that as you can see," he gestures to the Yoda poster, "my brother Nir and I are huge entertainment fans. We love good content and great stories that travel across continents."
Ofir Krakowski's eyes light up when he talks about his work. "Taking an idea of a story and creating a movie from it, I believe that's a kind of magic," Krakowski says. "Localization has to preserve this magic."
Krakowski reiterates the main problem. "There's a huge amount of content out there, but most of it is in English. We are enabling non-English speakers to consume it. But, there is also a ton of non-English content out there which our dubbing technology now makes available to English speakers. In fact, this is how we started. We began working with a company called Topic.com which takes non-English TV series from around the world, in languages such as German, Danish, and even Hebrew, and enables U.S. viewers to watch quality dubbed versions in English without having to read subtitle
"Absolutely. For example, the hit Hebrew language TV series "Hatufim" (Prisoners of War) was dubbed by us into English. "Hatufim" was remade in the U.S. as the wildly successful drama "Homeland". Now, thanks to Deepdub, fans of "Homeland" can watch 'Hatufim', the Israeli show that inspired it all, dubbed into English without reading subtitles.
Beyond dubbing the voice, what about the tone of the speech of the character?
"We have several features in the technology that enable us to match the original voice recording. If the customer wants, we can match the original voice, depending on the consent of the original actor, but we also have a vast amount of voices in our voice catalog and our algorithm chooses the right - or best - voice. So, it will match 80-90% of the original, but as the viewer you will believe it and buy into it because our minds work in such a way that we see the person on the screen and hear the voice that goes with it and you'll believe it's the same voice, when in reality it's not."
So, what's your value proposition?
"It's very simple, with DeepDub you save time and it's cost efficient while at the same time we provide a very high quality and very secure service. This month we announced a very significant company milestone as Deebdub became the first AI dubbing solution to receive content security accreditation from the Motion Picture Association's (MPA) Trusted Partner Network (TPN) to receive pre-released content to prepare for dubbing. We built our platform to be extremely secure and this MPA recognition reflects that."
Who are your competitors?
"On the entertainment side, you need to understand that there are many categories: news, documentary, theatrical content, etc. We are the only AI company dealing in theatrical content. There are companies like the UK's Papercup that use AI to dub documentaries and news, which is mainly voice overs and narration where the range of emotions is much narrower. However, when you're dealing with theatrical content, you need to support a much wider range of emotions, multiple characters and situations. For example, how do you dub a voice of someone talking while eating? It's not so simple. Our technology even accounts for that - and shouting, whispering, you name it."
Just a few weeks ago, the CFO of Paramount
acknowledged
that they're already using AI for content localization in Hollywood. What does this disclosure mean for Deepdub and the industry?
"I believe what this 'revelation' signifies is something that we already know. We know that every Hollywood executive out there is looking to see how generative AI is going to make their job more efficient and cost efficient for their company or studio. In terms of entertainment, things are going to change. It's like in the late 90's when DVDs entered the market and changed the industry forever. If you are a savvy media executive you will embrace the change AI is bringing and leverage it for your benefit. If not, you will be left behind."
Unlocking new content - for Israeli content creators too
As the proud co-founder and CEO of an Israeli startup, Krakowski see's Deebdub's role as diverse. "First, with are providing technology that enables Israeli Hebrew-language content creators -and Israeli actors too - to reach new vast global audiences that they could have only dream of before. Currently, to sell content abroad you need to invest a lot of effort and money, and there is more competition than ever before. This is not the market it was 10 years ago when Israel was a pioneer in selling media formats. Secondly, and no less importantly, we are proud to be an Israeli company selling our technology and our processes to the biggest entertainment media studios in the world enabling them to provide their top-notch content to other regions of the world in a quick, cost effective and quality manner.
Where is the industry heading?
"It's growing a lot. Now many media companies are beginning to localize their content libraries. There is a lot of content that was never dubbed to other languages because it was too costly and it was not worth their while. Also it was costly to upload content to and access content from streaming services. But now there are many free services so there is much more opportunity. With services like Deepdub now available, more content will be dubbed and unlocked for content consumers around the globe."
What are your thoughts on the current high-tech crisis?
"Just like every startup in Israel is affected by the crisis, Israel as a whole is affected too. Economies have changed in the last year. Macroeconomic conditions are not as favorable for startups as they have been in the past. However, for Deepdub, on the business side, there is a lot of opportunity, since our customers want to be more efficient with their costs. We are enabling them to both be more efficient and save money too."
How many languages does Deepdub operate in?
"We currently support 30 languages and by the end of the year we hope to reach 60!"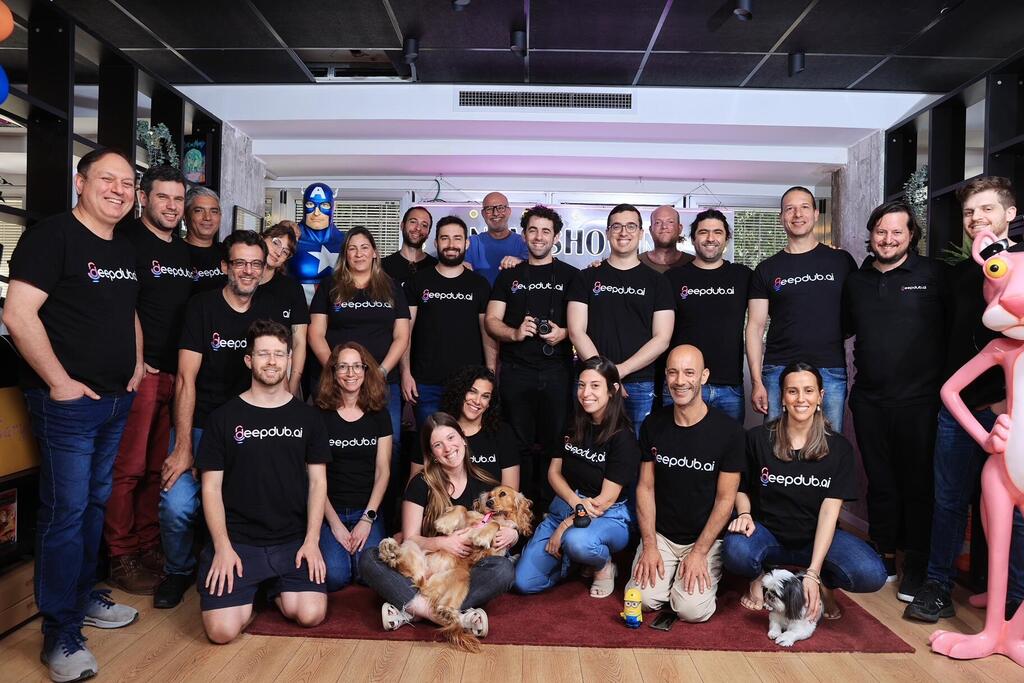 When pressed about which major Hollywood projects Deepdub is currently working on, Krakowski would not disclose company names, but he did say that Deepdub "has contributed to a recent American motion picture from a major studio that was released in Israel and around the globe for one of the voices in the film. We also have content that was dubbed by our company on a major streaming platform in the U.S. and we have dozens of titles that are screened for both American and global audiences through Plex.TV and Topic.com, as well as Amazon and Roku other well known platforms that stream the content. Bill Gates was absolutely correct when he said 'Content is king'."
You and your brother Nir co-founded the company, and another brother Oz is also part of the team, what's that like?
"I love working with my brothers. You gain a lot of trust. This is essential when you are building a company. At Deepdub, we are one big 'family', even if we are not all technically related."
Any final words of wisdom?
"I'll quote Yoda," he says, pointing again to the giant poster. "When he tells Luke Skywalker in "The Empire Strikes Back" to 'use the Force', Luke answers, 'I'll try' and Yoda scolds him and says 'No! Try not. Do or not do, there is no try.' At Deepdub we are 'doers', there is no 'try'."