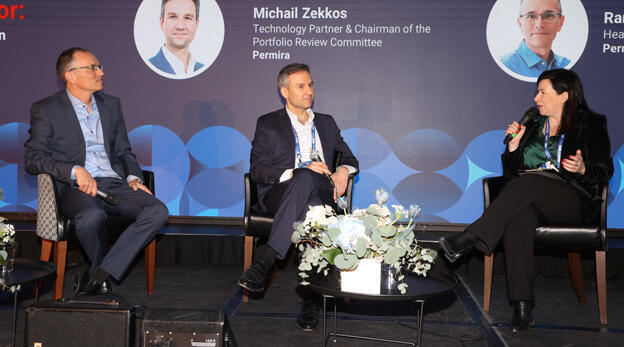 Mind the Tech London 2023

"Permira sees Israel as a strategic market for investments in technology companies"
"We follow the activity in Israel and see what is happening," Michail Zekkos, Partner and chairman of Permira's portfolio review committee said at Mind The Tech London, "The stability of the political system and the importance of the rule of law are the basis for investments"
Michail Zekkos, Technology Partner & Chairman of the Portfolio Review Committee at Permira and Ran Maidan, Head of Israel at Permira, joined Calcalist reporter Sophie Shulman at Calcalist and Leumi's Mind the Tech Conference in London this week for a session entitled "How to Identify and Build Global Market Leaders".
"We examine the political situation in Israel and see the rule of law as a significant basis for our investments," Zekkos said. To date, we made two investments in Israel, Netafim which became a very successful investment and the Synamedia company, formerly NDS.
Maidan, prior to his move to Premira, was the CEO of Netafim who worked closely with the fund. "Today I want to support companies the way Premira supported me. As CEOyou have a vision to create meaning and take the company forward. When I was CEO of Netafim, the partnership with Permira was very strong, and they helped me realize my vision of geographical expansion, product development, and M&A. A fund like Permira is a fund that can help fulfill the CEO's dreams. Today I meet young leaders with dreams like I had, and I want to help and guide them the way Permira helped me.."
Why did you open an office in Israel?
"We opened an office in Israel two years ago because we see Israel as a developing technological center," Zekkos said. "When we see such innovation and the minds coming out of the army, it was important for us to establish a significant presence here with Ran."
Why haven't you invested in Israel until now?
"Permira is a large organization. Although we have the funds, we did not enter in 2021 into the market since the prices were not reasonable and we decided to wait with the investments. In 2022 the prices started to fall and now 2023 is the right time for us to invest. We are building a pipeline of companies that we are examining, and you will soon hear from us about companies we will invest in. We are looking at many companies in Israel and still do not regret an investment we did not make in Israel."
What kinds of companies are you looking for?
"We are looking for companies with unique product and ideas, that are being led by strong management teams with the ability to make it much bigger and much more significant. Take companies like Zendesk, McAfee and many other companies where we have worked in recent years, they all have one thing in common - we have supported leaders who can change companies and take them to new heights. We are looking for companies that have a proper unit economics and teams that have an ambition to grow the business. In the field of technology, which is our main business, we invest in cyber, DevOps, fintech infrastructures, and enterprise software."
You can watch the full interview in the video above.