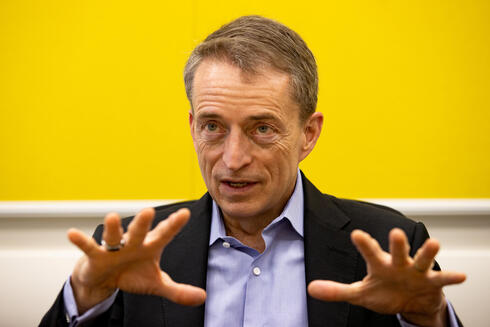 Intel Inside: CEO shares his plans to restoring the chip giant's supremacy
A year after taking over the helm, Intel CEO Pat Gelsinger sees Israel as a key piece of the puzzle
After a year in his role, Intel CEO Pat Gelsinger is trying to bring the hardware dinosaur back to life. In an exclusive interview with Calcalist during his visit to Israel, he talks about the target of 20,000 workers in Israel, the Mobileye issue, and what he wants to talk about with Prime Minister Bennett.
"I was with Intel for 30 years and was outside of Intel for 11 years, which was almost exactly the same amount of time Steve Jobs was out of Apple. I found that to be a very interesting coincidence." With that remark, Pat Gelsinger, Intel's CEO who is currently marking one year since taking office, provides a substantial hint of how grandiose his plan is for the chip giant that has fallen asleep at its post and lost its leading historical status.
Gelsinger returned to Intel, after the last CEO was fired after a short tenure, for one purpose - rehabilitation. This rehab involves the company's large activity in Israel quite a bit, which expanded even further this month with the acquisition of Tower, the chipmaker from Migdal Haemek for $5.4 billion in cash. Intel has signed four of the top 10 exits of Israeli companies - Mobileye at $15 billion in 2016, Habana Labs at $2 billion in 2019, Moovit at $1 billion in 2020, and Tower. Now Gelsinger has come to take a closer look at what exactly he paid the high price for. In an exclusive interview with Calcalist yesterday at the company's Jerusalem offices between a visit to Migdal Haemek and a meeting with Prime Minister Naftali Bennett, Gelsinger promises more Intel purchases in Israel in the near future.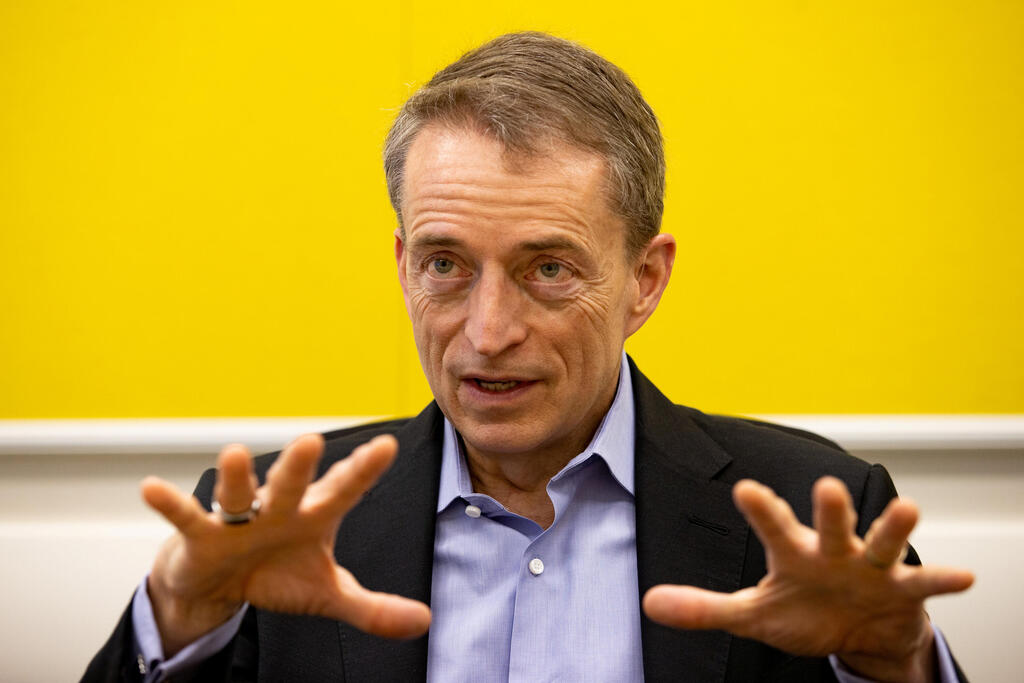 "In the 11 years I was outside of Intel, I learned how to be a CEO. I learned software and I learned how to make acquisitions - I made 80 of them. I learned how to be successful in acquisitions even if Intel does not have a particularly successful history in this area. During my time at VMWARE, I tripled both the value of the company and its size. I'm sure people will look at the company and say that my tenure was a success because before that VMWARE was stuck in a holding pattern. Acquisitions were key to achieving this revolution. Now, on the one hand, I come with my 30 years at Intel, I started at Intel at the age of 18 and I always say that I grew up there and I am completely 'Intel Inside', but on the other hand I am coming back with a different experience. It was very hard to leave Intel, but it is difficult to acquire all the experience needed in just one company. Everyone has an opinion on my first year as CEO of Intel, but everyone agrees that a lot has been done in that year and we're not done by any means. Now we've had one year to start rebuilding after a decade of bad decisions. We have a lot more to change. It will take us more time to rebuild the company."
How does Israel fit into the new vision you formulated for Intel that you announced shortly after you took office?
"Israel has become Intel's second-largest operation after the U.S and we will continue to grow and expand here. I'll be very surprised if we don't do a few more acquisitions here. Intel acquired Mobileye, Habana, Cnveg, Screenovate, and now Tower. We love Israel.
Regarding Tower, I still have a lot of work to do to complete the deal, like getting the regulatory approvals, but I expect Tower to become another path of growth for Intel. We have announced a major plan to establish a chip manufacturing plant for external customers and part of the reason for purchasing Tower is that Intel does not have such DNA and Tower has been doing so for years. We open ourselves to becoming a service provider for external customers who will design and manufacture our processors with us. Intel does not have such an arm today. We've talked about it a few times before, but we did not do it in a big way. I need to learn how to be a good service organization so that customers can use us to design processors. The second thing Tower brings is variety. Imagine you go to a Chinese restaurant and you see that there are only five items on the menu, you'd say to yourself 'this is not a real Chinese restaurant'. Well, Tower had a lot more choices on its menu."
"We will expand Tower's activities"
As part of Intel's new vision, Gelsinger decided that the company would stop pursuing trends in markets most of which it eventually missed out on by betting on the wrong direction under a string of CEOs who have led the company over the past decade. One of Intel's biggest shortcomings is considered to be that of the mobile and smartphone market, but now Gelsinger focuses on the traditional computing division, in which the Haifa Development Center plays an important role, by way of an autonomous vehicle, a division based on the activities of Mobileye and its headquarters in Israel. Another important element is the data centers and networks, the "brains" of which were built on the basis of Israel's Habana Labs. The fourth arm is the graphics division, where here too Intel missed the big leap made by Nvidia, once the small and almost esoteric competitor that made a huge leap and overtook Intel at a market value of $600 billion, compared to Intel's $192 billion. A new division is Foundry (Intel Foundry Services), manufacturing chips for external customers according to their design and requirements. This is an entirely new muscle of Intel that is used to dictating to everyone the tone of what will be inside the processor as a company founded and run by people who invented the field, Andy Grove and Gordon Moore. This new division is based on Tower, until recently a company almost completely hidden from view, with many question marks about the need for its existence hovering around it since its inception.
How did Tower even get on your radar? This is not a big company in global terms and in Israel their exit was received with great surprise.
"When we announced the new vision in the second quarter of 2021 and started to build our capabilities organically first of all, we immediately started looking for inorganic alternatives as well. And here, too, one can use the menu parable - in the field of chip production for the design of others, there are not so many players. There is a fairly short list of companies. As we looked and debated whether to acquire more chip production capability in the most advanced technologies or in the second tier we came to the conclusion that what we have today and is the latest technology, will age later and become the second tier. For the memory chips (Flash) we decided not to go in and it left us quite clearly with the special chips which is exactly the field of Tower and the expertise it brings. We started talking to them towards the end of last year, there was widespread support on the board, we talked about the price, found a happy medium, and we reached an agreement in terms of value.
Are your customers aware that when producing with Tower some of which is in Israel?
"Tower has factories in Japan, Europe, and the United States, except for Israel. Of course, in light of our expansion in Israel in Kiryat Gat, we expect the share of the manufacturing business outside Israel to increase further. I'm not sure we will make any more acquisitions in the manufacturing field, but there will be more acquisitions in Israel. I've already done two - Screenovate and Tower in my first year as CEO.
Will you need all the employees and all of Tower's sites or are cuts expected after the deal is completed?
"Not only will we save, but we will also expand Tower's activities. I see two dimensions - the menu will also expand greatly, we will add both the things Tower offers and the things Intel offers. And interesting things can be done by combining capabilities. The factories that support the menus will be larger. We will also leave Tower's sites in Japan and Europe, as well as in Texas, and it is possible that we will only move the site in Newport Beach because the lease there is about to expire in any case in the coming years."
So Tower's employees in Israel have no reason to worry?
"Absolutely, it's part of my visit here, to meet the guys at Tower. We want to expand the menu and also increase the ability to produce the dishes. Today companies look at Tower and say 'you are a good factory but you are not big enough to meet the production needs'. There will be no such concern with Intel."
In what areas are you looking for acquisitions here?
"We have not talked about it much yet, but it is important for us to expand the field of software at Intel as well. Companies like Screenovate are becoming a product for Intel. I expect an interesting pipeline of software companies to purchase in Israel in this field."
In the software world, last year Intel, already under Gelsinger's management, made a small purchase in financial terms, but more strategic than could be identified at first glance. Screenovate, which was acquired in December for an estimated $100 million, employs 40 people, but its technology is important to Intel's operations. The main goal is to improve the user experience and especially the integration and smooth transition between the various devices, such as a smartphone and laptop. Apparently Gelsinger, who was exposed to the world of software and its importance during his tenure as CEO of VMWARE, seems to see extensive potential for integration into Intel's product portfolio, which until now has been hardware-focused.
Intel is already the largest employer in Israel and after completing the acquisition of Tower you will reach 15,000 employees here. How does it feel to get to manage a company that is the largest employer in a country thousands of miles away from your headquarters?
"As a Christian, first of all, Israel is a holy place for me, but we must remember that Intel is the company that put silicon into Silicon Valley. We're also the company that helped to establish the Silicon Oasis here in Israel. We have been here for 48 years, I myself have been here 100 times and I think many refer to Intel as Israel and Israel as Intel. It is beyond the technological ecosystem. Every piece of technology in Israel has one degree of separation from Intel."
Will you also reach 20,000 employees?
"I do not have a number yet, but it is clear that we will continue to grow here and recruit workers. For the new plant in Kiryat Gat that is under construction these days, we will recruit another 1,000 workers later. It is clear that we will reach 20,000 even if I do not have a timeline yet."
How is the progress in Kiryat Gat, there were many delays in expanding the factory there and at a certain point, it even seemed that the viability of the expansion was being reconsidered?
"We are on schedule. I'm not sure what happened in the past, but since I've been in office we have been working and progressing there fast."
And where does the plan stand to split Mobileye and issue it on Wall Street? When you announced the ambitious plan to issue the autonomous vehicle, activity in the markets were at their peak and the multiplier levels of high-tech companies were completely different than they are today?
"Preparations for the IPO continue at a fast pace, everything is done, work on the paperwork, the prospectus, and submitting what is needed. When everything is ready, then we will make the IPO and it will of course be based to some extent on market conditions at that point in time. We have consultants who say when is better and at what price, but I tell the team that handles the Mobileye issue - we do not stop for one second. The market may have fluctuated now, but who knows what will happen in a few months?"
What is more important for you, to split out Mobileye's activity or maximize its value?
"I do not look at it that way. The value on the day of Mobileye's IPO does not worry me. I want it to be a good IPO, but it will not be at the level of 'let's wait another week and maybe get another 5%.' We do the IPO because it's the right thing to do for Mobileye - they will have more visibility to customers, more currency to attract talent to work for the company. The electric car market is heating up and I want Mobileye to be a prominent player there. Creating value for Intel and Mobileye's new shareholders is what matters. Intel will still hold most of the shares and I will be chairman of the company. We are fully invested in Mobileye's success but I think it will be a greater success after the IPO. I do not worry about the value on the day of the issue."
Even if it's less than the $50 billion you set as your goal?
"I do not think we will have to worry about that and that is a good number. I see this value rising dramatically over the next decade anyway. The market is hot, the technology is unique and it will be possible to both make purchases and recruit employees."
Will you complete the offering in any case by the end of the year?
"I am committed to completing Mobileye's IPO by the end of 2022 and I see no reason why that should not happen."
Beyond the meeting with Tower employees, who else do you meet on this visit, and what are the goals for you?
"I met with the American ambassador, I will meet with the prime minister, and most importantly I will meet with Tower people. I have not been there yet. There is excitement at Tower in light of the acquisition, but there is also understandable concern that this is the "big Intel". These are understandable human emotions and I am very excited about the merger. In the end, it's all about the people."
What would you like to talk to Prime Minister Bennett about?
"Imagine that the biggest private employer in Israel is coming and he has never met the prime minister. The last time I was in Israel I met with Benjamin Netanyahu who was the prime minister then. Now Naftali Bennett wants to meet with me and, of course, I also want to meet with him. I want to hear about his policy. How he sees the technology sector here, I want stability for our investments here."
Will you also talk about taxation?
"It's always interesting to talk about, but it's not that there is any offer on the table. We are not looking for anything, all the agreements around the expansion in Kiryat Gat are already closed. But I am looking for a relationship for new projects and new acquisitions."
Will you talk to Bennett about Israel's unique situation, the need for a delicate balance between our relations with the United States and Russia, and for many years Israel has been in a similar situation between the United States and China? How do you see this complicated situation for Israel, which of course also affects Intel as one of Israel's largest exporters, including China?
"Everyone knows about the global issues surrounding U.S-China relations and the U.S and Russia. Israel is of course an ally of the U.S, but you also have unique relations with China. I look at this world chessboard and see all the little squares. Israel needs to navigate carefully and so far it has done so well. When I look at the world map and I ask myself which countries know how to punch above their weight? I see only two countries there - Israel and Singapore. Israel is a small desert and Singapore is a small rock, but both are very important to the world. In the United States, we have a large population and many natural resources, but one may wonder whether we know how to punch according to our weight. Israel completely punches above its weight."
What do you think will be the impact of the war between Russia and Ukraine on the global chip market? It is said that Beijing is waiting to see the U.S response to events in Europe to decide whether to annex Taiwan, a country that is one of the major players in the chip market.
"Since I returned to Intel we have talked about the world needing a stable and balanced chip supply chain. This industry is too concentrated in a few limited areas. The pandemic has already shown us that this chain is not so stable and durable and that the industry was not striving for stability but striving for as low production costs as possible. In this context, the market needs to change in the direction of global balance and stability. Recent events whether the Covid-19 pandemic or the situation in Europe only emphasize this. What aspect of life is not digital today? Over the last decades global geopolitics has been dictated by the location of oil resources and now, I believe, for the next 50 years, what will dictate is the location of the chip manufacturing sites."
You've been talking a lot lately about setting up a large chip manufacturing plant in Europe and have hinted that the announcement is imminent, whether it be in Germany or Italy. To what extent does the current war in Ukraine cause delays or even reconsideration in this regard?
"It does not change the plan, but only strengthens it. We are not afraid of the war. but, I do not say that casually. The seriousness should not be diminished. But just as the U.S wants a regular supply of chips, so does Europe. In our program, I said that 80% of the chips in 1990 were made in the U.S and Europe, today it is only 20%. Towards 2030 we need to return to a situation where 50% of the chip production will be in the U.S and Europe. This would be an amazing recovery and I want to be a part of it. That is why it is very important to build chip factories anywhere in the world and that is exactly what we want.
And if Taiwan becomes part of China?
"It only strengthens our ambition - and we need to move fast."
Speaking of Taiwan, let's recall the statement of the founder of TSMC, one of the world's largest chipmakers, who said a year ago that you're too old to make the necessary changes at Intel. How do you sum up your first year in office?
"Yes, I remember how the 90-year-old founder of TSMC said that I was too old," laughs Gelsinger. "He said this because there was a clause in Intel's bylaws that required the CEO to retire at age 65 but it was already repealed because I told the board that I did not want a time limit that would tell me when to retire and they agreed very quickly. So I have time and I also have a lot of energy," says the 60-year-old Gelsinger. "When we think of the company, we have formulated our strategy, announced huge investments in new plants in Arizona and Ohio for $100 billion, and will soon announce a large investment in a plant in Europe. We launch new products and now we are also paving a new financial path. The whole market might not like it yet, but we are not talking about a quarter or two, but planning years ahead. Investments were made to strengthen the company, to combine Intel's old areas of activity with new areas. Some may be afraid of it - we are asked if it will work? How long will it take you for it to work? But I say that even my critics admit today that this is the right strategy, even if it is not yet clear when the change will take place."
Meanwhile, 2021 was the year in which Intel lost in terms of market capitalization the historic birthright in the chip market in favor of AMD and Nvidia, once the young rival that bought Mellanox in Israel for $7 billion, moving away from it in market value. Intel reported revenue of $75 billion in 2021 and in fact, it has not grown for several years while the global chip market is exploding with demand after two years of the pandemic in which, as Gelsinger himself testifies, chip supply chains have been disrupted. A shortage was felt in every field, from smartphones and laptops to vehicles that also need a considerable amount of chips today.
Profitability has also declined in the meantime, although Intel is still a company that generates an annual cash flow of nearly $6 billion and has distributed a $1.4 billion dividend to shareholders. The company also announced an increase in the annual dividend as well as a repurchase of its shares worth $2.4 billion. All the moves are meant to help strengthen the company's faltering stock, but investors meanwhile are still skeptical. Since the beginning of the year, the stock has fallen close to 20% to a value of less than $200 billion, and in fact, since Gelsinger became CEO, the stock has only declined. It has also become the world's largest processor supplier by stealing its historic birthright from Intel. As for Nvidia, which is now valued at $600 billion, Intel is already way behind them. Gelsinger has assured shareholders that by 2025 Intel will return to its historic leading position.
Can you overtake Nvidia in market value and also return Intel to the leading position in the chip market?
"Of course," Gelsinger says, almost surprised by the very question, "if I did not think so I would not be here."
Part of your plan is to recruit huge numbers of employees, whether in Israel or in the U.S and other parts of the world. Given the somewhat of a loser image that has stuck to Intel recently, not to mention the weak stock, how can Intel fight young unicorns when it is kind of a dinosaur?
"There's now a trend of going back to Intel, people are saying 'Intel is back' to one another," Gelsinger whispers with a smile as if it's a secret he is sharing. "Many people have left the company because they were disappointed by the lack of direction, but now there is a bright future for Intel and a clear path forward. It's true that there are companies that look sexy, but in the end, the big technologists want to work on the big and difficult problems, work with great people, in an organized corporate culture and get an appropriate compensation. In that order. Intel has all these and today it is no longer difficult to recruit employees and executives. We have an important task to rebuild the company."