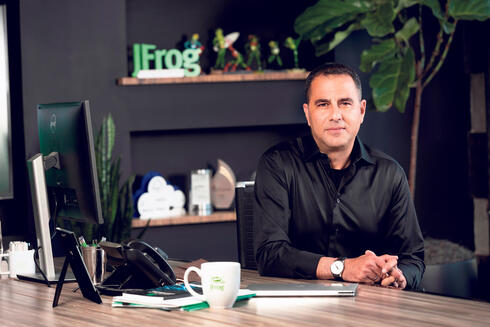 Interview

"Israel has gone from being 'the startup nation' to 'a party nation', and I'm ashamed"
"A lot of money has been poured into local high-tech, reaching corruption levels" • "Some of the CEOs are children who have no sense of responsibility" • JFrog CEO Shlomi Ben Haim takes off the gloves
"The explosion of high-tech in Israel has led to a total loss of values ​​and it kills me. I, as a businessman who belongs to the high-tech industry, a sector that is Israel's largest exporter and a source of livelihood for many sectors of the population, am ashamed of what has happened here. I'm simply ashamed of it.
"The satirical TV comedy sketches on Israel's 'Eretz Nehederet' (A Wonderful Country) are just a reflection of reality, and in this reality there are companies that I believe have stopped leading on a basis of values. We have gone from being a startup nation to something that is between a startup freak show and a party nation."
This j'accuse (I blame) belongs to Shlomi Ben Haim, CEO of JFrog, one of the first representatives of the generation of unicorns that has grown here in recent years, which he founded in 2008 with Fred Simon and Yoav Landman.
JFrog was one of the first companies in Israel to be funded by Insight Partners, with sums not seen here before, raising $165 million led by Jeff Horing himself back in 2018, at a time when only a small guild in Israel, located at the time on Rothschild Boulevard in Tel Aviv, even knew the meaning of the word "unicorn".
The company, which developed a solution for automatic software updating and was a pioneer in the hot DevOps field, also opened the tap of Israeli technology offerings on Nasdaq after raising half a billion dollars in September 2020, in the midst of the Covid-19 pandemic..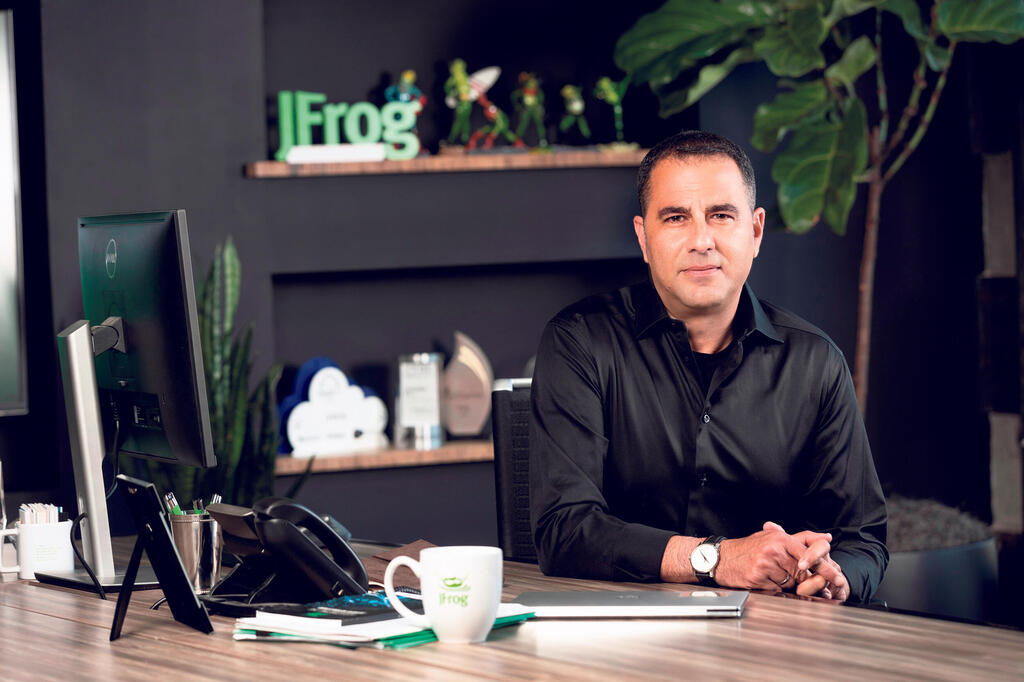 Sitting on a pile of cash
But now, sitting on a $420 million pile of cash after having already paid about $100 million in cash and another $200 million in shares for two Israeli startups he acquired last year, Ben Haim is angry.
Explain what exactly infuriates you. On the surface, our situation in Israel has never been better. What's more, you've been living in Silicon Valley for a long time, where it's happening at even higher intensities - after all, the companies worth trillions of dollars are there, not here.
"In Israel, it's extreme. A lot of money has been poured into local high-tech, reaching corruption levels. Some of the CEOs are children who have no sense of responsibility. When a 25 or 30-year-old gets $300 million placed in their hands and is told 'you are unicorn' six times a day, it corrupts. I might have gotten into this situation if I had been younger," Ben Haim says, shooting sharp arrows into the heart of the startup nation without naming names, but it is clear that he is targeting companies like Assaf Rappaport's Wiz, which is worth $6 billion today while its annual revenue rate is only about $25 million.
This valuation is three times higher than the current value of JFrog, which posted revenue of $207 million after growing by 37% in 2021. That did not prevent its stock from tumbling 45% since the IPO and 70% since the October 2020 peak, along with all technology stocks.
Wiz, which has raised half a billion dollars since its founding just two years ago, has become synonymous, alongside Rapyd with the plethora of DJs it brings to its shows for employees, with a company that moves on the thin line between "pampering" and "exaggerating." At the end of 2021 Wiz flew all its employees for a week in Mauritius and on Purim it even became an item on the Israeli entertainment news program "Good evening with Guy Pines" following a Wizney show the company produced in which top Israeli singers sang Disney songs to Wiz employees.
What do you do with $300 million? You force Berry Sakharof to sing Disney songs?
"You become a 'Great Country' joke which is why I say I'm ashamed. The 'Great Country' jokes are not funny and the problem is with CEOs who think it's funny. It is a reflection of the ugly truth of what has become of us. It's not that I come to tell stories of nostalgia, we aren't drying the swamps in JFrog either. We too do not hold back on offices and employees. But when you are driven only by that, that's where the problem begins. This is a polarization of society, a distortion of the significance of high-tech for Israel, and there are many CEOs who tell me the same thing."
A large part of the reason for this reality is actually your main investor - Insight Partners - the fund that was the first to pour huge amounts of money on every startup in a way previously not seen in Israel. You're one of the first they invested in here.
"Jeff Horing, who sits on the board with us, is one of the special, brilliant and sharp people I met. It is not that they created this bubble, but they identified an opportunity and entered the right place at the right time. In 2000 there were Pitango and Carmel and Gemini and they created the bubble of that time. The responsibility is not that of the investors."
But what are values in high-tech? In the end, the company's goal is to make a profit for the shareholders and that is what everyone strives for.
"If we lose our values, the Israeli high-tech industry will become extinct. It takes maturity to understand that not every company is a business. You can call yourself a $5 billion and $8 billion unicorn inside your fund's offices, but when you become a public company and go out into the world, you'll get slapped.
"Suddenly you are told: Wait a minute, there is no such thing as a horse with a horn, whoever told you that lied and you are not that beautiful either. It is like leaving your parents' house and enlisting in the army, there are many more like you and the commander does not care about you any more than anyone else. This is the public market and there you are told: 'Wear the uniform like everyone else, stand up straight and after a while, if you are better than everyone else, maybe we will pay attention to you and that you are special'. I relish it.
"When JFrog was worth $6 billion, I told the employees, 'we will be worth what the market says we are worth only if we really succeed in keeping our promises. It is true that there are things that are bigger than all of us like the war in Ukraine and raising interest rates, everyone is getting hit, but there are stable things. If JFrog is a real company with 7,000 customers, including every Fortune 100 company, it is not a company that will die tomorrow. Scenario A or Scenario B could happen, but it's a real business."
Is it clear from your words that even a veteran company like Wix, for example, which has not learned to make a profit until now, will never make a profit?
"Wix is a great company and I do not know about it, but I know that if there is a company that burns $50-60 million a year and has a thousand employees and $200 million in revenue, then it is difficult to see how without replacing the whole company, it will suddenly be efficient. The DNA of a company does not change and will not change in the next ten years."
You know what they'll say: Shlomi, who has already sold $30 million worth of shares in an IPO and holds more than $100 million in shares, is frustrated that JFrog's stock has fallen, it's hard to recruit, so he's talking about values ​​instead.
"As we doubled the number of employees in the company within a year - from 500 to more than 1,000 - and showed an annual growth rate of 40% with a gross profit margin of 85%, then that is probably not true. After the IPO we entered a process of real transformation: it took us 11 Years to reach $100 million in revenue and another year and two months to double to $200 million. This is growth that hurts you to the bone. But we, the founders of JFrog, will not work forever, I'm already 52 - I want to leave some legacy behind me.
"Since the beginning of the year we have recruited 200 people, but it is a combination of technology, stock and our values. At the end of the day you will not tell the children you worked at JFrog because they did DevOps, but you'll tell them as our parents used to tell us. And the employees love it. When you are accepted to work at JFrog you get our book of values ​​and you have to read it. It is not written by the management, but written in blood. Every year we do a survey of how much we meet the values ​​and every year we get a slap from the employees for fouls we commit that we are not good enough and do not do enough."
It's not that JFrog is not playing everyone's game. Its offices are designed to the loftiest standard, including a kitchen with all the perks that is at the center of demand, and they are located on Menachem Begin street, which has replaced the Rothschild area as the high-tech kingdom of Tel Aviv.
The purchase of the Israeli startup Vdoo for $300 million, which quite by chance also rents several floors in the same tower, solved the problem of many of its competitors who discovered after the Covid closures that the office space they signed for on the eve of the pandemic was too small and that they had to move again or ambush someone who is vacating a few floors of office space.
Well, values ​​are very nice, but in the end you too are no longer just in Netanya, where you started, but within the in-demand "rectangle of scooters" alongside all these young CEOs who burn millions.
"When we tell a job candidate who is being interviewed that in Israel we have offices in Netanya and Tel Aviv and he asks 'where in Tel Aviv', he can not work at JFrog. It does not suit me to hire someone who decides on the next stage of his career based on my location and I don't want someone who chooses my company based on its location."
But you realize that if he does not join you, he will go to your competitors and you will still be left with the shortage of employees and the constant need to recruit the talent that is only getting more expensive.
"If a girl wants to marry a blonde man, 1.80 meters tall and with blue eyes, it doesn't matter how much I want to get married, I will never fit that description, and that's fine."
And if he chooses by company value as many do today, the calculation of options and stocks, is that acceptable to you?
"Everyone does it and it's here that the more sophisticated ones understand that now is the time to step in - I'm suddenly a unicorn again in pre-IPO pricing, but with more than a year of experience as a public company. I'm the best they can have on the market."
Have you lost employees because of your beliefs?
"Yes, we parted ways with some, these workers parted from me. We are not stingy, but competitive and demanding more."
"Like a 13-year-old boy with a changing voice"
If so, where is the Israeli industry going? How can sanity be restored?
"The market is bringing us back to sanity if we want to or not. JFrog would have been hurt if the price of the stock had continued to run wild."
How were you bruised? You enjoyed this event of the stock price jump, you made two purchases in one year for considerable amounts.
"The IPO in the middle of the Corona and what came after it was a huge success, but the company was spinning. We were the second company after Snowflake in the multipliers level and we were actually a kind of public startup. You're on the seam, a kind of 13-year-old pimple-faced boy with a voice that is changing. In the IPO, we were already a veteran company, we were not just thinking about an exit or an IPO, but another stage of development in the life of the company, we were already with a positive cash flow, unlike most companies."
Seemingly, you were really more prepared than many of your colleagues for this event of becoming a public company, but in practice there were quite a few falls after the publication of financial reports that were not understood in the capital market or you did not explain correctly. JFrog shares lost ground even before the technology stock avalanche began in November 2021.
"True, at first at every given moment we got slapped on the hand for not burning money and I as CEO should be resilient and insist that I am not just laundering cash, but building a real business here. All the while there are companies around me, most of them good, but they are acquiring income and you grab your head and say: there is no value there.
"The longer I live, the more I see more bankers' inventions on how to make money. Now there are SPACs, and if they are not public fraud, then what is? There are quite a few people who put their money there, and I ask how a company that burns $100-150 million a year not only is going public, but the founders are also making tons of money, when it is clear that this company has no future.
"What we are experiencing in the market today is that after a long period of dizziness, suddenly the 'Rule of 40' (a rule of thumb in valuing a company that says a software company should grow at an annual rate of at least 40% and show a profit margin of at least 40%) is not a dirty word. In the last quarter they suddenly started asking us about the profit margin. Then we saw that all these companies that bought a dollar of sales for a dollar and a half are on trial."
You have no regrets that you went public? The technology companies that remained private are still priced, at least on paper, in many billions, while those who did an IPO have mostly lost even their unicorn status.
"We wanted an IPO to make the big and bold moves like the acquisitions and the jump in revenue. We could not make a big acquisition like Vdoo's when both they and we were private companies. To determine the value one has to be public. In terms of our value I believe the true value of an issued company is set somewhere at the end of two or three years of being a public company. Until then, there is a process of stabilization, investors want to test you. I also tell the employees that the value of $4 billion for JFrog in the IPO reflected the real value then and after that the market started to go crazy until we reached a peak of $9 billion."
"I've often been offered to go into politics"
Why were New York investors so turned on by JFrog? The company's journey was not simple as it began its life in the midst of the 2008 financial crisis, and Ben Haim alongside his partners found it difficult to raise the initial capital to further promote their idea. Since then, the idea of ​​automatic software updating has become mainstream and also one of the developing and growing areas of companies' activities, with the recent addition of an important tier of adding cyber protection capabilities from the early stages of development.
To this end, JFrog acquired Vdoo, which, although it has no significant revenue, brought with it 90 security experts. JFrog managed to pay for the purchase when its shares were still trading above the issue price and transferred less than a third of the amount in cash. In September, it acquired Upswift, a small Israeli startup that developed technology for remote updating of IoT devices, for $20 million.
JFrog is far from being alone in the market, alongside large and well-known companies such as Atlassian, which is traded on the Nasdaq at a valuation of $65 billion, and GitLab, which was issued a year after the Israeli company and soared to a value of $15 billion. Since then it too has fallen and is traded today around a value of $7 billion compared to a value of $2.3 billion, to which JFrog has collapsed in recent months.
There is a feeling that in the capital market you were expected to grow faster and give a stronger fight to competitors.
"The capital market is trying to price us according to GitLab and Atlassian, who are great companies, but they sell what already exists in the market today, and since it has been around for many years they sell more. It's like asking why there are still more regular and non-electric vehicles on the road even though the electric vehicle has already caught on.
"It's true that there are companies that are growing by 50% even today, but they usually pay for it elsewhere. I am here as CEO and founder so that JFrog will reach the numbers and the standard of the market like Atlassian in five years from now. We as a group of entrepreneurs still own 15% of the company and are not going anywhere."
"I've been offered many times."
"No one is taking care of the dollar-shekel"
What would you do if you were in the position of a decision-maker at the national level today?
"The polarization created is dangerous for the state. If I do not pay this salary, someone else will pay it. But the state can facilitate in other places, such as peripheral benefits for high-tech workers. JFrog has lost a lot of money just because it insists on having its development center in Israel. Even if I did not raise my salaries in dollars, they have gone up insanely. We poured millions of dollars into the public coffers, but no one takes care of the shekel-dollar exchange rate.If Israel had not been engraved in my heart, it is not certain that I would have kept the company's activity here.
"We need to take a step back from the attitude that we are the best in the world. There are good developers elsewhere as well. I shouldn't be put in a situation where the exchange rate is 2.5 shekels to one dollar, because I can't destroy the company for zionism. It is much cheaper to transfer a group of 150 developers to Cyprus and fly them back to Israel on the weekends. There needs to be a mechanism that will allow for what has been created here to continue and blossom. 2021 was an amazing year, 2022 and 2023 won't be the same and the market will have to recover from what happened here."