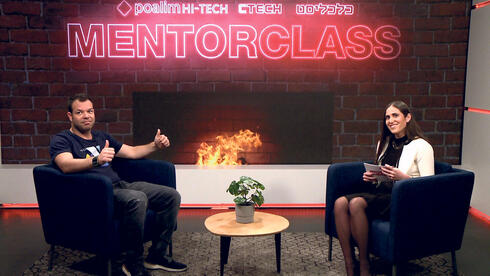 Mentor Class

Verbit CEO: "Entrepreneurship is a roller coaster, you must have passion for the field"
In a conversation with Michelle Latzer, founder and CEO of Tweed, Tom Livne shared why he closed his first company and why founding Verbit was more difficult: "You realize that you don't know everything"
"I think my case is different from that of many other entrepreneurs," said Tom Livne, founder and CEO of Verbit, in a conversation with Michelle Latzer, co-founder and CEO of Tweed. They were talking as part of Calcalist's Mentor Class, a series of online meetings sponsored by Calcalist and Poalim Hi-Tech. The series allows young entrepreneurs to meet with high-tech industry executives who share their experience and their business and management vision.
Latzer said about Tweed: "We are a Web3 fintech company, we provide companies with a secure and legal infrastructure of wallets and payments, which are based on digital assets."
When asked to briefly describe Verbit, Livne said: "We are the largest technological transcription company in the world. We combine artificial intelligence with a community of more than 30,000 transcribers and over 4,000 customers. We established the business six years ago and have been growing ever since."
Latzer: You already founded one company before Verbit. How is the entrepreneurial experience different the second time compared to the first? What did you learn?
"I had some kind of fundamental misfortune that made it more harder than usual for me as a second-time entrepreneur," Livne explained. "I founded my previous startup, Appinside, in the field of mobile security. The partner with whom I founded the company fell ill with cancer a few months after we founded the company. I'm made the decision to return the money to the investors and closed the company.
"Then I said to myself, 'I still want to be an entrepreneur and establish Verbit'. But what happened to me previously wasn't of much interest to most investors. On the contrary, it was more difficult for me the second time. When an investor comes to a serial entrepreneur who failed the first time, they will ask them what they learned.
"Investors give you credit for failing and you're supposed to be better. They didn't care what the story was. Lucky for me, the ones who came in and checked, gave us the initial funding.
"I learned two things: First, it's all about the people around you. I remember not doing enough due diligence on my co-founder at the time. Today, if I start another company, the people I hire at the beginning will determine the corporate culture and whether we succeed or not. One of the most important tips is to know when to replace them in time. Today you are building a management team and that team will not be the same in four years. You need to know how to recognize it in time.
"Secondly, you have to do something you feel passionate about. I founded Verbit out of real passion because I was a frustrated customer. I saw how much time and money we would spend on transcription. I decided I had to solve it myself so you have to have passion because the journey of entrepreneurship is a crazy roller coaster. You have to get up every morning with joy and true desire to overcome all the bumps along the way. You have to generate revenue and customers from day one and try to get feedback from them. In the end, customers and employees are the most important assets in any business."
I would love to hear some anecdotes you remember from your first customers.
"I don't know if we are a good example because I advocate 'fake it until you make it'," Livne said. " I will never forget the story of our first customer, Coursera. A friend who worked there connected us to one of the product managers. I went and sold it as if we had the greatest product, when in reality we didn't have anything yet. At the end of the meeting he said to me, 'you seem like a nice guy' and he gave us a check for $10,000. I said, 'Now. where do we start?'. Luckily, you can transcribe using a combination between humans and machines. I remember myself sitting and typing until we were able to build the real product. The contact with the customers, understanding what they are looking for, what is important to them, and the right pricing is important. There are many things that can be learned from customers if you realize that you don't know everything."
You can watch the full interview (In Hebrew) in the video above.