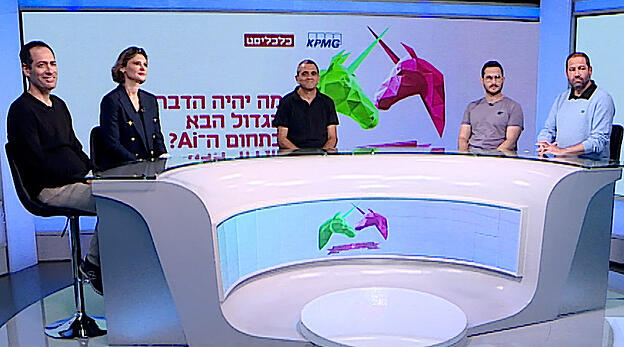 "Contrary to what people think, true artificial intelligence is just around the corner"
Shahar Tzafrir, Managing Partner at TLV Partners, discussed the dramatic progress being made by artificial intelligence and how the next revolution will look like. Dina Pasca-Raz, partner at KPMG Israel, noted that there is "a significant increase in companies that use AI to speed up development processes"
"The new AI tools aren't really intelligent, but real artificial intelligence is closer than we think," said Shahar Tzafrir, Managing Partner at TLV Partners, in a panel on artificial intelligence as part of Calcalist and KPMG's The Next Big Thing series. According to him, the field of AI until recently included very concrete and narrow solutions such as a company that knows how to decode an MRI in a more precise way, but the general public was not exposed to it at all.
"What happened in the last few months is that suddenly we found a text interface that allows people to play with AI tools and be amazed. Even me, who has spent the last 10 years investing in companies that deal with AI, when I chat with ChatGPT it feels like there's a person behind it, and I know there is no intelligence there. However, I maintain that true artificial intelligence is just around the corner. Unlike many others who think it is light years away."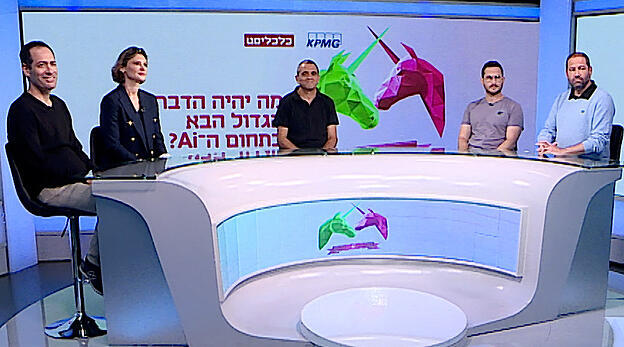 According to Dina Pasca-Raz, partner and head of the technology department at KPMG Israel, artificial intelligence has moved from the research phase to the applied phase: "ChatGPT illustrated this revolution for us. It allowed ordinary people to see how powerful this thing is. There is a long and continuous process here from the research stage to the applied stage. The professionals have always understood the technology, and the big breakthrough is actually the transition to the general public, which today is starting to use and see the power in it. The technology companies also understand that these tools can help them shorten the development time and more. There is a great increase in companies that use these tools to speed up development processes."
Yorai Fainmesser, co-founder of VC firm Disruptive AI, said that young researchers in the IDF began trying to harness machine learning tools to their data in order to predict things and detect anomalies as early as 2016. "We established an AI unit and we wanted to turn the State of Israel into one of the world's leading AI ecosystems. I think it's best to invest in startups that know how to leverage this thing and take it forward."
Dr. Zohar Bronfman, CEO and co-founder of Pecan AI, explained how artificial intelligence tools can help businesses: "The world of generative AI focuses on two main types of data: images like Dall-e and text like ChatGPT. There is also data which is not necessarily text or an image and is often the 'meat' on the bone of predicting consumer behavior, and today we don't know how to analyze it the way we know how to analyze text and images. Pecan focuses on this type of data. If, for example, 10 people entered and left a website, we will be able to tell who the 11th will be and what they will do because we know how to match them with the 10 others according to their profile and then predict if they will leave, what they will buy, etc."
Regarding the change in the investment world following the introduction of AI tools such as ChatGPT, Tzafrir said: "Today, the ability to produce text is still not a significant consideration. It is still a feature that allows better communication with customers, but not something that stands on its own."
According to Pasca-Raz, lawyers and accountants must learn to deal with this new ecosystem: "They suddenly have to deal with copyrights and intellectual property and a lot of things in the new world that these tools create. The worlds of accounting and law are always in some way lagging behind the development in the real world."
Fainmesser also presented the issue of the threats that technology brings: "It is also a threat to world order in the civil, academic, and labor market fields. Every technological advance also brings a set of threats, so I will say that the IDF also knows how to deal with threats that we will encounter in the future. I am satisfied that the army understands the risks."
According to Tzafrir, the greatest risk arising from this technology is extraordinary social change. "If in the industrial revolution machines slowly replaced manual work, we are discovering that intellectual work is also becoming something that machines can do, and this will change the labor market. It is indeed for the better, but along the way there will be many people who will suffer. We will find out for the first time that things we thought were unique to us as humans will have to be redefined. Who we are and where our uniqueness is, and it will probably be mainly in creativity."