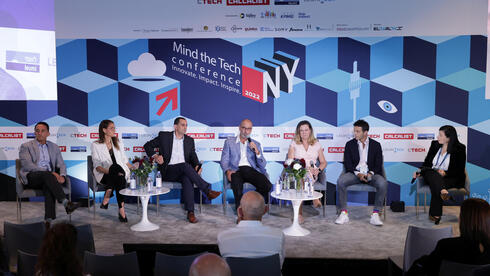 Mind the Tech NY 2022

"Founders really need to focus on how to move the needle with growth without doing it at all costs"
Whitney Bouck, Managing Director at Insight Partners, was speaking on a panel at Mind the Tech NY with Yaron Elad, CEO of Elron Ventures, Merav Rotem Naaman, General Partner at State of Mind Ventures, Pavel Livshiz, General Partner at Hetz Ventures, Barak Platt, leading partner, M&A, and High-tech at Yigal Arnon-Tadmor Levy, and Salvatore A Melilli, Partner at KPMG
"Founders today really need to focus on how do you move the needle with growth without doing it at all costs. Be more thoughtful and make sure you are investing in the things that provide growth," said Whitney Bouck, Managing Director at VC fund Insight Partners, speaking on a panel at the Mind the Tech Conference in New York.
"We are in a great position to help people weather the storm and come out the other side as well poised as possible to be successful. It has been really rewarding to help companies navigate what has been a not easy time," added Bouck.
Bouck was speaking on a panel together with Yaron Elad, CEO of Elron Ventures, Merav Rotem Naaman, General Partner at State of Mind Ventures, Pavel Livshiz, General Partner at Hetz Ventures, Barak Platt, leading partner, M&A, and High-tech at Yigal Arnon-Tadmor Levy, and Salvatore A Melilli, Partner at KPMG.
"If you look at the economy today it is much harder to raise money," noted Platt. "Valuations aren't what they were so there are many companies that either voluntarily, or for a lack of alternatives, are looking to be sold. For the companies looking to be acquired at this point it is critical to come up with a roadmap before they even start the process with a potential acquirer. Figuring out with the board, service providers, accountants, and lawyers how to get this done."
Elad highlighted Series A rounds as the funding stage that is suffering the most at this time.
"It is difficult right now in every stage. I think A round is suffering the most and the outcome of that is that Seed rounds are really problematic as well."
Livshiz said funding has regressed to the days before the Covid-19 pandemic. "We are seeing that the numbers are back to 2019. Companies are still able to raise Seed and there are still plenty of opportunities, but we are telling founders that they have to achieve a lot more with the same capital or even less."
A Melilli shared his outlook on the IPO market. "The IPO market is effectively dead compared to 2021 levels. There are companies that are getting funding, but investors are now asking to see what the road to profitability looks like."
You can watch the full discussion in the video above.