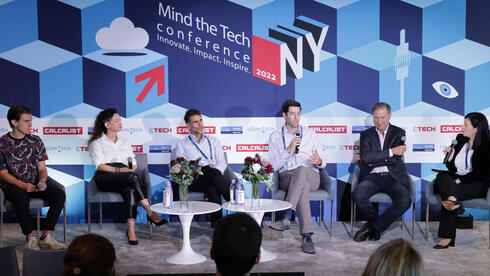 Mind the Tech NY 2022

"The only thing causing the crisis is inflation"
Gary Reiner, Operating Partner at General Atlantic, was speaking in a panel at Mind the Tech NY with Boaz Dinte, Managing General Partner at Qumra Capital, Rotem Iram, Co-Founder & CEO of At-Bay, Hila Klein, COO at Fiverr, and Iddo Gino, Founder & CEO of RapidAPI
"This is a different kind of crisis. This is a revaluing of companies. And one thing only is causing it - inflation and the expectation of inflation. The real question is will inflation continue?" said Gary Reiner, Operating Partner at General Atlantic, speaking in a panel at Mind the Tech NY. Reiner was joined on the panel by Boaz Dinte, Managing General Partner at Qumra Capital, Rotem Iram, Co-Founder & CEO of At-Bay, Hila Klein, COO at Fiverr, and Iddo Gino, Founder & CEO of RapidAPI.
"Anybody in the equity business has been the beneficiary of free money over the last 3-4 years and that has changed and that has caused multiples to go way down. The only way multiples go back to where they were is if inflation gets back under control. Longer term, there are two things that drove deflation and low cost money for the past 20 years and these will continue. Those two things are technology and globalization. As they continue, the long-term trend is still deflationary. Long term we can expect interest to be low, or lower, and when that happens, we will have multiples between what they are now and the height of September of last year."
Dinte acknowledged that it is currently more difficult for startups to raise money. "Looking forward it is going to be more difficult and challenging to raise money. Companies are not going to be measured just on growth the way they were a year ago, but they will be measured on their efficiency and product market fit."
Klein stressed the importance of keeping a cool head during stressful periods. "We do not panic. It is almost impossible to manage a company when you listen constantly to trends of markets and investors," said Klein. "I think a healthy unit economy is healthy for a company at any stage. In times of uncertainty companies are looking for more flexible costs so in this regard Fiverr is an excellent solution for them."
Iram noted how important it is for startups to track the effectiveness of growth. "Are you spending money or saving money by growing? So basically what is your burn multiple. In the case of At-Bay when we invest in sales we make more money than it costs us so for us it makes no sense to take the foot off the gas."
Gino spoke of how he is now implementing the lessons he learned from the Coronavirus crisis. "We almost overreacted to the start of the pandemic. The world looked like it was going to end in March 2020. Back then like now, companies were under a lot of pressure to cut costs. We stopped hiring for six months, stopped spending heavily on sales and marketing for six months, and we passed on a real good acquisition that was almost ready to sign because we thought we were heading towards a recession. And surprise surprise 2021 was the best year in the history of private tech companies and we weren't as well set up to captailize on it as we could. So for me and our board this created a notion that we shouldn't look as much externally but focus internally. And make decisions by looking inwards and not outwards so much."
You can watch the full discussion in the video above.