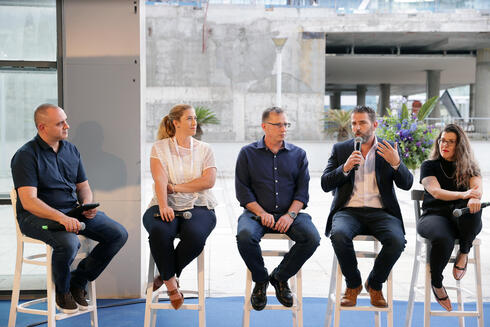 Microsoft Israel GM: "AI will become the private tutor of every schoolkid"
Alon Haimovich, Israel Country General Manager at Microsoft, was speaking during a panel at the Work After Work event hosted by Calcalist and KPMG
"We have been hearing about artificial intelligence for several years. What has changed? Why are we suddenly discussing a new revolution when artificial intelligence has been a part of our lives for 20 years?" questioned Roee Bergman from Calcalist during a panel at the Work After Work event hosted by Calcalist and KPMG. Participating in the panel were Alon Haimovich, Israel Country General Manager at Microsoft; Roni Michael, Head of KPMG Edge at KPMG Israel; Yael Regev-Unger, Senior Advisor to the Capital Market Commissioner; and CEO of Bezeq Ran Guron.
Michael responded first, "Several factors have contributed to this, but two main ones stand out. Firstly, generative artificial intelligence has emerged as a revolution. There's no denying it. This is the ability to interact with a machine that produces artificial intelligence outcomes. It's a development that eliminates intermediaries, such as data scientists who build models. This represents a complete revolution. Secondly, this tool is now accessible to individuals and organizations like never before. It didn't exist in the past. It's at our fingertips, allowing us to explore and experiment with artificial intelligence today, not tomorrow."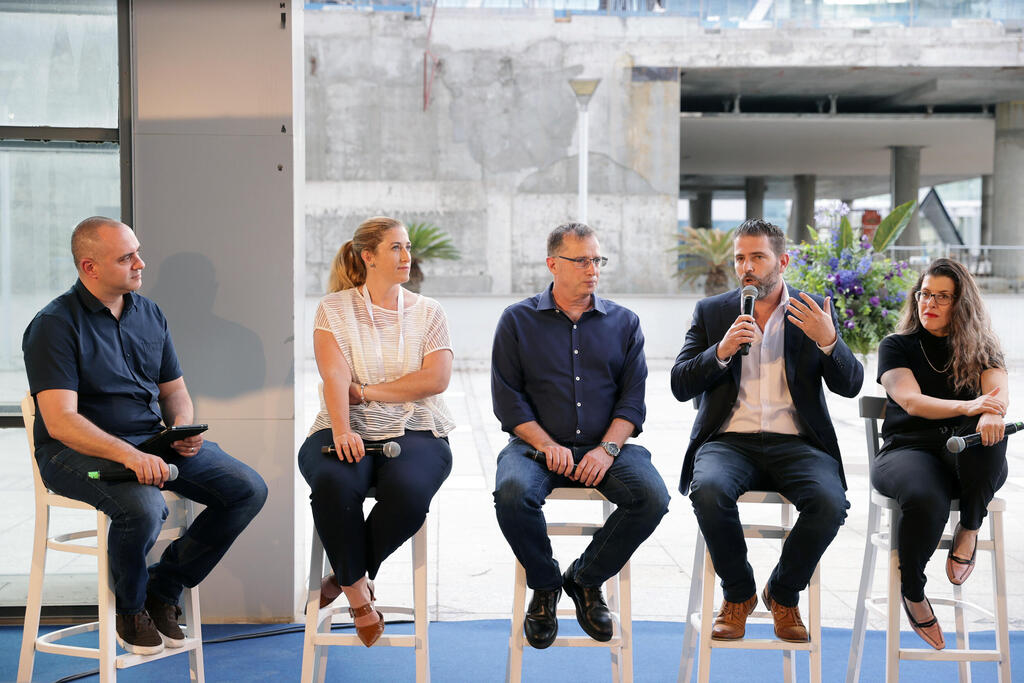 Alon, how do you transform artificial intelligence from a mere leisure toy into a practical working tool?
Haimovich replied, "Let me start from the end. ChatGPT is just one application within the broader framework of OpenAI. It's an application. The beauty of it—and I feel a sense of mission representing Microsoft—is that ChatGPT is designed as a consumer tool for the masses. It brings to mind the term 'prosumer,' an expert consumer, which emerged with the advent of mobile phones. We have all dabbled with ChatGPT and become accustomed to it. As customers, we expect the same level of experience. When I examine these areas, as a Microsoft employee, I want to see how artificial intelligence can contribute to my daily life.
"For instance, those familiar with Teams, our productivity platform, frequently discuss hybrid work and efficiency—how to achieve more with less. We introduced Teams Recap. This means that attendees no longer need to physically attend a meeting; instead, the meeting is transcribed and recorded. Moreover, the system generates insights relevant to each individual. We have made another advancement by allowing users to interact with the recording and inquire about specific discussions, such as 'What was said in the review when the name Alon was mentioned?' The system can provide an exact response.
"Secondly, those involved in the development world are familiar with GitHub. Nowadays, software programmers don't need to write code from scratch. They receive ready-made code. We have taken it a step further by leveraging the Teams Co-Pilot system for quality control (QA) purposes."
Ran, as the manager of a company with thousands of employees, how will artificial intelligence impact a company like Bezeq?
"I believe that technology will create more jobs," replied Guron. "For example, let's consider the United States with its population of approximately 300 million. How many households are there? Around 120 million. And how many dogs? Roughly 74 million. It turns out that 60% of dog owners in the United States celebrate their dogs' birthdays. This has become an industry. How did it come about? People have more leisure time because machines handle the work. Nowadays, fewer people work in agriculture, which allows for the celebration of dogs' birthdays. I'm not concerned about this at all.
"Each wave of digitization generates increased demand for the services provided by the industry. Organizations require more computers, data centers, communication lines, processing power, and optical fibers. In a few years, we will have fibers with a bandwidth of 25 gigabits per second. We have introduced new services for customers' homes. Artificial intelligence ultimately generates more revenue for our industry."
Yael, as the regulatory representative on the panel, every revolution generates noise and necessitates a regulatory framework. How is the country preparing for this?
Regev responded, "We must respond to the market. However, this time we have tried to be a few steps ahead. We recognized that artificial intelligence was poised to experience a boom. Hence, we initiated reviews and assessments within our regulatory bodies overseeing other institutions and financial entities. We conducted an evaluation: where is artificial intelligence already being implemented? Where are organizations exploring its adoption? What risks are being identified? However, technology evolves so rapidly that shortly after completing this assessment, ChatGPT was introduced, and we found ourselves back at square one. Nonetheless, we are studying the potential future consequences it may have on our regulatory objectives. Regardless of the technology employed, we have roles that must be maintained. Our task is to identify the need for regulatory changes, eliminate barriers, ensure the absence of bias and discrimination, and safeguard customers' sensitive information."